Editor's note: This is the second of a two-part series about the Macon County Beltway. Click here to read part one about the origin of the project and recently increasing opposition.
DECATUR — While officials prepare to break ground next spring on the first piece of the Macon County Beltway project, its long-term success still hinges on an issue that's dogged the proposal from the beginning — how to pay for construction, now estimated at $220 million.
The project has been in the works for decades and is envisioned as a dedicated roadway to loop truck traffic around the southern and eastern edges of Decatur, rather than trucks having to have rural streets and congested areas.
Advocates have long touted the road as a key piece of Decatur's economic development. Now, they are looking to President Donald Trump's administration for help.
"If we do not get federal funding, we cannot realistically start on this," said Macon County Highway Engineer Bruce Bird. "We're at a point in the process where we're trying to line up funding for it. And with all the uncertainty involved, it's likely going to be a process that will be ongoing for many years."
City and county leaders currently are focused on the first segment of the beltway, which would cost $140 million and create 6.2 miles of four-lane road between Illinois 48 near Interstate 72 and Illinois 105, or William Street Road. The road would closely follow Reas Bridge Road and Prairie View Road before connecting with Illinois 105 east of the Decatur Airport.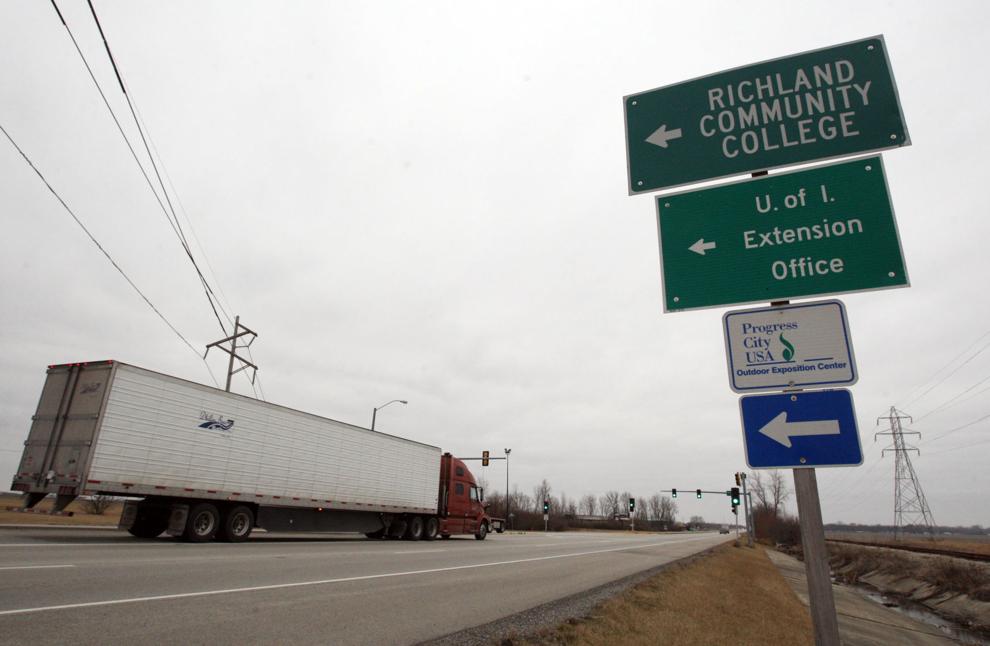 Now officials will wait to see whether they receive any dollars through their grant applications to Infrastructure For Rebuilding America, the U.S. Department of Transportation program that assists in local road projects. No decision for federal dollars is expected to be known until next year at the earliest.
Local and state funding sources also will be needed, Bird said, but federal dollars are what will push the project forward.
The new standards for the $1.5 billion INFRA grant include a heavy emphasis on private investment, which raises questions about how areas outside major population centers like Decatur would be able to leverage that kind of money when toll roads are not feasible.
Trump has said he wants to invest $1 trillion in infrastructure, but has not specified how that process will work. The president in August also signed an executive order that seeks to speed up approvals for infrastructure projects.
Private partners like the Norfolk Southern Corp. and Archer Daniels Midland control major assets in the greater Midwest Inland Port project, and the road work cannot be done without land donations from ADM, Richland Community College and the Decatur Park District.
The county will pay a total of $225,000 for the 8.3 acres of land they've spent the last six months negotiating to purchase with private landowners. The county will pay about $26,500 per acre, said county board Chairman Jay Dunn, as well as the filing and legal fees to get the deal done.
That amount would seem to point to how important local officials felt it was to move forward with the project, as so-called excellent farmland in the central Illinois area can go for, on average, $10,525 an acre, according to a 2017 report from the Illinois Society of Professional Farm Managers and Rural Appraiser.
Bird said the county's original offer of $17,000 an acre was based on an appraisal completed by Webster & Associates last fall. The original valuation included factors such as potential economic use of land, and Bird said the rest came down to finding a dollar amount that the county and landowners could agree on.
The land acquisition and cost to redevelop the intersection is covered by $10 million in state money given to the county in 2014 by former Gov. Pat Quinn.
Other behind-the-scene projects are also likely to occur in the coming year, which includes the purchase of right-of-way and moving utilities, which Bird said can be covered by whatever is left of the $10 million or other state funds.
While it may seem an uphill climb, officials like Bird are optimistic that all the studies and work done in the past decade-plus have put them in a good position to acquire the funds necessary to make the beltway a reality in the near future.
"We're in a very good spot with all of the work we've done, and that is the feedback we're getting from those who are reviewing our applications," he said. "And I think that is part of the reason why we feel confident we can probably start to building something relatively soon.
"So we don't have anything yet, and we're not guaranteed to get anything. But as we look around, we're feeling really good."