TAYLORVILLE — Vickie Barker, 67, chose to build on the same Coal Street lot where her last house stood, before the storm roared through and blasted the structure that Dec. 1 evening. Heavily damaged, it had to be razed and a cement foundation was poured, ready for a new modular house on the way.
"We're ready to come home," Barker said.
Barker is one piece of the sprawling, ongoing recovery underway in Taylorville this winter and spring. Wednesday marks five months since a violent EF-3 tornado tore an 11-mile gash through this Christian County community, leaving behind a trail of destruction and debris. More than 700 buildings were damaged in some way, but against all odds, no one was killed.
The story of Taylorville's reconstruction is a lesson in the importance of emergency preparedness, hard work and community togetherness at a time of critical need.
"There is a lot of remodeling going on," said Mike Crews, the Taylorville fire chief who also runs the county emergency agency, as he took at Herald & Review reporter and photographer on a tour of the community.
Crews is credited with cancelling the Twilight Christmas Parade the night of the cyclone, saving countless lives in the process. He also relocated equipment and staff to be outside the path of the twister.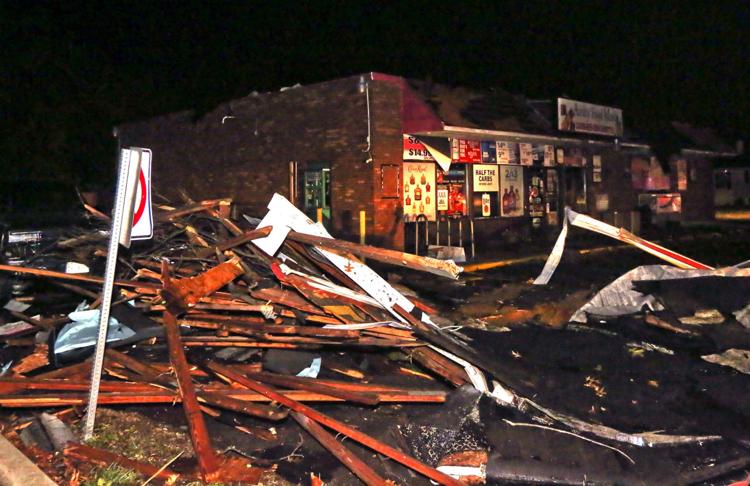 Today, he's still on the front lines of getting his community back in one piece. The mission, he said, comes down to a simple goal.
"We're really just trying to get people back in their homes," he said.
The warm weather means work has been ramping up. Construction work was in limbo during the winter months, and some storm-damaged buildings haven't been touched.
"Siding, roofing, painting, clean up yards, rebuilding and repairing that needs to go on," said Bill Kerns, an organizer for Missions for Taylorville, a group that turned into the primary fundraiser for the recovery effort. "Drive through Taylorville, you can see repairs, but also homes are still gone."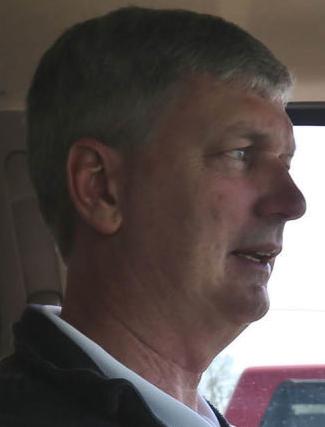 Mayor Bruce Barry said $700,000 was raised through local ministerial alliances and Missions for Taylorville. Their goal now is to develop long-term plans for rebuilding, long after the debris is carted away.
"It's slow," Barry said, "but everybody is still rallying around us."
How they responded
Crews said a severe weather threat was indicated nearly 12 hours before the storm hit, and they decided about an hour before the Christmas parade there was a substantial risk.
"We also determined the means to alert those already lining the parade route," Crews said.
Barry was supposed to be the parade's grand marshal and raced with city and county officials to the command center in the fire station.
By 5:20 p.m., the tornado was moving through Taylorville's south side with estimated winds speeds of 155 mph and a half-mile width. The twister would eventually travel more than 12 miles through Taylorville and Stonington.
The National Weather Service issued a Tornado Emergency due to the severity of the storm, one step higher than a Tornado Warning.
"That had only been issued twice in 20 years," Crews said.
The Taylorville and Christian CouCnty emergency teams had prepared for intense weather, but not like this.
"We practice every call," said fire department Assistant Chief Andy Goodall. "But we never practiced it to that level."
Weather spotters were dispatched, and tornado reports from around the Raymond-Harvel area southwest of Taylorville came in. For an added warning, the fire department activated the weather warning sirens twice.
"In the hopes residents would not confuse that activation as an all clear," Crews said. "The second siren activation was immediately followed by a post on social media."
Social media played a key role: "As the tornado was coming through, we were getting good, solid reports," Crews said.
Barker, the Coal Street resident, said it sounded like one of the freight trains that pass by off Illinois 48.
"The next thing I know, my windows in my back bedroom started flying and I had branches in the dining room," she said. "I froze. I just stood there and watched."
Her two dogs, cat and cockatiel huddled with her husband in safety in the center of the house.
"It was a rough night," she said.
You have free articles remaining.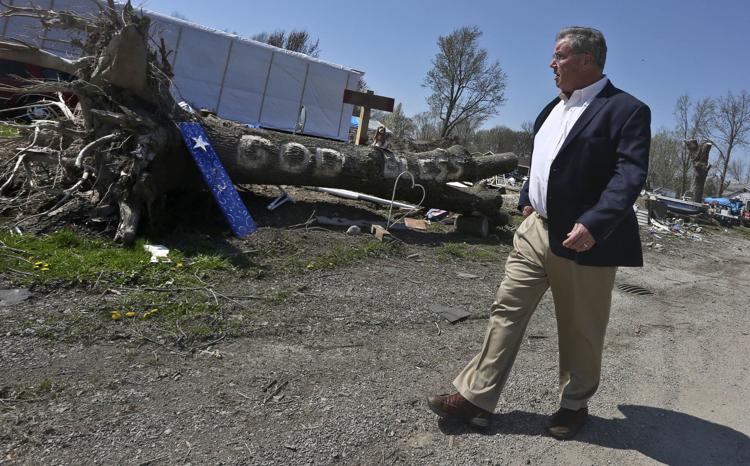 Then came the emergency calls. And more. And more.
"One of those calls would be bad, much less 12 or 15," Crews said.
Rural Stonington and Blue Mound also had damage. Another twister was reported in the Maroa area. Statewide, 22 tornados had been sighted that night.
One of the 21 injured in Taylorville was Barker's husband, Larry, who was hospitalized after inhaling natural gas fumes. He had gone outside to inspect the house and there was a gas leak.
"I got him in the house and he went into a heart attack," she said.
Altogether, 15 are fire departments arrived at the Taylorville fire station.
"We had an immense amount of help, from EMS, fire, police, public works," Crews said.
By the next morning, donations of food, clothing and money arrived.
"That's how Taylorville is," said Shirley Neithe, manager of the Ace Hardware store on West Spresser Street, who was part of the first clean-up wave and whose work continues today.
Next door to the store is a warehouse in which building materials, water and other goods were stored.
"You name it, they had it over there," Neithe said.
'It still looks like a war zone'
Neithe said a side benefit of the storm is that it helped local businesses.
 "It was a tragedy, but it pulled everyone together," she said.
Nearly 4,000 truckloads of trees and debris were carted away in the immediate aftermath. There is still substantial work needed, even five months later, Neithe said.
"It still looks like a war zone," she said. "There are houses sitting there that basically don't have any walls."
Barry, the mayor, is meeting weekly with about 15 people to talk about long-term recovery plans. There are also public meetings with insurance officials.
"It's amazing how much work has been done in the last month and a how much more still needs to be done," he said. "This recovery will go on for at least two years, if not longer."
Kerns, the Missions for Taylorville official, said they're transitioning to how to fund the long-range plans. Shortly after the tornado hit, the organization began receiving calls from others outside the community.
"But we weren't ready to accept them," Kerns said. "The long-term recovery team is starting from scratch. We had to learn about what to do."
What will be your duties with in your new position?
Crews said progress is being made. He credits the work of city officials to notify people quickly. He also was a representative for the rescue and emergency personnel as the guest of U.S. Rep. Rodney Davis, R-Taylorville, during the State of the Union address in February.
Crews said the Taylorville story is seen as an example of how to be address emergencies.
"We are trying to help other communities out with these issues," Crews said. "Springfield, Champaign, Litchfield, Decatur, I have talked to a lot communities. It is important to help others."
Recovery also continues for Vickie Barker. They live in a rental home for now, and her husband is recovering there.
The plumbing and utilities for the new house is expected to be installed in coming weeks, then the home will be assembled.
She never thought about going anywhere else.
"We surely could have got another house, but this is my home," Vickie Barker said about her neighborhood. "We are starting all over again."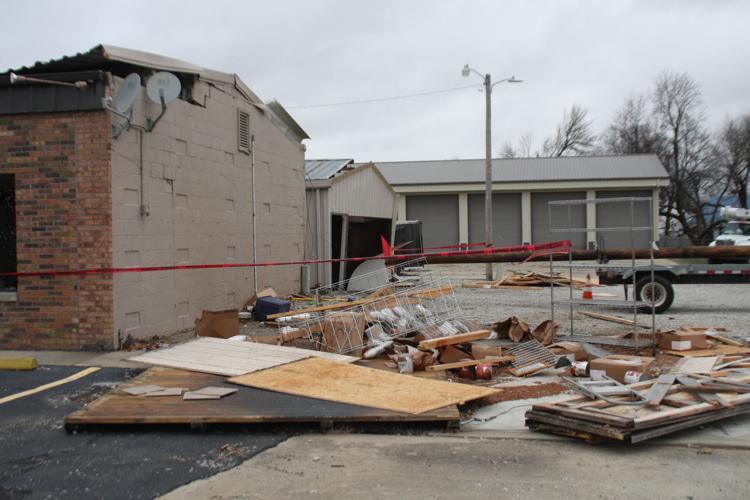 ---
PHOTOS: Taylorville tornado damage 
Taylorville funnel cloud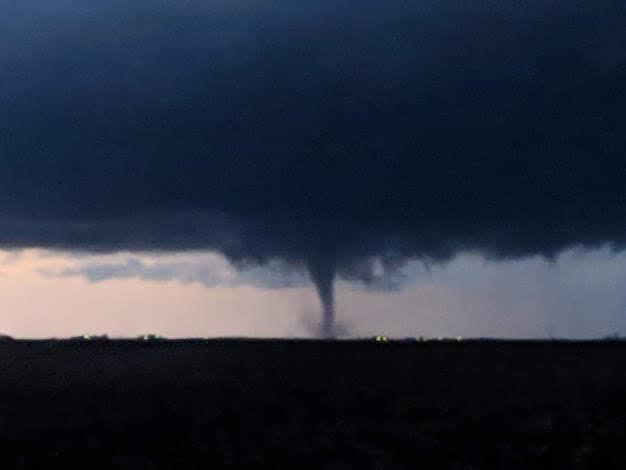 West Spresser Street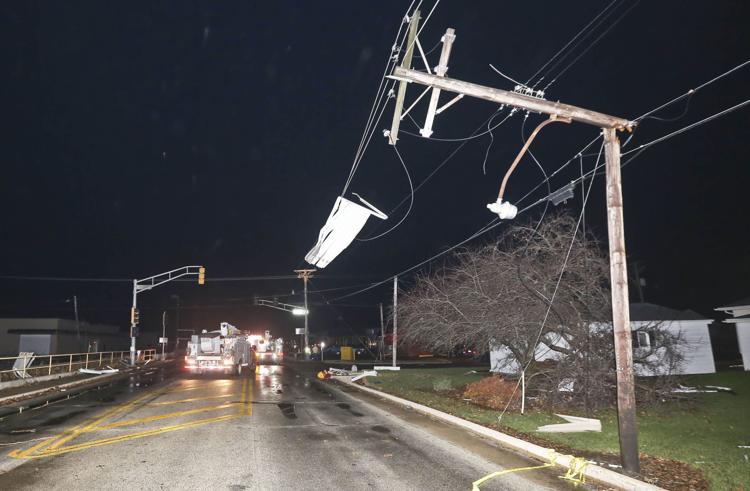 Taylorville Mayor Bruce Barry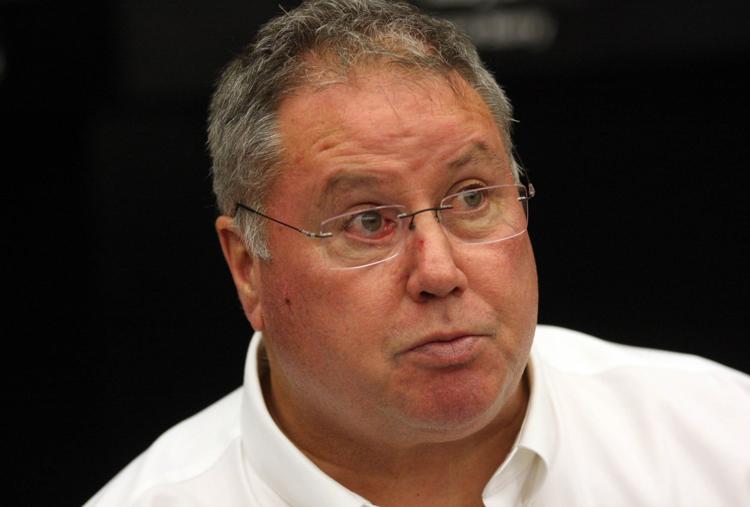 Amity Food Store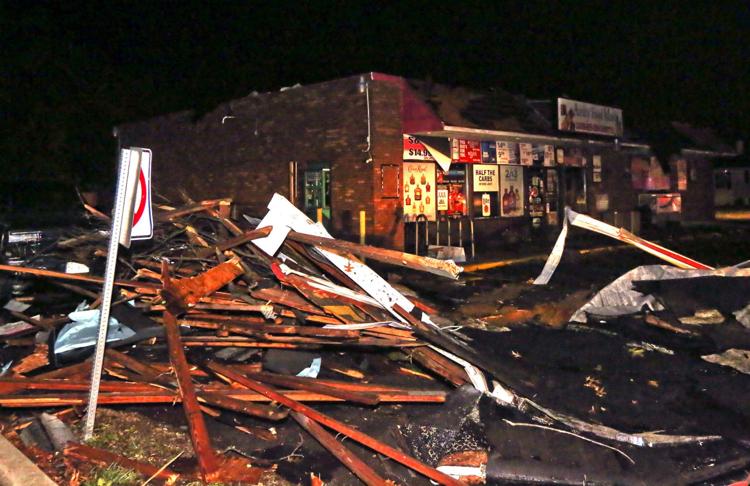 The next morning
The next morning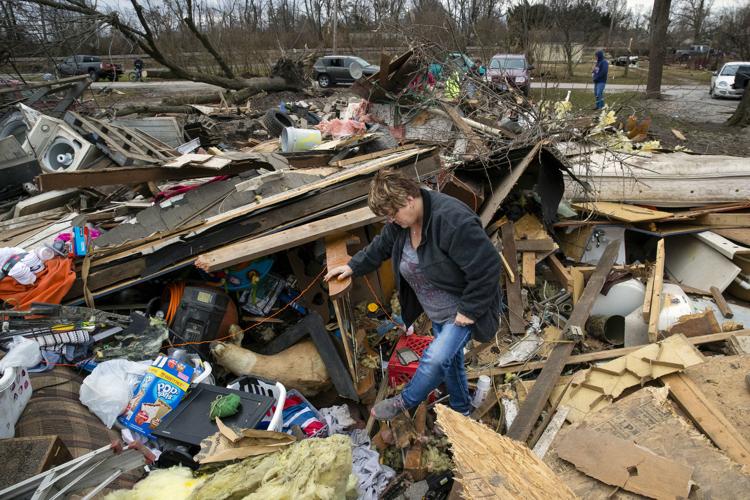 The next morning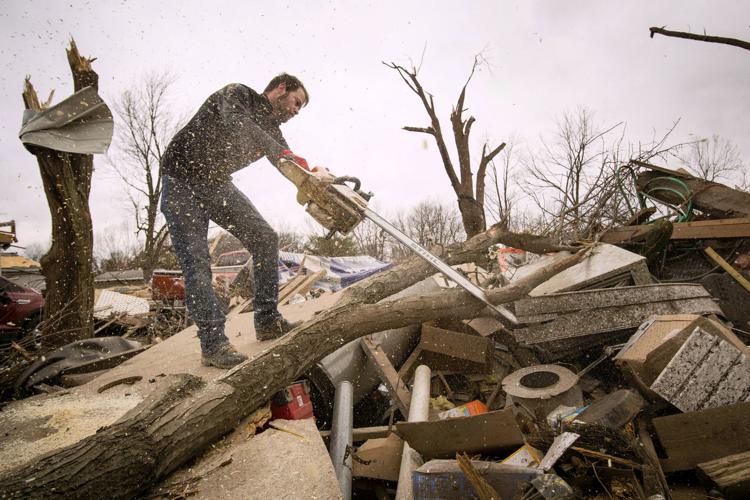 The next morning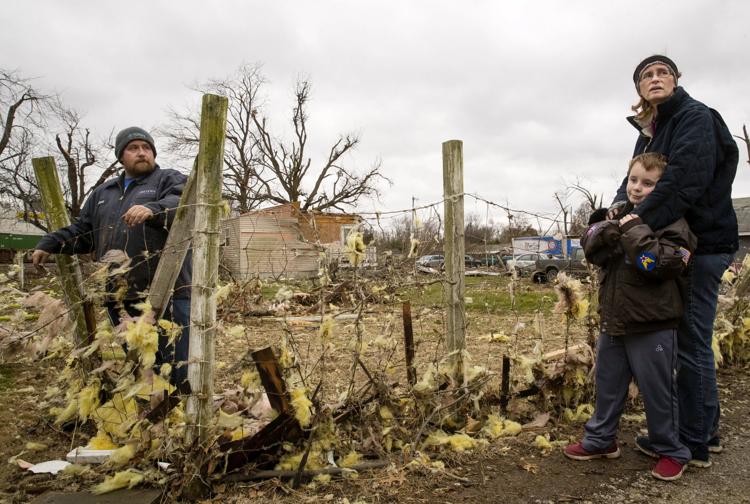 West Praire Street - Taylorville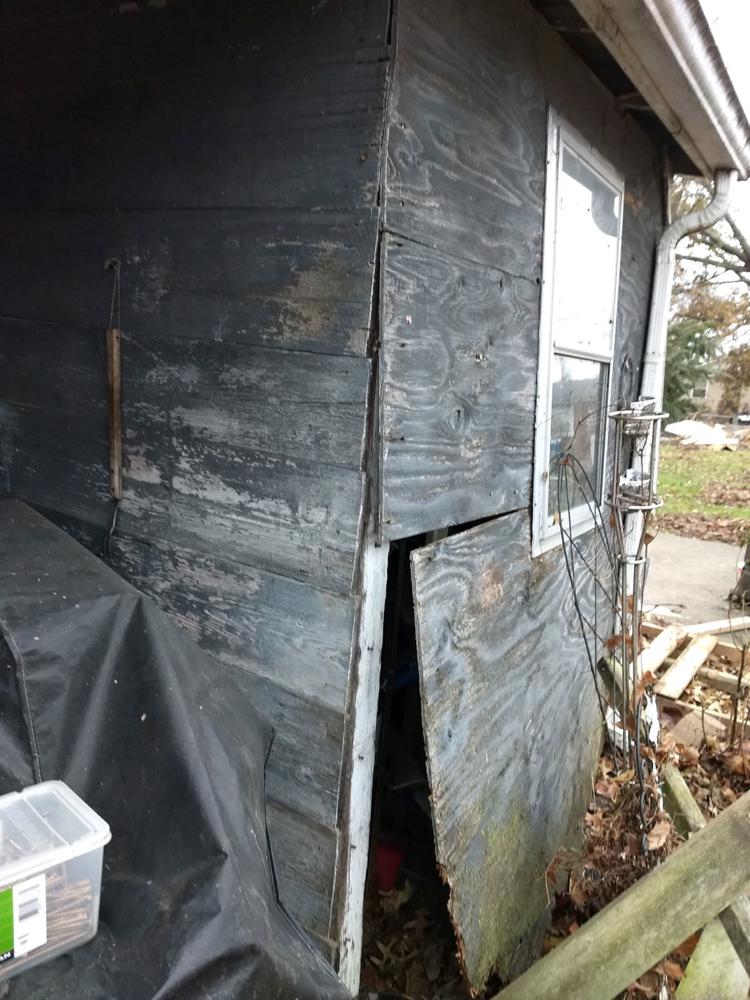 West Praire Street - Taylorville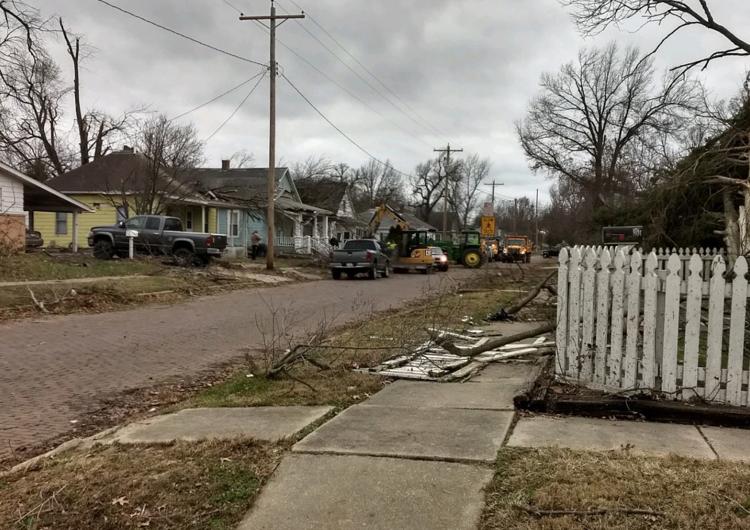 West Praire Street - Taylorville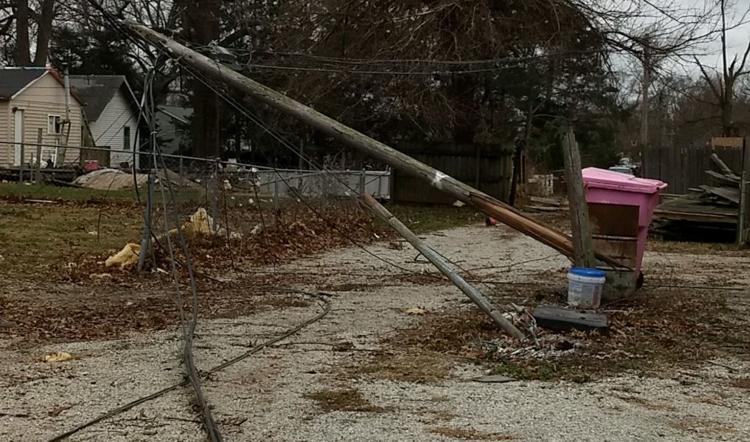 West Praire Street - Taylorville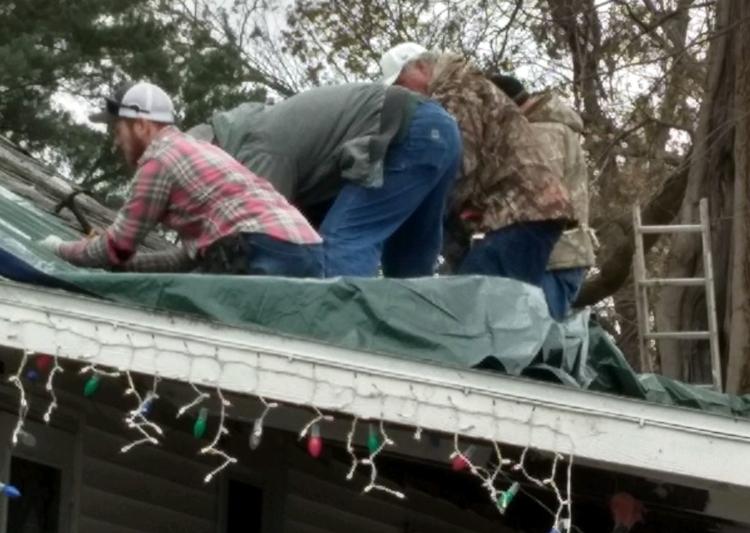 Severe Weather Illinois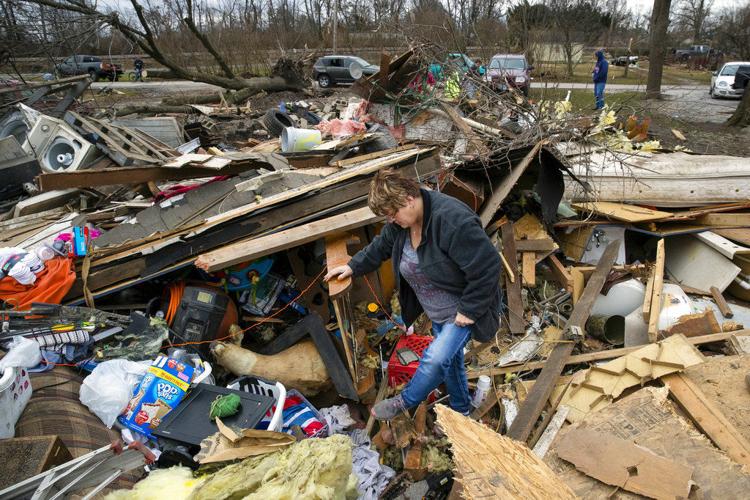 Drone photo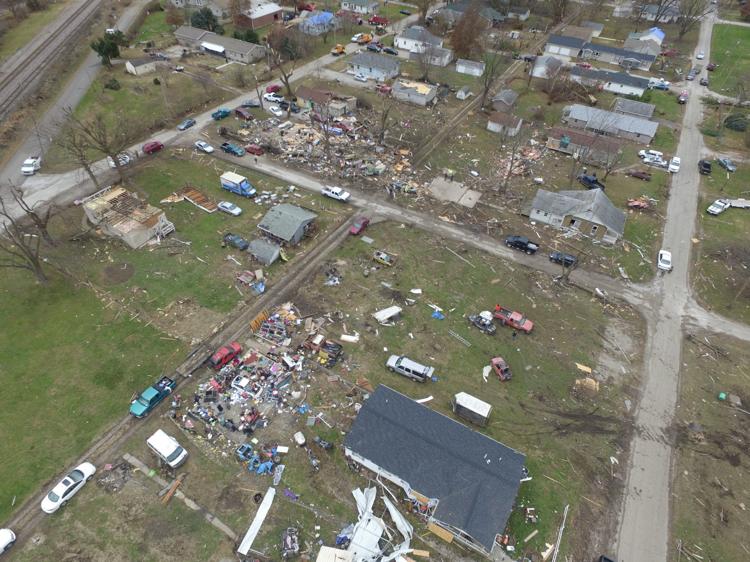 Severe weather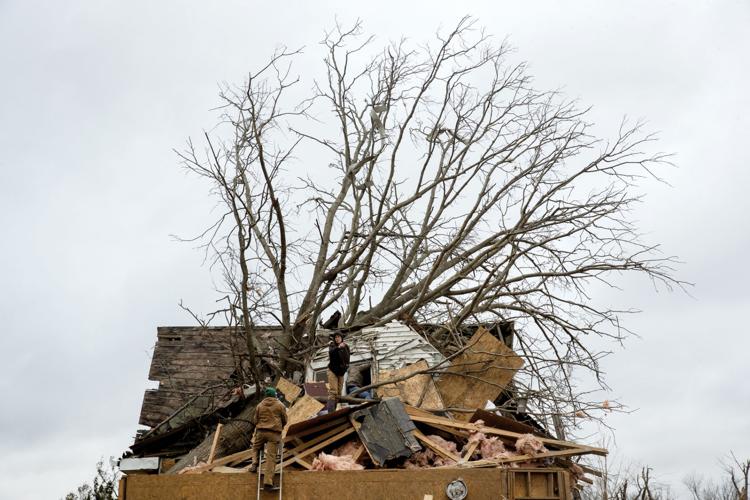 Contact Donnette Beckett at (217) 421-6983. Follow her on Twitter: @donnettebHR