DECATUR — Looking back on her career, Andrea Fairchild said she didn't foresee taking any of the paths that led her to where she is today. 
Fairchild, originally of Mount Zion, is the president of Kobe Inc., a multi-media marketing company founded by retired NBA star Kobe Bryant. To get to that position, she said she took a series of risks and and constantly sought ways to evolve herself and her skill set. 
During the keynote address at the Greater Decatur Chamber of Commerce's annual meeting, Fairchild encouraged over 125 business members and executives to do the same with their own careers.
"I get asked a lot, 'What's the formula? How did you do it? How did you join all of these great companies and get to do these things?" Fairchild said. "There really is no secret formula."
A 1989 graduate of Mount Zion High School, Fairchild served as the global business director for Nike and the vice president of brand marketing for Gatorade before joining Kobe Inc.
One key lesson that she's learned over the years, she said, was to step out of her comfort zone and to draw inspiration from world around her. 
"I feel like I was super curious," she said. "I wanted to learn more about the world around me, and wanted to understand more and more."
Fairchild said that taking advantage of that curiosity helped her develop a reputation as a creative and innovate representative of Nike's worldwide brand, and contributed to her vision for Gatorade's "G Series" products and youth marketing strategies.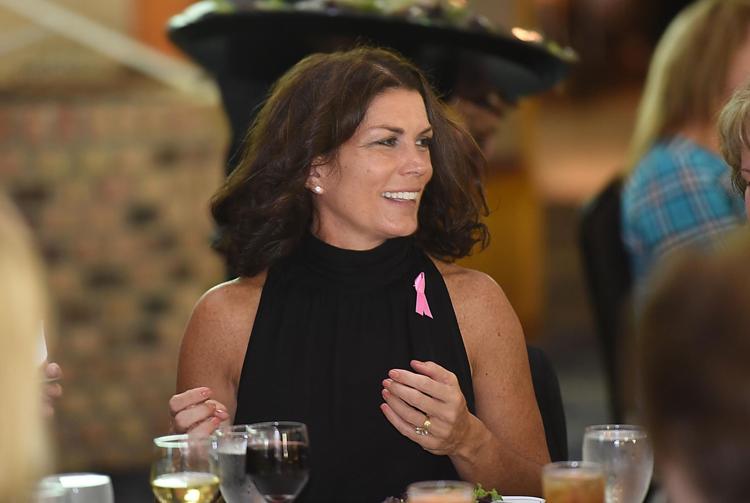 In 2014, she said she took another risk after Bryant personally called her about running the company he was forming. At that point, the 18-time NBA All-Star and 5-time NBA champion was a couple of years away from retiring after a long career with the Los Angeles Lakers. 
As a Chicago Bulls fan, Fairchild admitted she "hated" Bryant as a player, but it was his intelligence and persistent determination that convinced her to join his new venture. She wanted to better understand what made him tick. 
"He is maniacally focused at everything he does," she said of Bryant. 
Fairchild said curiosity, focus and the desire to take risks continue to propel her and her career to this day. 
She challenged Chamber members to keep finding ways to evolve themselves and their businesses, and to share the journeys of their careers with others.
"Every connection point really counts," Fairchild said. "Hard work and perseverance has been key to everything that I've learned along the way."
Before Fairchild took the podium, Chamber President Mirinda Rothrock and Chairman of the Board Ty Hildum recognized certain Chamber members and discussed the organization's growth in both membership and finances. 
At the end of the 2016-2017 fiscal year, the Chamber consisted 659 member businesses and represented 40,124 employees. It brought in $737,851 in revenue, and had $657,794 in total expenses, leaving a difference of $505, 260 in net assets. 
"The finance committee is proud of the Chamber's efforts to bring positive results on the financial end," Hildum said.