DECATUR — Central Illinois will be on the edge of heat advisory temperatures this weekend, with humidity returning to the area.
An official advisory has not been issued, but that may change, said Daryl Onton, a meteorologist with the National Weather Service in Lincoln. 
A heat advisory is typically initiated when temperatures reach between 105 degrees and 110 degrees Fahrenheit, Onton said.
Today, temperatures are forecast to reach 91 degrees with a heat index of 105. There is a 20 percent chance of showers after 1 p.m. On Sunday, temperatures are forecast at 88 degrees with a heat index of 99.
"The big increase is going to be an increase in humidity," Onton said. "We have more-moist air returning to our area from the south."
Thunderstorms also will be possible this weekend beginning at 1 p.m. today, he said. The greatest chance for storms is Sunday night.
"We want people to keep updated on any forecast changes," he said. "We are going to be left in that humid air mass for the weekend."
One cause for concern is a very high UV level of 9. At this level, protection against sun damage is needed, according to the National Weather Service.
"If you need to be outside during midday hours between 10 a.m. and 4 p.m., take steps to reduce sun exposure," according to the service. "A shirt, hat and sunscreen are a must, and be sure you seek shade."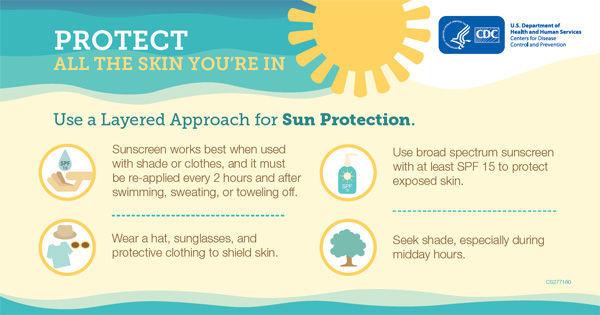 The NWS provided these suggestions for staying safe in the high temperatures.
Drink plenty of water.
Wear lightweight, light-colored clothing.
Reduce strenuous activity, or reserve it until early or late in the day.
Make sure children and pets are never left unattended in vehicles. Temperatures inside can quickly reach lethal levels.
If possible, spend time in an air-conditioned environment.
Anyone who is outside for long periods of time should take precautions. 
If people need to be outside, they should try to do so in the morning or evening. People should also stay out of the sun and take frequent breaks if outdoors. The weather service also suggests checking on neighbors and relatives during the high temperatures.
The Oasis Day Center, 243 W. Cerro Gordo St. in Decatur, and the Decatur Public Library, 130 N. Franklin St., will be open as cooling centers for those without air conditioning.
The Oasis center is open from 7 a.m. to 5 p.m. seven days a week, and the library will be open from 9 a.m. to 8 p.m.
In Forsyth, the library is open today from 9 a.m. to 8 p.m. as a cooling center. The Whitmore Community Center in Oreana is open on Sunday from 8:30 a.m. to 4:30 p.m. And in Macon, the community center is open if someone calls and needs a cool area. The phone number is (217) 764-3643.
So far this year, Decatur has reached above 90 degrees 20 times at the Decatur Airport, Onton said. This year there were four days over 90 degrees in May, 10 days in June and six days so far not even halfway through July. The average for Decatur since 2000 has been 25.7 days above 90 degrees each year. On average, there are eight days in July, seven days in August and four days in September.
"The 90-degree plus season is only about midway at this point but we are already up to 20 days," Onton said. "We are well ahead of schedule at this time."
---
Want to see more local news like this?
Our Daily Headlines email is for you! Delivered daily at 10:30 a.m., you'll get the local stories you need to see directly in your inbox.
I understand and agree that registration on or use of this site constitutes agreement to its user agreement and privacy policy.
---