DECATUR — As a reference librarian, Alix Frazier meets all types of people as they visit the Decatur Public Library.
While taking classes to become a librarian, she was warned by instructors she needed to be prepared for the questions that would come her way.
"One of the things we talked about was this aspect that a lot of us feel like social workers," Frazier said. "There seems to be a need quite often for that type of work here."
The library staff often see people dealing with housing problems, family issues, substance abuse and other problems. "But we don't know all the services or where to send them," Frazier said. "I don't have the skill set to help them."
Enter Mary Garrison, a professor of social work at Millikin University and the board president at the Good Samaritan Inn in Decatur. Recently, she took on a new role, becoming the library's social worker. She visits the library at various times, making herself available for free to help connect people with resources or answer questions. 
"We are trying to get a sense of where people are," she said. "My job is to connect them through resources."
When Garrison's path crossed with Frazier's, they found many of the clients who often visit the Good Samaritan Inn also go to the library. Libraries are open and free to the public. "They are very welcoming," Garrison said. "People go in to cool off or warm up and enjoy the resources."
The Decatur Public Library offers programs such as the literacy help, computer assistance and children's activities.
"Public libraries are one of the places that are truly public," Frazier said. "You don't have to purchase anything or be part of anything to be there."
Although the library provides resources and information on various subjects, the staff may not be equipped to help visitors with difficulties, such as homelessness. "Someone is experiencing mental health issues or asking for housing, they don't know what to do," Garrison said.
Resources are available at other locations, such as Heritage Behavioral Health Center, Oasis Day Center and Good Samaritan Inn. Some might be discouraged from approaching those agencies, however, because of a perceived stigma. "When you go to the library, you're just a person," Garrison said.
According to Frazier, libraries around the country have been hiring social workers to provide the same service as Garrison, although the program is new to the local library.
Garrison's first few visits were uneventful. The social worker knows not to approach people without some type of invitation. "So she just looked like she was working," Frazier said.
The staff made a sign introducing Garrison and her services. "But she can get up and say 'Hi' and ask people how things are going," Frazier said. "They are getting used to the idea that she is here."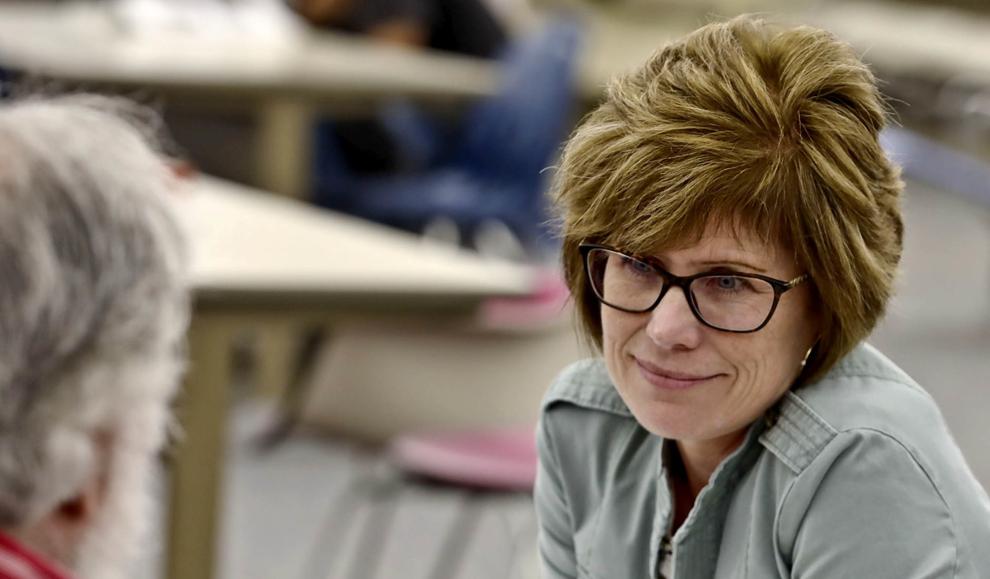 City Librarian Rick Meyer said there is certainly a need for social work. Although the library is known for providing resources to better people's lives, "some people don't know what resources are out there," Meyer said.
While some of the library's patrons are likely homeless, it's not possible to say how many. "There's no way to get that without asking everybody," Meyer said. "And we can't judge by the way they look."
Before he became a librarian, Meyer had his own experiences in social work. He worked as a case manager and eventually a supervisor at the Mental Health Centers of Central Illinois in Springfield from 1997 to 2007.
"The field has progressed a lot in the past few years," he said. "In larger cities, social workers (in libraries) are a necessity."
For days and times she isn't there, Garrison is training staff to provide particular information or explain when the social worker's next visit will be.
Library social workers connect people with resources. But for some patrons, simply asking for help is difficult. "If there is another point of engagement, this can be helpful," Garrison said. "It's also creating relationships."
The library staff has had training on how to work with the homeless population. "We do our best to treat them like we would any other patrons," Frazier said. "You don't want to single them out."
The program is new to the library, allowing Garrison and the library staff to modify it according to the patrons' needs. Millikin students may also be a part of the program.
"Hopefully we can build off of it and bring in more support," Frazier said. "Maybe a full-time position."
Contact Donnette Beckett at (217) 421-6983. Follow her on Twitter: @donnettebHR