DECATUR — Park district leaders on Wednesday pushed their target opening date for a new Nelson Park water park to 2019, rejecting bids that came in over budget for work that was set to begin this fall.
With a lap pool, leisure pool, a sprayground and several types of water slides, the $9.2 million facility was expected to open next summer. It is a key part of the district's Overlook Adventure Park, which includes the nearby miniature golf, ropes course and batting cages.
After bids from five contractors came in too high, district leaders decided to break the project into three phases to save money, park board President Bob Brilley II said. The first phase, earthwork, could begin this fall. 
"We're doing it for the taxpayers," he said. "They're the ones paying for the pool. That's the commissioners' responsibility, to make sure they get the best for the money they spend for the taxpayers."
Park board members planned to close Fairview Park Pool on the city's west side once the new facility opened next year. Now they plan to keep it open one more summer.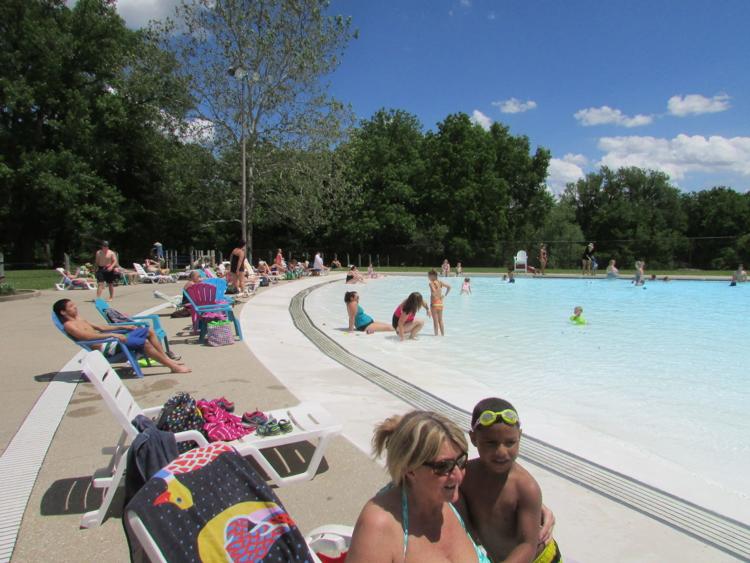 Waterslide-heavy design 
A water park near U.S. 36 has been part of the park district's lakefront development plans for more than five years. Faced with millions of dollars in costs to upgrade Fairview Park Pool, the district decided in November to build the new aquatic center in Nelson Park.
a 25-yard lap pool, either six or eight lanes;
a 7,800-square-foot leisure pool with play structure, vortex, bench seating and lily pad walk;
a 1,600-square-foot sprayground/wading pool;
a freestyle stand-up slide, infinity jump slide, multi-racer slide, free-fall speed slide and a high-fly slide.
Bailey Broderick, founder of the Decatur IL Moms group, was eager to add the water park to her family's trips to the Nelson Park area. She said she was disappointed by the news, but understood the reasoning.
"Nobody wants to see a project delayed, especially when you want to take your kids there so badly," said Broderick, the mother of three children who are 8 and younger. "Delays happen all the time, so it's to be expected. It's not that easy to just throw it together."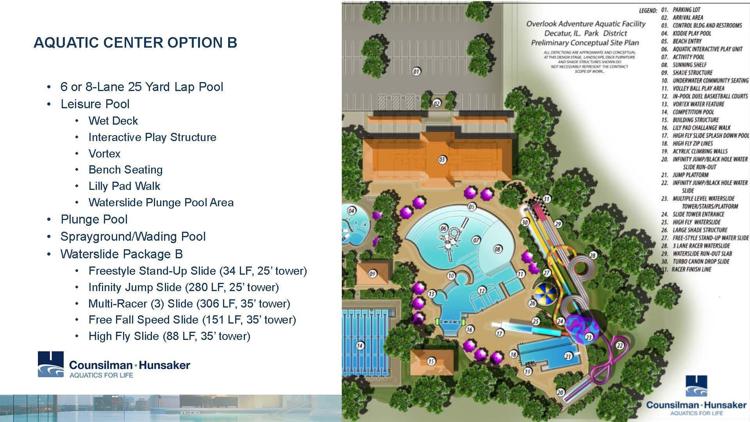 Reasons to delay
The lowest bid that district received, from Christy-Foltz Inc., was $1.5 million over budget, Brilley said. The district could not immediately provide a full list of bids Wednesday.
Commissioner Chris Riley said all of the contractors also estimated taking longer than the district had anticipated, putting the completion date in July rather than the Memorial Day target.
With that in mind, Riley said the board members elected not to rush.
You have free articles remaining.
"Now we can take our time," he said. "We don't have to rush through it trying to make sure we get it done."
Park district Executive Director Bill Clevenger said Counsilman-Hunsaker, a St. Louis-based firm that designed the pools for the water park, has not yet received approval from the Illinois Department of Public Health to start work.
"Put all of those factors together, we made the decision that we're not going to be able to be completed in time," he said. "And if we do, we'd be rushing. So, we tried to do the prudent thing."
Riley said the district might reduce the number of water slides as a way to reduce costs, but would not cut them entirely.
"The slides are the 'wow factor,'" he said. "We're gonna have slides."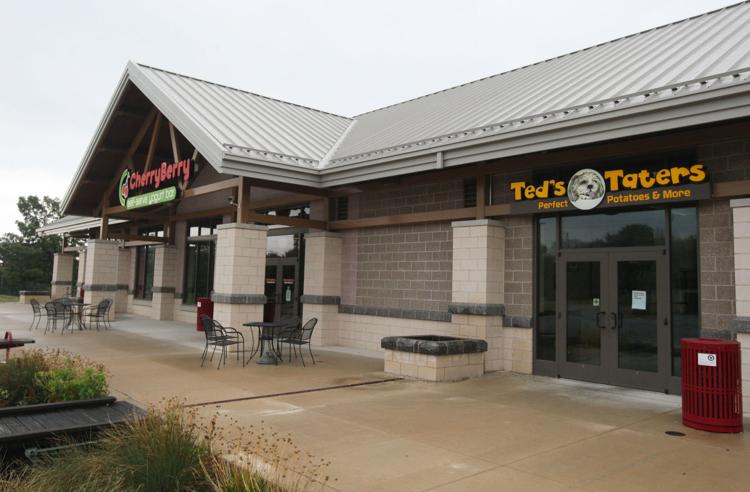 Restaurants to close
The delay comes days after the announcement that CherryBerry and Ted's Taters, the two restaurants in the Overlook Adventure Park complex, will close permanently at the end of this season. Owner Kendall Peterson said he and his family made the decision because of health concerns.
Brilley said the district is already in negotiations to fill one of the restaurant spots.
The restaurants opened in fall 2014 along with the miniature golf course, providing a convenient location for birthday parties as well as regular daily business. CherryBerry offered a self-serve frozen yogurt bar with an array of flavors and toppings. Ted's Taters served up soups, Heinkel's hot dogs and polish sausages, toasted sandwiches and a variety of specialty fries.
Clevenger said there is no correlation between the restaurant closures and the water park plans being placed on hold.
"We're immediately going to be working on trying to contact people in the restaurant business and try to backfill those spots with operations that would be compatible with what we're doing," he said.
Future development
The park district already has a large Nelson Park construction project in the works next year: a $3.9 million amphitheater, which is also set to open in 2018.
The facility, which is being funded by a donation from the Howard G. Buffett Foundation, will accommodate about 300 people in fixed seating and another 3,000 on the terraced lawn. It will be south of Pavilion No. 1, with Lake Decatur as a backdrop.
The amphitheater and water park are the two most highly visible and anticipated aspects of the lakefront development plan, which the district and city of Decatur launched six years ago. The project has already led to the construction of the miniature golf course, ropes course, batting cages and new docks and a promenade area in front of the Beach House restaurant.
Riley said he is not worried that the project will lose momentum.
"You always have naysayers," he said. "The goal for us is to get the earthwork ready to go. People are going to see something happening."
Brilley agreed, pointing to the district's larger vision of making Decatur a destination spot for young families. To do that, he said commissioners need to make the best decisions for the public, not just the park district.
"Sometimes, in life, good things are worth waiting for," he said.
Staff writers Jaylyn Cook, Tom Lisi and Claire Hettinger contributed to this story.