DECATUR — Caroline Adamson said she's looking forward to all of the people she'll meet and lessons she'll learn as Miss Macon County Fair Queen. 
Adamson was so shocked after being announced as the winner, she said the moment didn't register with her at first. 
"I wasn't even thinking anything," said Adamson, who was also named "Miss Congeniality" at the pageant. "I didn't even know what to think ... I couldn't believe it."
Adamson and two other contestants, Bailey Barrows, 19, and Cassandra Luttrell, 16, competed for the Miss Macon County Fair Queen crown by participating in a series of events during the pageant — including swimsuits, topical speeches and giving impromptu responses to questions while in evening gowns. 
Earlier in the day, the contestants also gave personal interviews with the three-person judging panel that also counted toward their overall score. 
Adamson takes the crown from 2017 fair queen Kaitlin Henrichs, who told the crowd that the experience of being queen was unforgettable. Macon County Fair queens serve a one-year term and will represent the county at various events throughout the area and state.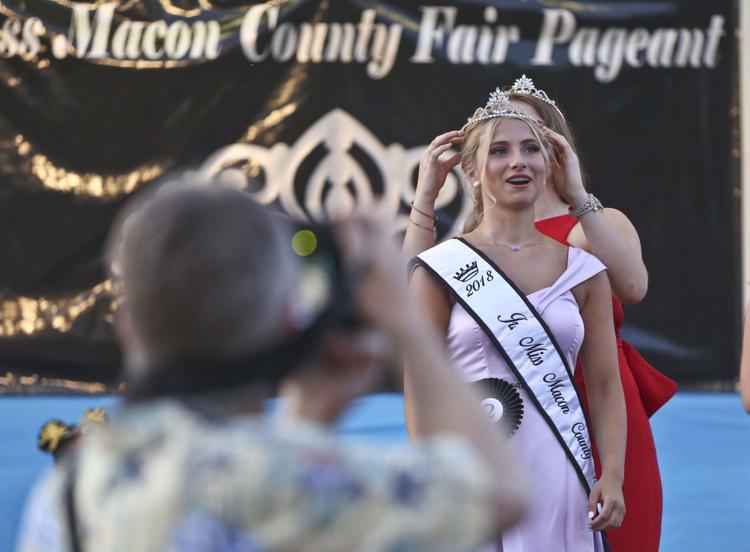 "I have not only learned about myself, but I have learned so much more about Macon County than I would have ever thought," Henrichs said. "While I have not lived in Macon County my whole life, it has become my home."
Adamson also will represent Macon County at the Miss Illinois County Fair pageant in January. The winner of that pageant will travel to various fairs across the state, earn a stipend and scholarship and will be the official hostess of Illinois' two state fairs. 
Samantha Hasselbring of Cissna Park is the reigning Miss Illinois County Fair Queen and was one of a handful of visiting queens at Thursday's pageant. 
In addition to the Miss Macon County Fair crowning, crowns were also given for the titles of Junior Miss category for ages 11 through 15 and the Little Miss category for ages 4 to 10. Lula Belle Sassano, last year's Junior Miss, passed the crown to 15-year-old Abby Park of Mount Zion. 
Park will travel with the queen during the year of representing Macon County. Little Miss winner Kristyanna Williams will make public appearances during fair week, but will not compete on a state-wide level like Adamson, according to the pageant's co-director Amy Dobrinick.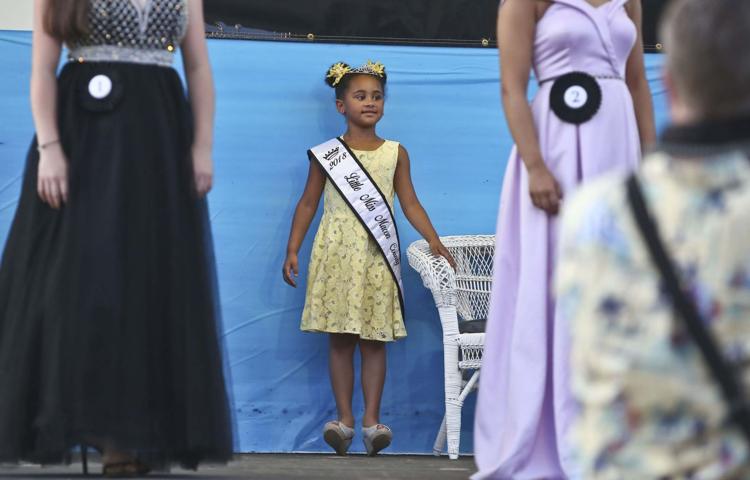 To Dobrinick, the Miss Macon County Fair pageant continues to serve as a way for its contestants to boost their self-esteem and embrace their moment to shine.
"With our fair, we're representing agriculture across the state," Dobrinick said. "It gives the girls great confidence, builds their interview skills, public speaking skills ... and it makes them think on their feet."
Emilie Stogner, the first runner-up for Junior Miss, agreed. She's been participating in pageants since she was young, and not only have they allowed her to find her voice on the runway, but she said they are also a great way to meet new people. 
"Everybody's nice," said Stogner, 13, of Decatur. "And no one is really mean."
---