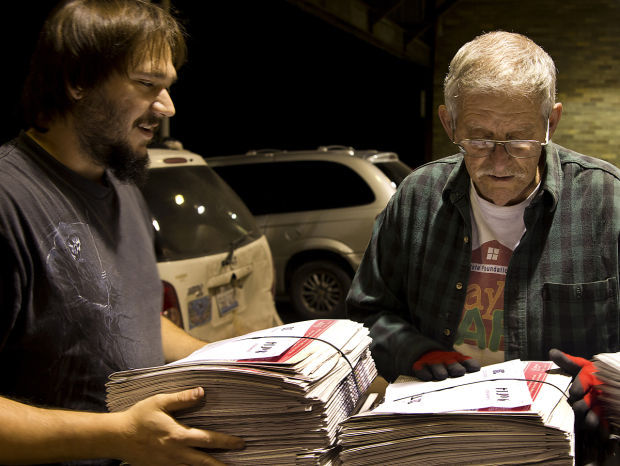 DECATUR — They roll through the city and the community while most residents are adrift in sleep.
No longer on bicycles, today's newspaper carriers drive their vehicles and drop bundles of papers at businesses and stops throughout Central Illinois.
This is National Newspaper Week, and delivery of the daily news highlights a dramatic shift from the bygone image of young boys and girls riding their bikes through town and throwing papers onto residents' doorsteps into an age of fewer workers and larger distribution areas circuited by automobile.
The newspaper carriers now are a collection of younger people looking to make some extra cash, as well as long-term workers going into their second and third decade on the job. The latter have a variety of reasons why they continue, whether it's the ability to have the rest of the day off or simply because the job was all they had known.
For Frances Trail, a 20-year veteran of delivering newspapers, it's simply easy and not stressful work. The 67-year-old has had six routes during her tenure and said she has not seen too many changes to the process during her time.
Things have definitely changed, however, from the delivery era Dale Kaiser remembers in his day.
Kaiser, a Vandalia resident who delivered papers in the early 1950s, reflects fondly on his three years as a paper boy, riding through Assumption on his bike with copies of the Decatur Herald.
His reason for working was simple. "My brother and I didn't have money," Kaiser said. "If we wanted something, we had to work for it."
The times of youth dropping papers off started to disappear in the past three decades or so as the size of the routes have grown exponentially. Some carriers have routes that go on for up to four hours through as many towns. Many papers have eliminated home delivery, so most carriers haul hundreds of papers in their vehicles and drop off bundles at businesses.
With the addition of customers coming to newsrooms to pay for subscriptions instead of newspaper carriers, the connection some residents had with their providers has also gone by the wayside.
However, there is still a connection among carriers, who all wake up in the middle of the night to get the news out to the community.
For some, such as Pam Ingram, news delivery is a family business.
Ingram has worked as a carrier on and off for the past 25 years. While it helps provide an additional income for her family, she also enjoys the chance to finish her workday before most people have woken up.
"I don't mind doing it; it gives me a steady income and frees up the rest of my day," Ingram said.
The benefits are good enough that she has convinced her son and daughter to take up carrier routes, and the three go about the community delivering bundles of papers on their routes.
While it can be a thankless job, many of the carriers said they enjoyed the work.
Some of the older delivery people still remember the work and the fun they had doing it. "You betcha' I look back fondly, it was a great time," Kaiser said.