DECATUR — The trouble with pets is having to say goodbye too soon.
There are memorial services for dearly departed people, but not so much for dogs and cats and other beloved critters which end up holding human hearts on a short leash.
Until now. On Sunday, Decatur's Northgate Pet Clinic, which has its own Pet Memorial Garden, staged a public service for bereaved pet owners to remember their absent non-human friends. About 20 pet owners showed up to hear prayers and share stories about their beloved companion animals. It was a chance to acknowledge grief publicly that society doesn't always fully understand or appreciate.
"You know, there is that stigma, it's just a pet," said Angie Litz, a veterinary assistant at Northgate who organized the ceremony with Becca Bebar, a technician at the pet clinic. "But everybody should take however long they need to grieve," added Bebar. "And we're here for you."
Laura Wade, who has run her own dog rescue service, has gone through the grieving process 16 times in her 47 years. Wade said she deals with animals who have suffered at human hands and yet radiate unconditional love when that person finally shows up who loves them right back.
"I think pets are here to teach us the purpose of unconditional love," said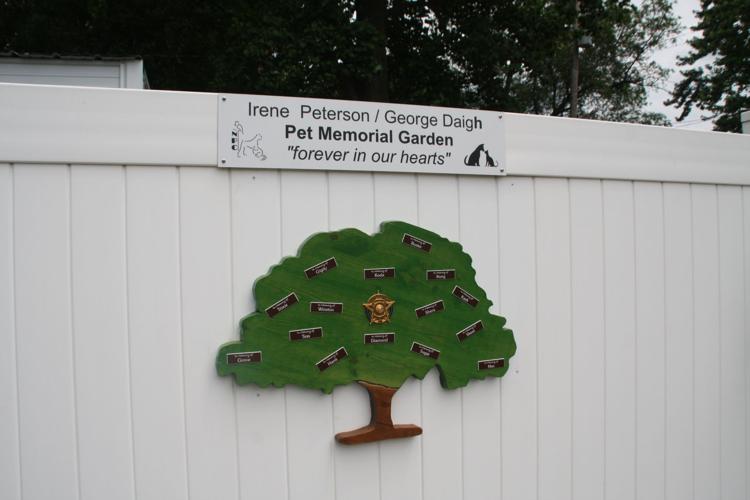 Wade. "And when that time comes (when they die) we are tested to see if we have learned what unconditional love means."
Macon County Court Security Officer Alan Engdale already has a pretty good idea. He showed up Sunday with his pet German Shepherd dog Tazer to remember a dear absent friend, Kid, a former K-9 officer with the Macon County Sheriff's Office who fell to illness and died in 2017. There is a bright glittery sheriff's office badge at the center of the memorial garden in memory of Kid and a gleam in Engdale's eye when he recalls his beloved partner.
"These pets become part of us, part of our lives," said Engdale, who had previously brought some of Kid's ashes to be scattered in the garden; the rest he keeps in an urn at home. "And I knew what I got to do: I had to come here for this service," he added.
Dr. Larry Baker, the owner of the Northgate Clinic, read a prayer thanking God for "letting these beautiful animals teach us unselfish love; and we thank you for our memories that we can recall to brighten our lives for the rest of our lives."
Baker, who has worked as a vet for nearly half a century, said it never gets any easier telling a pet owner the prognosis for their four-legged loved one is grim. "A lot of people will say 'This is too hard, this is my last pet,' " said Baker with a smile. "And then, two months later, they get another one. You can never replace the one you had, but you learn to go on."