DECATUR — The need for repairs to the state's roads and bridges could drive lawmakers to contemplate raising gas taxes by the middle of next year — an idea not popular with Central Illinois drivers. 
"If it costs $15 to fill up the tank, with the tax going up, what used to be $15 is now $20," said Amar Lotey, who owns the Marathon Gas station at 101 E. Pershing Road. "Is there anything left? (People) will go from being broke to completely broke."
Chicago Mayor Rahm Emanuel urged lawmakers in a news conference earlier this month to increase the gas tax by 20 to 30 cents per gallon to pay for road construction.
"For over a century, this region has been America's crossroads for roads, rails and runways," he said. "The truth is it is a fundamental economic strength for the region and a job-creator for the region."
He may not have as much downstate support.
"I think we can all agree that our roads and bridges are in terrible shape and we need to repair them," said state Rep.-elect Dan Caulkins. "But how do we pay for it? ... I'd want to know where the gas tax money is going."
Caulkins said that in addition to knowing how the money from such a tax would be used, he'd like to know how much more in taxes would residents have to pay if it were enacted within the state. 
"We have such a huge tax burden already," he said. "It's really difficult to rationalize how we increase our gas tax. There may be a way to persuade me (about the need for the tax), but the reason cannot be because we want more money. That's not the answer."
Gov.-elect JB Pritzker earlier this month said a capital bill likely would take time to develop, but indicated it would be a priority for his administration when it begins Jan. 14. 
As far as funding, Pritzker said he hasn't taken anything off the table. 
"Well, we're going to look at all the various ways that we can fund an infrastructure plan, but there's no question about the fact that it's been 10 years since we had a capital fund, a capital project fund, for the state of Illinois," he said. "We need a capital bill and there's got to be funding for it. So we're going to look at every which way we can do that."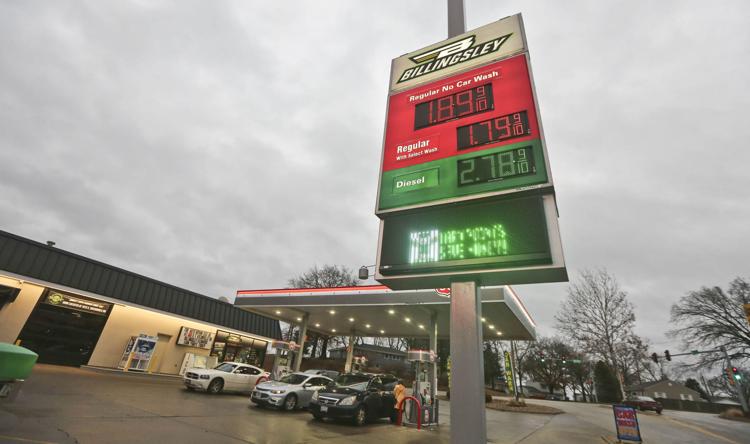 Lawmakers should return money that has been borrowed or "swept" from road construction accounts before increasing gas taxes, said William Fleischli Sr. of Springfield, executive vice president for the Illinois Petroleum Marketers Association and Illinois Association of Convenience Stores.
Since 2003, Fleischli estimated, more than $800 million has been swept from motor fuel tax funds originally earmarked for road and street repair work.
"This practice should be stopped and the revenue repaid before a tax increase is even considered," he said. "Also, Congress and the White House are considering an infrastructure program and a motor fuel tax increase is being talked about to fund it. Shouldn't we wait to see what happens in Washington before we increase the Illinois motor fuel tax fund?"
In 1990, Illinois raised the tax from 16 cents per gallon to 19 cents. The tax has gone unchanged since.
The funds would most likely result from a new capital bill, designed to fund construction and repair projects for the state's infrastructure over the next several years. The last capital bill was passed in 2009.
"They have emphasized to us not to worry about the revenue stream and it's still very early in the process," he said.
Before the holiday weekend, gas prices ranged from $1.96 to $2.26 for a gallon of regular gas, with an average of $2.10.
Still, Penn, like many others, doesn't want to spend more on gasoline if he doesn't have to.
"It is a bit frustrating to get gasoline down to about $2 per gallon and know that it may never be there again," he said.
Central Illinois motorists felt the same way.
John Wellen of Lincoln, filling up his car at the Mach 1 Gas Station in Clinton, had heard about Emanuel's proposal, but doesn't believe it will fix the state's infrastructure problems.
"If he wants a 30-cent tax hike, nobody is going to feel like driving anyway," he said. "That's too much. But if it is only going to fix the Chicago roads, don't tax my gas."
In Heyworth, Jill Lippitt was putting gas in her SUV at Huck's before heading to work in Bloomington.
"I would have to say no to any new taxes," she said. "In this state, it seems all they want to do is tax us to death. I'm tired of it."
"If the gas tax was increased, the percentage that (Emanuel) is talking about, we would run the risk of being the highest in the country," said state Rep. Dan Brady, a Bloomington Republican.
Brady said Illinois now ranks 10th in the country and already charges sales tax on top of its gas tax. 
"This is very much in flux," he said. "I don't think there is anyone who doesn't want to produce some type of a capital bill, but we have to figure out how we are going to pay for it."
The Chicago Tribune and Jaylyn Cook of the Herald & Review contributed to this story.