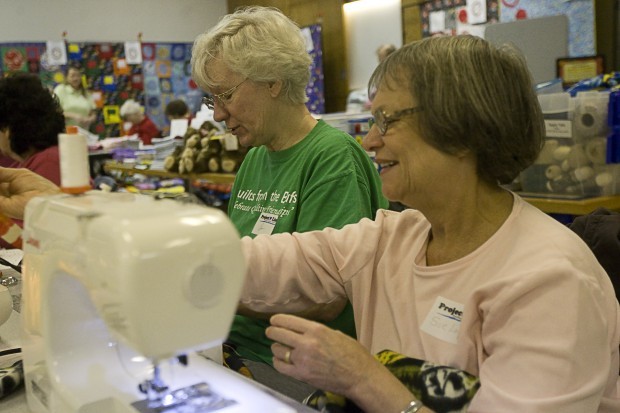 DECATUR - The whole is often greater than the sum of its parts, and that's certainly true of the annual Project Linus Make a Blanket Day.
Held for the third consecutive year in Decatur Memorial Hospital, the local observance Saturday brought together a crazy quilt of about 120 blanketeers from across Central Illinois to produce 876 cuddly bits of comfort for children coping with serious illness or trauma.
They filled the hospital's classrooms with fabric, sewing machines, conversation and laughter.
"Some showed up this morning ready to go at 8:10 when the event doesn't officially start till 9 o'clock," said Mary Balagna, coordinator of the Central Illinois Chapter of Project Linus.
Among the special projects this time was customizing Cuddle Critter bunnies for Easter - about 100 of them - part of more than 500 that came to the chapter as part of a special promotion by the now-defunct Borders bookstores. "The bunnies are multiplying," Balagna joked.
When finished, each plush toy holds an 18-inch square quilt made from a colorful print.
As Balagna awarded door prizes and played other games with the group at large, Denise Carter at one point tossed a spool of thread to the winner of a memory game played by nearly a dozen members of the Maroa Library Quilters off in one corner.
Carter is the children's program director at the Maroa Public Library, and the recipient of the thread was her friend Terri Tate, who lives north of Forsyth.
Another friend, Hilda Crystal of Oreana, gave Carter some quilt blocks back in 2004, so she passed them out to unsuspecting library patrons, including Tate. The Maroa Library Quilters, which meets every Tuesday, was born.
You have free articles remaining.
"All I wanted was a library book," Tate said in mock complaint.
Members of the group range in age from Mary Hofner, 29, to Mary Mayberry and Joy Gardner, both 72, and all three residents of Maroa, but feel they can talk to one another about anything. "It's kind of like therapy," Gardner said.
Karen Halicki of rural Maroa, who was giving a toy bunny a blanket covered with tiny tractors, said she enjoys the different projects the group takes on. "We learn from each other," she said.
"We learn from their mistakes," added Christi Brown of Clinton, drawing laughs from around the table.
Janice Leach, who operates a day care in her Maroa home, has seen firsthand how much Project Linus blankets mean to the children who receive them.
She said one of her charges got one in the hospital as a preschooler and still likes to keep it close years later.
In the room where most of the blanketeers were working Saturday, 40 Boo-Boo Kids Challenge Quilts lined the walls.
The fundraising portion of the challenge garnered $3,800, with the top vote-getters Ruth Wright of Moweaqua, first; Linda Strate of Forsyth, second; Sally Wilcoxen of Allenville, third; and Linda Busbey of Forsyth, honorable mention.
In the judged category, JoAnn Holtzscher of Weldon won first place, Linda Kirby of Decatur was second, Debbi Dillman of Urbana took third, and there was an honorable mention for Debbie Kramer of Decatur.