DECATUR — Macon County health officials reported 30 new cases of COVID-19 on Thursday.
To date, the county has reported 10,480 cases. Of those, 349 remain in isolation, 13 are hospitalized and 189 have died.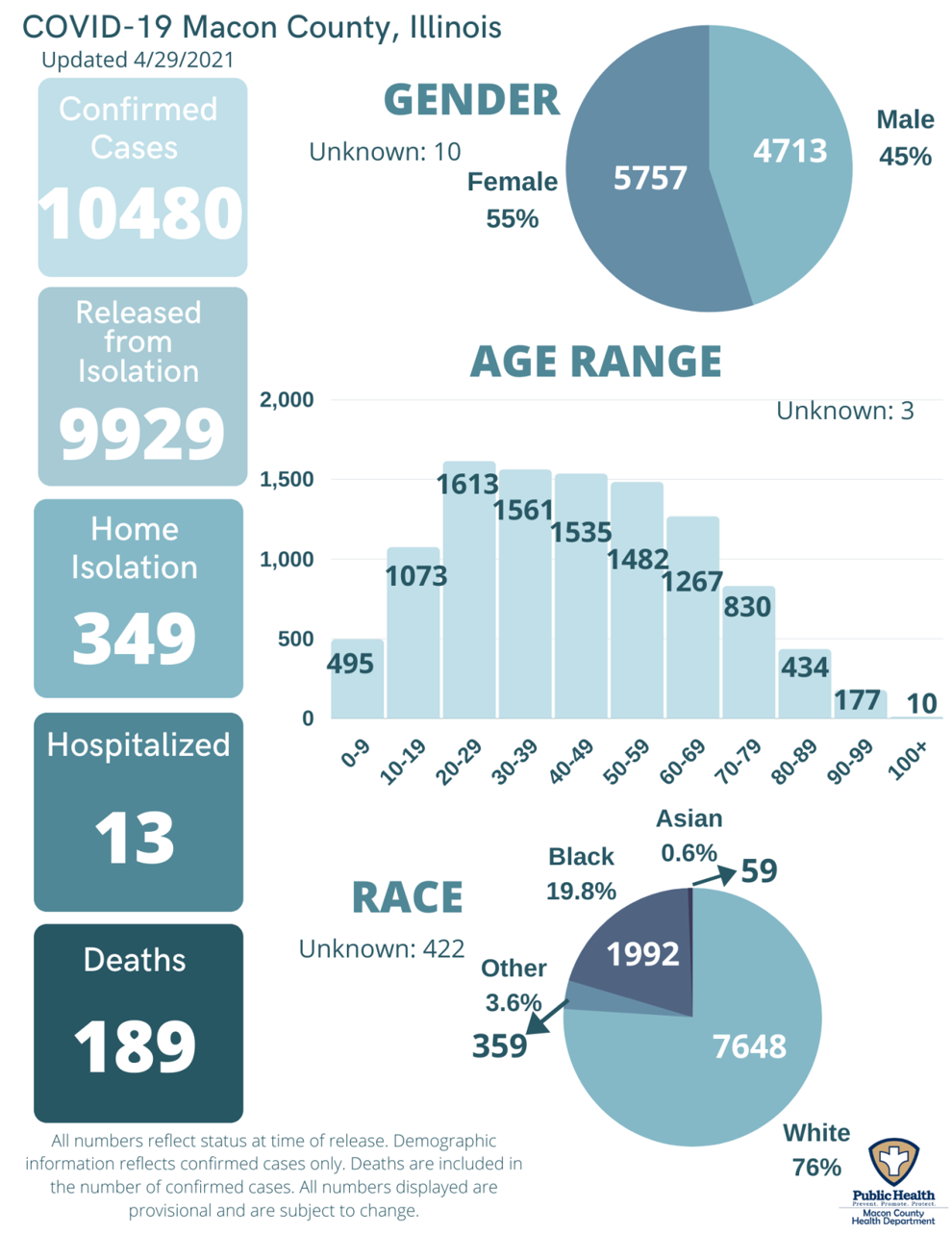 The county is currently on the state's COVID warning list for exceeding two of the metrics used to track its spread. Officials said the number of cases per 100,000 people exceeds the recommended threshold of 50, and emergency department visits for COVID-19 illness have increased for two consecutive weeks.
The Illinois Department of Public Health on Thursday reported 3,394 new confirmed and probable cases of coronavirus disease, including 38 additional deaths. To date, the state is reporting a total of 1,331,848 cases, including 21,927 deaths.
---
Scenes of celebration and horror: 29 iconic photos that were taken on April 29
1931: Herbet Hoover
1941: Plane christening
1942: Alaska Civil Defense
1943: Franklin D. Roosevelt
1944: Berlin Bombed
1944: USS BON HOMME RICHARD LAUNCHING
1945: Belsen concentration camp
1945: Dachau
1951: U.S. Marines Return From Korea
1953: Big Cheese
1954: CHARLIE CHAPLIN , SALVADOR DALI
1954: Joseph McCarthy
1954: New York Stock Exchange
1960: Steve Allen
1962: John F. Kennedy, Jacqueline Kennedy
1964: Ringo Starr
1966: Martin Luther King
1969: Duke Ellington; Richard Nixon
1970: Apollo 11 Crew
1972: Muhammad Ali
1978: Edward Koch Meets Miss U.S.A. Contestants
1984: Killer Tornado
1985: March Of Dimes Walkathon
1986: SPACE SHUTTLE DISASTER
1992: LA RIOTS
1996: RENT
2004: WORLD WAR II MEMORIAL
2011: Britain Royal Wedding