DECATUR — The synthetic marijuana that officials say has caused at least three deaths and nearly 100 hospitalizations in Illinois in the past month has also been increasing in popularity in Macon County, medical and law enforcement officials say.
While there have been rashes of hospitalizations nationwide involving those who've ingested fake weed, experts say they've never seen the severe side effects — internal bleeding in particular — that have killed at least three and sickened dozens in the Chicago area and Central Illinois since March 7. Investigators say that while users have been smoking different brands of the synthetic marijuana, the common ingredient that may be leaving people ill is rat poison.
The problems are the result of a cat-and-mouse game playing out among government entities passing laws to ban synthetic pot and manufacturers tweaking their recipes to keep the drug on the market — and money in their pockets, experts say.
None of the hospitalizations have been reported in Macon County, the Illinois Department of Public Health said last week. But Sgt. Scott Flannery of the Macon County Sheriff's Office said the use of the drug, commonly called K2 or Spice, has recently grown in the county.
"We are starting to see a little bit more of the younger kids, teenagers," Flannery said. "It is a drug choice of a younger generation."
Typically, synthetic pot is created by spraying chemicals onto plant matter to make it look like real marijuana leaves. It is then packaged by manufacturers and, although bans are in place in Illinois and Chicago, it still makes its way to gas station and convenience store shelves. Officials say those sickened in Illinois were using different brands; investigators are trying to trace whether it's possible that the drug is from a single source.
Because the formula can change every few weeks and even from batch to batch, it is hard for lawmakers to regulate and even harder for users to predict the consequences, officials said.
There are about eight formulas that are illegal, said Flannery, but changing one small component of the compound gets around the law.
"We are trying to get the legislature to catch up to what is on the street," Flannery said.
Health officials and law enforcement officials have been talking to the patients as they try to piece together the network distributing the products.
Authorities have already charged in federal court the owner and two workers of the King Mini Mart in Lawndale after an undercover officer bought synthetic marijuana sold under names like "Blue Giant," "Crazy Monkey" and "Matrix," according to a federal complaint. Fouad Masoud, the owner of the mart, and employees Jamil Abdelrahman Jad Allah and Adil Khan Mohammed each face a federal charge of conspiracy to distribute a controlled substance. The store sold $10 packets containing 4 to 5 grams of synthetic pot, according to court records.
Investigators began looking into the Lawndale convenience store after someone who had purchased synthetic pot there got sick. Two of the seized products were sent to a laboratory operated by the U.S. Drug Enforcement Administration, which detected brodifacoum among the other chemicals, according to court records.
Because the chemical compounds in synthetic marijuana are always changing, it's difficult to provide medical treatment to people who have used the drug, Flannery said. People who come into the Macon County Jail high on the drug can become combative or depressed, or switch between extreme emotions, he said.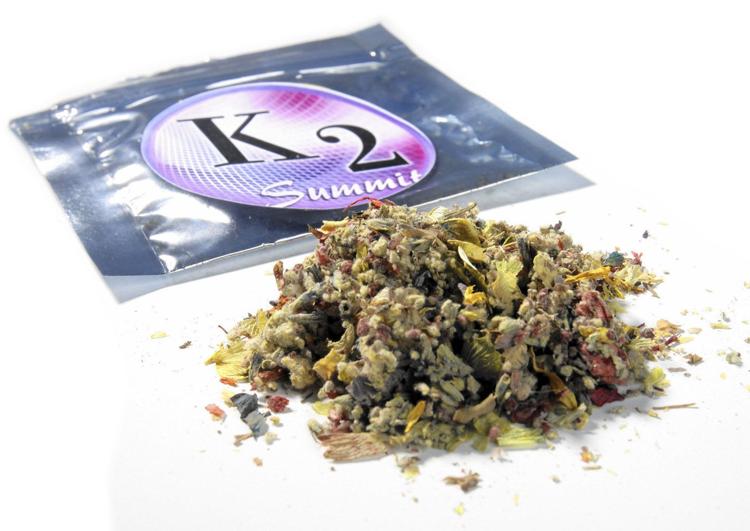 "Someone who is on cannabis, we know how to deal with them. Someone who is high on heroin, we know how to handle," he said. "We have a hard time because there is no way the jail staff and the medical staff know how to treat (K2)."
In February, 13 homeless people were sickened at the Oasis Day Center after using the drug, said Jeff Mueller, executive director of the downtown Decatur facility for the homeless. Mueller described the reactions as overdoses and said the drug is a "very serious issue" in the local homeless community.
Unlike with opioid addiction, there is no medication-assisted therapy to help people who are addicted to synthetic cannabis, said Dr. Dana Ray, chief medical officer of Crossing Healthcare.
"It is difficult to make all of it illegal, which will then make it difficult to even develop a medication to help with cravings and withdrawals," Ray said.
Some of the symptoms of the drug are muscle cramps, agitation, hallucinations, and can cause the kidneys to fail and or result in a heart attack, Ray said.
A big misconception with K2 and other synthetic cannabinoids is that because it is sold legally at gas stations and convenience stores, it is safe to use, Ray said.
"There is always a risk of death with taking K2," she said. "It shouldn't be smoked, or drank, or injected, and people really should refrain from purchasing it."
People would not accidently do a synthetic cannabinoid and think they were doing cannabis, Flannery said. The two drugs have distinct properties — for example, K2 has a fruity smell compared to the pungent herbal odor of cannabis. The synthetic drug also comes in an aluminum foil wrapper.
While users will know right away that they aren't smoking cannabis, Flannery said, they might not know how the drug will affect them because the chemicals in synthetic pot are always changing. Someone who uses K2 for the first may have a serious or life-threatening reaction, he said.
"This is a killer product," he said. "It is not an alternative to cannabis."
The Tribune News Service contributed to this story.