DECATUR — The Macon County Health Department is preparing to implement new regulations for restaurant inspections, introducing new guidelines and moving away from a numbers-based scoring system. 
On Monday, restaurant owners and managers were invited to a presentation explaining a few of the key points in morning and afternoon sessions at the Decatur Civic Center. 
University Dogs co-owner James Peterson was among those who attended and said he appreciated the meeting.
"Everyone should be responsible for the health of the community when you are serving them," he said. "You provide a safe environment for people. That is part of being in business."
Wade said restaurants were sent a packet of highlights and important information prior to the meeting, where she highlighted the most important changes to the nearly 800-page list of FDA codes that includes new inspection reports, guidelines and scores. Six Macon County health inspectors, along with assistant director Brian Wood, joined her at the meeting.
She said Illinois implemented the new FDA codes in July 2016, and all of the health departments have until the beginning of 2019 to switch over.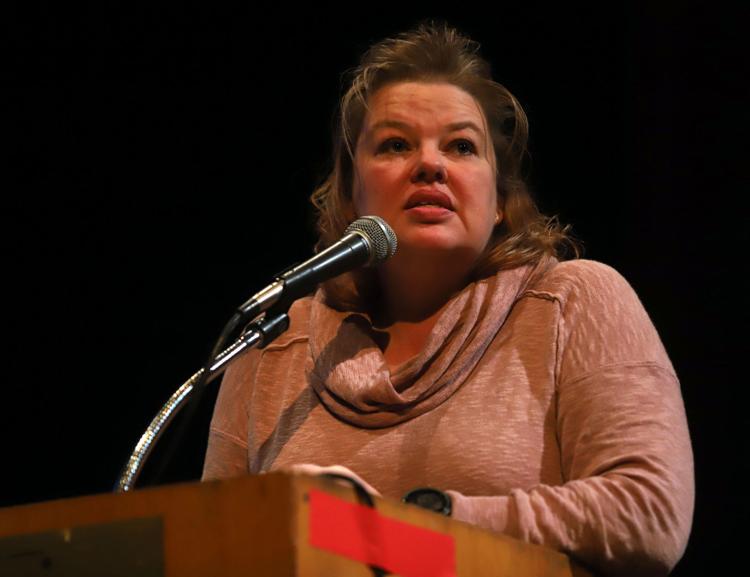 The current inspection sheet consists of 45 violation criteria that are weighted differently, adding up to 100 possible points. The Herald & Review regularly posts health inspection scores on its website. 
Under the changes, the inspection form using numbers will no longer be used. Instead, inspectors will follow a compliance-based approach with 58 subjects to check. The form is separated into two sections, food-borne illness risk factors and retail practices.
"But there is no code that gives a black or white answer. There's always a gray area," Wade said. "It is up to the inspector to figure where they gray area falls."
Restaurants should also have a designated Person in Charge, or a PIC, available during all hours of operation. "They have to be knowledgeable of the business," Wade said. "They have be able to answer questions."
The restaurant's PIC will also have allergen training with the understanding of food allergies, including wheat, eggs, milk, soy, peanuts, nuts and seafood. Only Category 1 certified food protection managers, or those who provide complex and extensive food preparation, will need to have a trained food allergen specialist. Category 2 establishments offer a limited amount of food preparation; Category 3 establishments sell only pre-packaged food items. Those businesses excluded from the allergen training include daycares, schools, assisted living and long-term care.
According to the FDA, all hand-washing sinks must now be labeled as a hand-washing sink. "Go online, print a picture," Wade said. "You can make one up yourself."
To help prevent the spread of illnesses, employees working with exposed foods will no longer be allowed to wear fingernail polish or artificial fingernails unless they are covered with intact gloves. Accessories will also be limited to a simple ring. Jewelry of all other types, including medical information jewelry, will not be worn by employees preparing food. "Watches, Fitbits, Apple watches, bracelets, if you are preparing food, are not allowed any longer," Wade said. "It is all part of the personal cleanliness."
In the past, restaurants have been required to post the food license in a visible area. However, because the number score will no longer be used, all pages of the last routine inspection must be posted for consumers to see. Restaurants do not have to post the follow-up evaluation.
For added transparency, customers will be allowed to see all communication, including photos, on the Macon County Health Department website. "Consumers can now go check on your progress themselves," Wade said.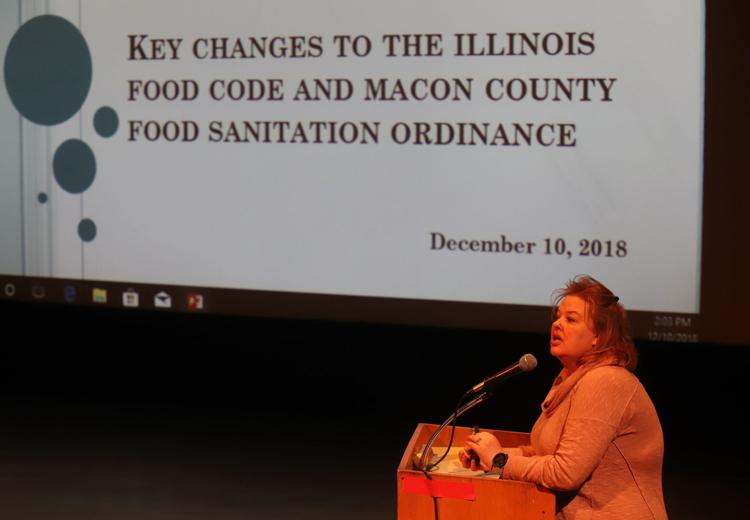 No matter the rating, Wade recommends owners and managers stay in contact with the inspectors throughout the process. "We will work with you as much as we can," she said.
In the past, if a restaurant scored 60 or below on its inspection, no matter the reason, it would be closed. Inspectors now can impose menu limitations, allowing them to pull certain foods or equipment. "So instead of closing all the way, we can limit your menu," Wade said. "We feel this is a way to help the restaurant owners and establishments."
If it is determined the restaurant will be closed because of health code violations, in order for the establishment to reopen, the owner will have to write a corrective action plan explaining every cited violation as well as how and when it will be fixed. "In addition to that, we are going to charge a $250 fee to come out and reopen," Wade said.
If the establishment is closed twice in a 12-month period, its health permit will be revoked.
Throughout the meeting, Wade suggested owners and managers speak to the health inspectors during their visits or call the health department. "We are going to try and work with you as much as you try and work with us," Wade said.
Julie Stalets, owner of Coffee Connection, was happy she attended the meeting to learn more about the new health code changes. "It is the rules the FDA are mandating," she said. "I'm happy they had a separate session like this to talk to us."
Stalets has utilized the open-door relationship with the health department. "They are always available to meet with you individually," she said. "You just keep the communication going."