Major construction began in the spring, with the placement of two concrete retaining walls and digging. Paving will start soon, according to Bruce Bird, Macon County engineer.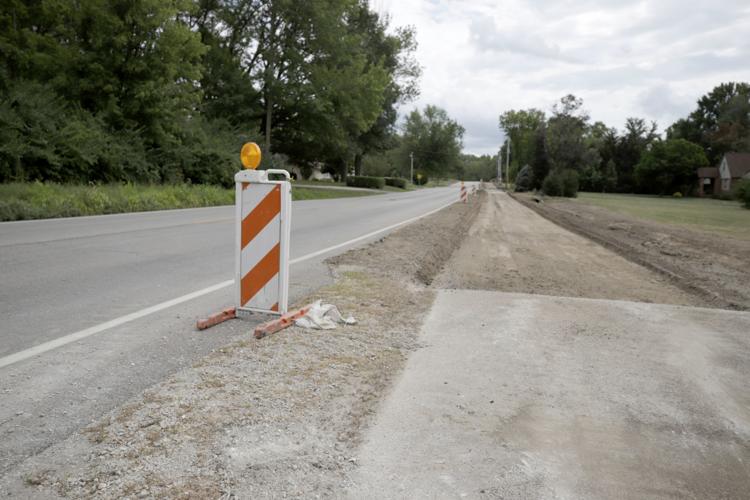 The section is a contribution by Macon County for a constant stretch of pathway connecting a future Mount Zion route to Lost Bridge. The village of Mount Zion is currently in the development stages for two trails extending from Harryland, according to Julie Miller, village administrator.
It is hoped that construction will begin this fall on a trail along Baltimore near Glenwood Assisted & Supportive Living Center to Harryland, Miller said. The $40,000 trail is funded through the village Public Works Department.
Another trail connecting Harryland westward to Sundance Drive, where it meets the existing Mount Zion Trail, awaits grant funding of $24,000 from the Illinois Department of Transportation, according to Miller.
"I think it's great for the community and makes it safer for pedestrians to go up and down Baltimore," Miller said.
Rich Starshak, owner of Garden Path on East Lost Bridge, eagerly awaits completion of the trail, which is within view of his business. Starshak said he has been a recreational biker for 10 years and enjoys trails that take him to locations across the area.
"As soon as the trail comes in, I'll probably be on it the next day," he said. "It looks like it's going to be a fun trail. Should be great."
Starshak consistently bikes Mount Zion trails near Fletcher Park and around the high school. He said there is something therapeutic about hitting Henderson Street, which he calls "the farm land," due to low traffic and getting to watch the sunset. The Baltimore trail will allow for him to experience the area in a new, safe way.
"There's not really any shoulder along Lost Bridge and Baltimore, so it makes the safety a little questionable," he said. "A definite bike path would take everyone off the road. That's the biggest thing, the safety."
Plans for the trail were included in the replacement of Finley Creek Bridge in 2012, followed by Fisherman's Bridge running over Big Creek near Cannon Park. The bridges were designed with the additional bike trail in mind. This allowed the city to save time and money, according to Bird.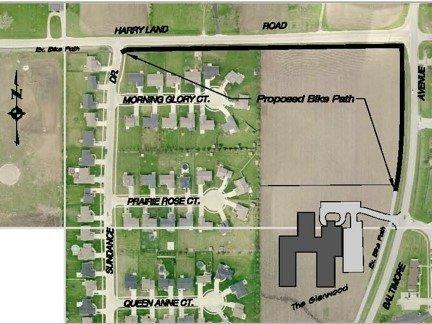 "We included wider bridge decks in the design on the west side of the bridges," he said. "It was easier to include that, knowing the bike trail was coming along," he said.
Bird said routine service inspections testing structural integrity of bridges are done based on a rating scale. Once the bridges along Baltimore dropped below standard, the city qualified for federal funding for replacement.
The trail along Baltimore is on track to be completed this month, weather permitting, according to Bird. 
"This is part of an ongoing plan, so there will be further additions with funding," he said.
---