DECATUR — Police officers in Decatur could begin recording interactions with the public through body cameras that would pair with those in their squad cars, provided that city council members approve the expense in next year's budget.
The proposed 2020 spending plan includes nearly half a million dollars for the equipment and required storage. If the measure is approved, the Decatur Police Department would join a growing number of agencies across the state and country to implement body cameras. Eight officers tested the possibility during a pilot program earlier this year.
"The way we look at body cameras is that it is a benefit to the citizens and police," Police Chief Jim Getz said. "They bring more transparency, because everything will be on video."
More agencies across the country began outfitting officers with body cameras five years ago after several high-profile fatal officer-involved shootings. Both community activists and law enforcement leaders saw the technology as a way to ensure an accurate record of encounters. Nearly half of state and local law enforcement agencies had acquired body cameras by 2016, according to the U.S. Department of Justice. Illinois lawmakers enacted rules for the technology the same year.
Getz said the local department has already developed a policy in line with the statute and would continue to follow it.
Under the proposed plan, new Panasonic body cameras would be linked to in-car cameras, totaling $325,000. Storage would cost an additional $100,000. City Manager Scot Wrighton said money would come from the city's general fund and from loans that have not yet been issued.
All seven council members have said they support the idea of the cameras.
"I think they will really enable the police to have a backup witness," Mayor Julie Moore Wolfe said, "and it will provide additional security for the people of Decatur."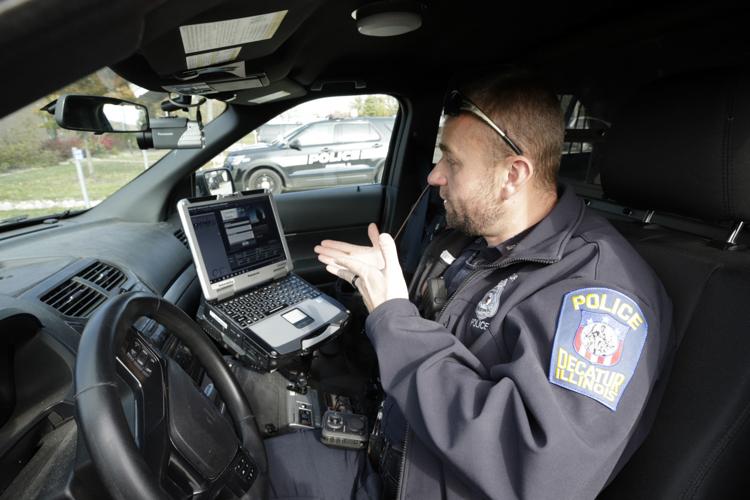 The council is expected to vote on the budget next month. It includes funding for for 138 sworn officers, eight administrative positions and 12 civilian positions. Sworn patrol officers would wear the cameras.
Jeanelle Norman, president of the NAACP Decatur Branch, supports the cameras. She said they would bring assurance that interactions between police and citizens are being handled as they should be, regardless of the race of those involved.
Norman is also a member of the Area Leaders and Educators Response Team (ALERT), formed in 2015 to work with police to disseminate accurate information in the wake of major events, such as officer-involved shootings.
"It will no longer be a question of their (police officers') word versus the citizens," she said. "It is important, especially for the African-American community, because they tend to be the ones more vulnerable to police action."
How it works
City officials are still working on details of the rollout. Officers would receive training on how to operate the cameras and access recordings, as well as the rules for their use outlined in state law.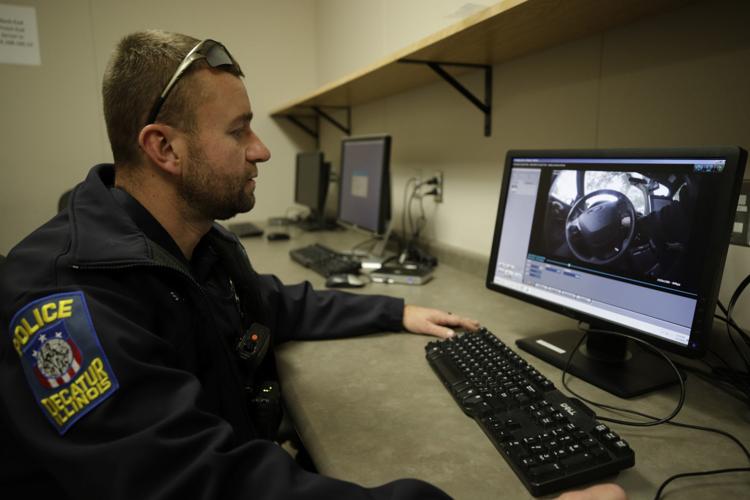 Police must turn on their cameras and record during a number of "law-enforcement related encounters or activities," such as traffic and pedestrian stops, arrests, interrogations and traffic and crowd control. Subjects must be told that they are being recorded. Cameras do not need to be turned on when the officer is completing paperwork alone or with another officer.
Officer Sean Bowsher, who works dayshift patrol, was one of the eight officers who participated in the pilot program that ended in August.
"At first, no police officer likes to have a babysitter," said Bowsher, who has been with the department for nearly 19 years. "But you come to realize it will help.
"As one of my former instructors used to say, 'I don't care who you are, how much money you have or how much political power you have. As a police officer, I can take away your freedom,' and that is a huge power for people to have, and you have got to be so, so careful."
The law requires cameras to be turned off at the request of a victim, or if the officer is speaking with a confidential informant or witness. Police may still record under certain circumstances, such as if the officer has reasonable suspicion that a victim, witness or confidential informant has committed a crime or is in the process of doing so.
"You have to be a human being and use discretion and common sense," Bowsher said.
Bowsher said the in-car cameras and body cameras are linked so that when one is recording, the other is as well.
"As soon as my patrol car lights turn on, my (in-car) camera starts recording, which will activate my body cam to start recording," he said. A sensor also alerts the in-car camera to start recording in the event of a crash, he said.
The city would need to buy around 35 new in-car cameras that would pair with the body cameras, Getz said. Details of a three-year maintenance agreement with Panasonic are still in the works. The company would cover the cost if the equipment experiences glitches, becomes damaged through normal wear and tear or needs to be replaced, he said.
You have free articles remaining.
Expansion of use
Decatur's police department would join a rapidly growing number of Illinois agencies. Sixty-three departments reported using body cameras in 2018, a dramatic increase from 26 that used them in 2017 and 18 in 2016.
State law requires the agencies to submit a report to the Illinois Law Enforcement Training and Standards Board, which tracks the types of incidents recorded, technical glitches and each department's review process.
Last year, departments said they recorded a total of 73,876 incidents that led to 85,489 offenses charged.
Chief Frank Hubbard said the cameras were a useful asset but had died over the course of time. The department does not have the money to buy new ones, resources to store recordings or enough people to review and delete them within the timeframe allowed under state law, he said. The agency has five full-time sworn officers.
"We don't have the resources or funds to manage the data," he said, "but we are open to the conversation of getting new cameras."
Cost of storage
City officials say the biggest expense of the program would be storing the footage, which requires an extensive amount of digital space. For instance, Bowsher said, the eight officers in the pilot program could have used 10 gigabytes or more of storage per day.
Video recordings are to be downloaded daily. Officers would place their cameras into a charging bank at the end of their shifts, and the data would be downloaded onto a secure private server.
State law allows some recordings to be deleted after 90 days. Footage of certain crimes, however, could be stored for significantly longer and in some cases, forever.
Videos would be flagged based on the type of crime or situation. Recordings of misdemeanors would be kept for 90 days and felonies for two years, Getz said. Footage used as evidence in court could remain in the system longer.
"If there was a recording of a homicide, we would automatically flag it and it would be stored for more than two years more than likely," Getz said, "since we know it typically takes more than two years for a homicide to go through the court system."
Some body camera footage could be obtained by the public through the Freedom of Information Act. The law sets out very specific circumstances under which the footage could be released, such as incidents involving the use of force, discharge of a firearm or the filing of a complaint against law enforcement. Victims and witnesses who have a "reasonable expectation of privacy" must give written consent for footage of them to be released; the same rule does not apply to people who have been arrested.
The subject of a police encounter, or that person's attorney, must be given the recording upon request. Before releasing any footage, police must redact the identity of anyone who is not an officer, the subject of the encounter or otherwise directly involved.
Getz said the department currently has two part-time FOIA officers who process requests. Once the cameras are fully implemented, he said, the department would likely request to hire another.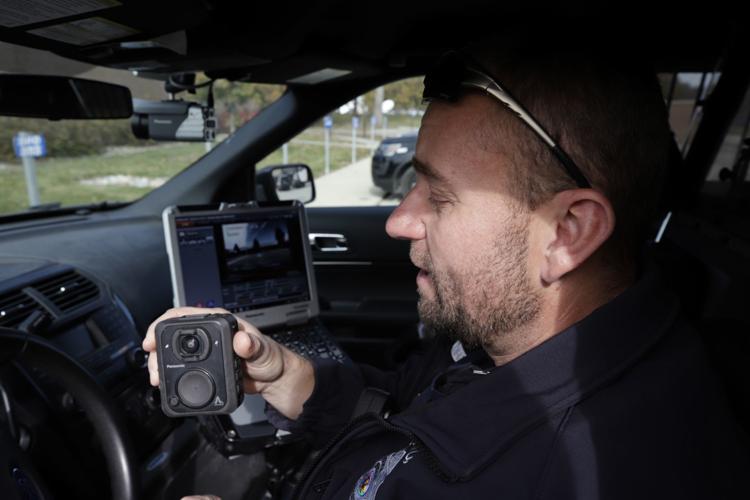 "We anticipate the cameras could be totally implemented by June or July," he said, "but we will see how things go as we distribute the cameras in batches next year."
City officials plan to pursue other technology upgrades in the coming years. Another initiative in their strategic plan is to increase surveillance cameras in the "urban core" of Decatur. The department in October introduced a voluntary registration system that would allow police to communicate more quickly with business owners and others who have their own surveillance cameras.
In a memo accompanying the budget, Wrighton acknowledged that the body cameras represent a large financial investment, but one that aligns with the city's goals for the police department.
"As we move the department forward, the use of technology and providing officer training will and must continue to be a focus," he wrote. "These focuses are vital in providing the citizens the best public safety services."