DECATUR — With 9 to 10 inches of snow possible for parts of Central Illinois this weekend, Decatur residents on Friday were making a run on bread, milk, eggs and other essentials to weather the storm. 
"It's what I've got to do," said Steve Vest, 62, as he filled his grocery cart at Aldi with enough to feed the four people in his home. "It's my family."
Vest was among many weaving through the aisles at the Pershing Road store, stocking up on food and household essentials. The National Weather Service at Lincoln said most of the snow would fall across the region between 9 p.m. Friday and 6 p.m. today (Saturday). Scott Baker, a meteorologist with the weather service, said the Decatur area would likely receive 9 to 10 inches, with the largest amount falling before noon today. 
"If you don't have to be out in it, don't," Baker said. "If you do, take your time."
Temperatures will be near freezing, which means the snow will likely be on the wetter, heavier side, Baker said. That means it's not fun to shovel or drive on, but there is a bright side: "It'll probably be fine for building some snowmen during the morning and the afternoon," he said. 
Decatur municipal services manager Dan Mendenall said 15 trucks would begin working at 9 p.m. to clear the streets, and staffing would continue as needed. As many as 18 trucks can be out during one 12-hour shift from 11 a.m. to 11 p.m., or 11 p.m. to 11 a.m. 
"We'll handle whatever Mother Nature throws at us," Mendenall said. 
Workers often use salt to melt the snow when there are just a few inches, but begin plowing when the amounts are greater. 
Mendenall said the goal is to have all priority streets cleared within 18 hours after the snow stops falling, though typically it does not take that long. After that, neighborhood streets are to be cleared in the next 36 hours.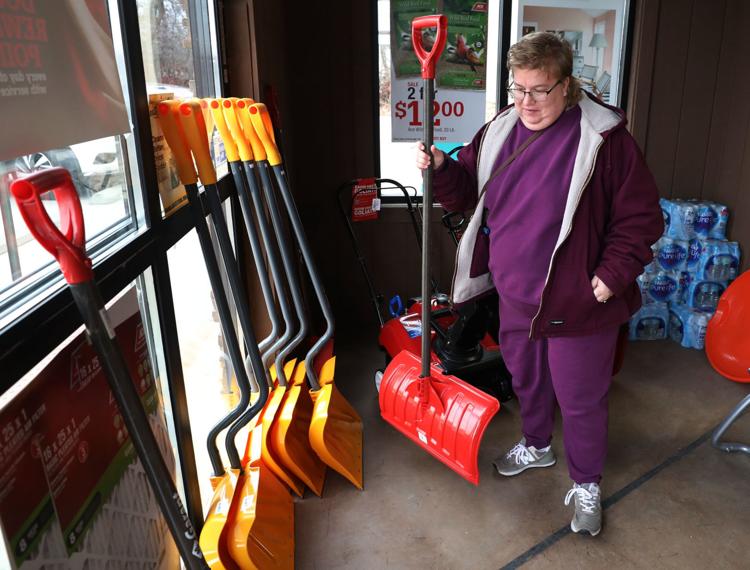 If residents plan to shovel their driveways before the trucks come through and want to avoid being plowed in, Mendenall said, it's best to pile the snow on the "downstream end," or the far end of the driveway based on the flow of traffic. He advised waiting to shovel the driveway until the plow trucks have been through the neighborhood when possible.
"We figured out one time if we lifted our plow for every driveway in town, it would take us about 10 times longer to plow the streets," he said. 
Drivers who do get out should stay far behind the city trucks. Do not try to pass them, he said. 
"The least amount of traffic that's out, the easier our job is and the quicker we can get it done," Mendenall said. "If you don't have to get out, stay in and let us get our job done, and it'll be a lot safer to travel." 
"We rest and stay hydrated. We're staging equipment," said owner Matthew Schwass. "There are so many variables."
Schwass also recommends those travelling in the storm be cautious of snow removal vehicles.
"Be mindful of the warning lights," he said.
Pat Kenney, manager of Kenney's Ace Hardware in Decatur, saw the store's stock of shovels, salt and snowblowers was diminishing throughout the day on Friday. "And sleds," he said. "That's the first time in three years."
The lack of snowfall in past years has affected Kenney's winter equipment sales, but the store was prepared. 
"We are all ready," he said. "We had it all set back and we're using our stock."
Jeanianne Davis has two toddlers she will have to entertain during the storm. Sledding is an option, depending on how cold it is, she said. "But we are just staying warm, mostly."
Davis and her husband Malachi brought the children with them to stock up on groceries.
"We are doubling down on the foods that we have for them," Malachi Davis said. "Normally we would buy just a couple of snacks for them."
Others are on Friday were not as concerned about the forecast.
Mark Allen of Decatur was at a local grocery store Friday to buy a large amount of chicken wings, but they were for an upcoming event for local firefighters.
"People blow it up," he said about the accumulation predicted. "It's just snow."
If nine inches of snow does fall in his yard, Allen plans to have fun.
"I'll have my grandkids and we'll play in the snow," he said.
With temperatures next week in the 30s, whatever snow does fall will probably hang around awhile.
"To melt 9 inches of snow — that can't be done overnight, unless you have like 70-degree weather," Baker said.   
---