Much of Central Illinois is under a flash flood watch that will continue until 7 a.m. Sunday as remnants of Tropical Storm Gordon continue to soak the region, according to the National Weather Service at Lincoln. 
Meteorologist Ed Shimon said the weather service has been monitoring road conditions along with county sheriff departments. As of Saturday afternoon, no road closing reports had been issued, Shimon said.
The flash flood watch has been issued for counties that include Christian, DeWitt, Macon, Piatt, Shelby, Coles, Champaign, Moultrie and Effingham. 
Heavy rainfall of 3 to 6 inches is likely through tonight along the Interstate 70 corridor, as far north as Paris and as far south as Flora and Lawrenceville, the weather service said. Further north, additional amounts of 1 to 2 inches are likely from Springfield to Danville.
Macon County and surrounding areas received between 2 to 4 inches in the past 24 hours. Before the storm arrived, the area experienced a cold front which stalled along Central Illinois, Shimon said. The two weather conditions created more rain for the area.
The threat of flash flooding is especially high in southeast Illinois, where slow-moving bands of heavy showers and thunderstorms may develop, the weather service said. That part of the state has seen the most amount of rain in the past day. Areas around Clay and Richland counties had 4 inches and are expecting more rains as the day continues.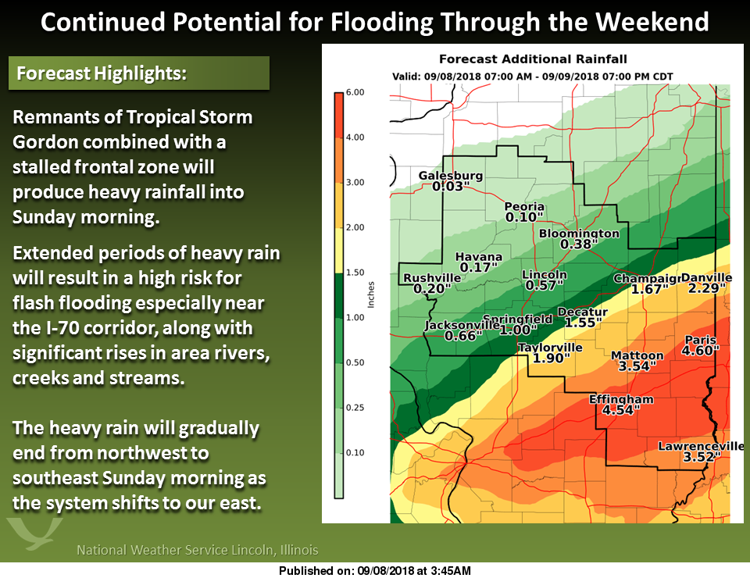 Emergency personnel warn drivers from traveling through standing water. "If you ever see a road flooded, don't drive through," Shimon said. "Traditional low spots should be watched."
The heavy rainfall is expected to shift to the east on Sunday morning, the weather service said.