DECATUR — Melvin Thomas and his crew of seven took plenty of breaks Tuesday. They had to. 
"Because of the heat," said Thomas, grounds maintenance supervisor for the Decatur Park District. "But we are doing OK."
The heat index topped out at 101 degrees during the day, a blast of hot weather that's expected to gradually give way to more moderate temperatures. National Weather Service meteorologist Chuck Schaffer said Central Illinois will get a break from the humidity in the next few days. Independence Day on Thursday is expected to be muggy, with a 50% chance of showers in the late afternoon. 
"The temperature will be lower, but the humidity will stay the same," he said.
Cooling centers opened this week across Macon County as the heat settled in. Those working outdoors are being told to take precautions.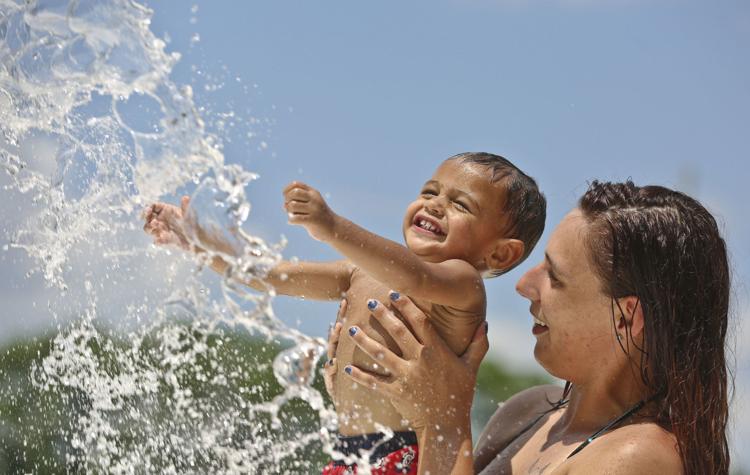 Thomas provides park district workers with water and sports drinks to stay hydrated. The grounds crew is fortunate to work among the trees in parks.
"We are just trying to stay cool," he said.
Other park district workers aren't protected by nature's canopy. Overlook Adventure Ropes Park employees are required to be strapped to areas of the open ropes course along U.S. 36. 
"We make sure they are staying safe and hydrated," said employee James Dunwell-Freeman. "And we are taking care of the people that are on the ropes as well."
Fortunately, the afternoon, when temperatures are the hottest, typically has fewer customers. "But in the evening hours, people start coming back more, seeing that it's cooling down," Dunwell-Freeman said.
Leslie Stanberry, director of the Decatur-Macon County Senior Center, urges people to frequently check on elderly neighbors and relatives. "Keep them hydrated," she said.
Stanberry has found that many older folks will not open their windows for security reasons.
"If you are worried because they don't open the door, call the police," Stanberry said. "They can do wellness checks."
She said she knows some don't want extra help. And others on a fixed income won't run air their air conditioners. "Offer to take them to get ice cream or run to get something to eat," Stanberry said. "Just checking on them is necessary."
You have free articles remaining.
Staff at the senior center are giving away fans to seniors who meet the income requirements and are more than 55 years old. "We have given away plenty already," Stanberry said.
The senior center is also one of the many cooling centers located in Decatur and Macon County.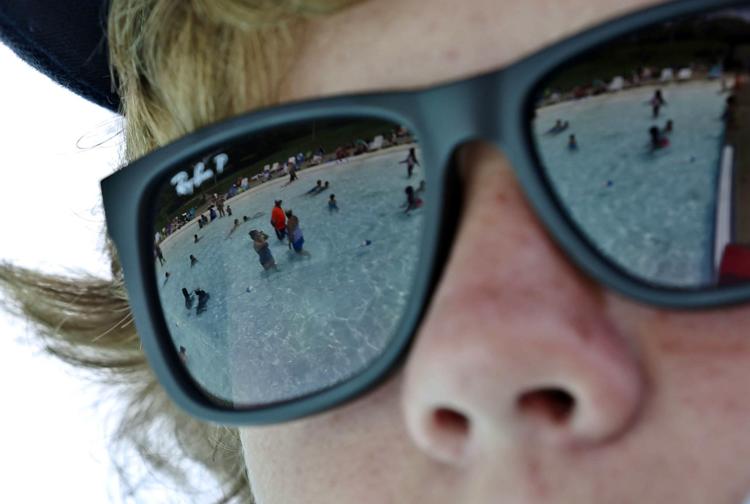 For those days, Esposito recommends people go to the mall or the library. "Or go watch a movie," she said. "Try to seek out places that are more likely to have air-conditioning."
Heat stroke and heat exhaustion are two of the concerns for those exposed to the high temperatures and humidity.
According to the Center for Disease Control and Prevention, symptoms of heat exhaustion include excessive sweating, muscle cramps, fatigue and a weak pulse.
If measures are not taken to stop heat exhaustion, a patient can experience heat stroke with a high temperature, hot skin, nausea and a fast pulse.
Pets can also suffer health problems because of the excessive heat and humidity.
"Don't leave you pets in the car," he said. "A lot of dogs die that way."
Animals kept outside need adequate shade and water. As well as from the high temperatures, dogs and cats can suffer heat stroke if they get too excited. Baker said the first signs to watch for is excessive panting or drooling, gums with abnormal color, or a pet that doesn't respond. "And if their temperature reaches 108 degrees, it is too late," he said.
If an animal is showing signs of heat stroke, Baker recommends pet owners put the pet in cold water, rub the armpits and top of the head. "Any place where there is not much fat," he said.
Most people are taking precautions from the excessive heat by staying inside.
Even businesses designed to cool off customers are seeing a dip in business because of the heat.
"When it is super hot, it's hard to get people in," said Anna Hooker, who works at the Mr. Softee ice cream shop in Overlook Adventure Park. "But it depends on the day."
Hooker's co-worker, Dawson Kostenski, said they're looking forward to the new aquatic center taking shape nearby. 
"We'll be getting a lot of customers once the pool opens," she said.