DECATUR — Police in Decatur and Macon County are gearing up for what officials expect will be an increase in impaired drivers after recreational cannabis becomes legal in Illinois next month.
Police and sheriff's deputies are already trained to spot drivers who are drunk or high, but many are receiving additional training. Enforcing the new law could be complicated because cannabis can take many forms, such as edibles, which can look and smell like regular food. While a breathalyzer test can detect whether a driver has been drinking, blood tests will be used to determine if someone is driving while impaired by cannabis — expanding on a tool police already use to find drugs in a driver's system.
"We will enforce how we interpret the legislation to the best of our ability," said Decatur Police Chief Jim Getz. "We are going to make traffic stops based on violations and use our observations to take the next steps if things go further."
The blood tests could be done at a hospital or by police who are trained in forensic phlebotomy. Of 10 officers in the state with such training, four of them are in Macon County, according to several of those interviewed by the Herald & Review.
On Monday, the Decatur City Council will consider accepting a $500,000 donation from the private foundation of former Macon County Sheriff Howard Buffett to fund a DUI enforcement officer. The position would focus on spotting drivers impaired by cannabis, alcohol or other drugs. Police expect more impaired drivers after the law takes effect Jan. 1.
Under the legislation, Illinois residents 21 and older can have up to 30 grams of cannabis flower, 5 grams of concentrate and 500 milligrams of tetrahydrocannabinol, or THC, in a cannabis-infused product. THC is the main psychoactive component in marijuana that gives users the "high" sensation.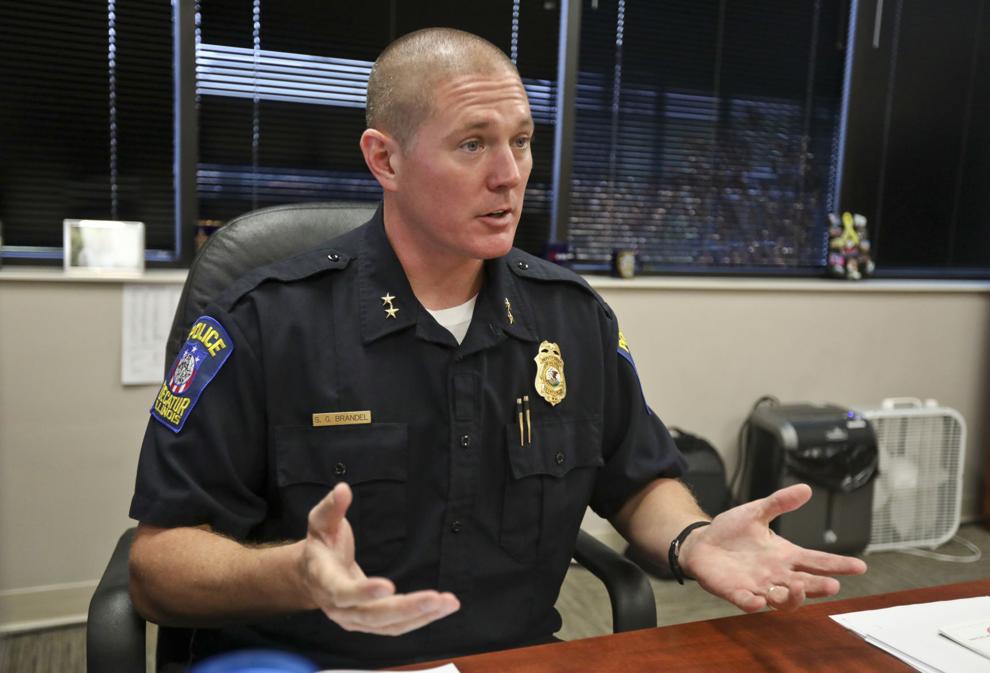 The Illinois limit for driving impairment from marijuana is 5 nanograms per milliliter of blood, or 10 ng/ml of other bodily fluids such as saliva or urine. Illinois State Police will continue to use saliva testing to detect THC, but Macon County and Decatur law enforcement officials say they are taking a different route because blood tests are more accurate.
"Blood is the most honest and accurate thing you can get," said Larry Brooks, Decatur master patrol officer who is trained in forensic phlebotomy. "The (saliva tests) are not consistent. We've had people actually dose with cannabis in front of us, and then they'll show up negative on those saliva tests."
Signs of impairment
Before any types of fluids are tested, both state and local agencies plan to perform standard field sobriety tests. These tests are not "pass or fail," as is commonly thought, but are simply used to detect signs of impairment that might signal a need for further testing.
Illinois State Police Trooper Mindy Carroll, also a public information officer, said many police personnel are certified in Advanced Roadside Impaired Driving Enforcement, or ARIDE, which trains officers on how to administer field sobriety tests.
Brooks, the Decatur officer, is a drug recognition expert and helps train new officers on signs of impairment through the ARIDE program. Tests focus on an overarching theme of following instructions, because they are meant to measure a person's ability to process divided attention, he said.
"We do our arrests based on a totality of circumstances, not just one test," Brooks said. "If they refuse to test, then it is more about the driving observation, personal appearance, the admissions and the evidence you find."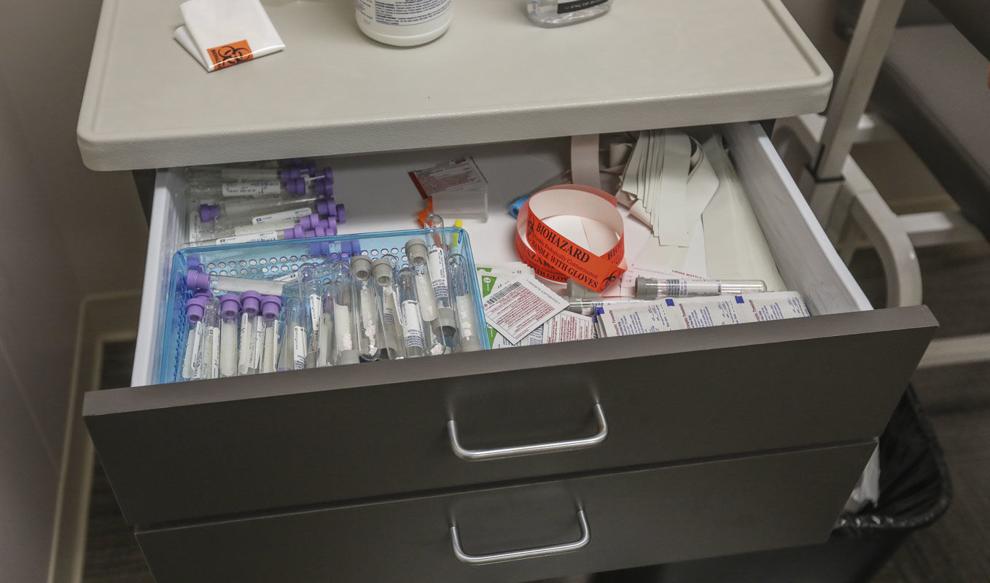 If an officer finds enough probable cause for an arrest, the officer will read the driver his or her rights from a form called the "warning to motorist." This includes information about being able to consent or refuse chemical testing. The driver will be asked to allow blood and urine tests, Brooks said.
Urine tests are less invasive than blood tests but only detect the presence of THC, Brooks said. Blood tests show the level of THC that is present, which allow police to determine the driver's level of impairment. Both methods could be used to collect evidence, particularly in situations involving a fatal crash, he said.
State troopers will continue to use saliva testing, Carroll said.
"The ISP is gathering and reviewing feedback from other states that have legalized the adult use of recreational cannabis and are currently conducting oral fluid testing," she said in an email. "Several states have implemented technology that has shown promise and could be effective here in Illinois."
How the tests happen
"We are a consent state. We will not forcibly draw blood from anybody," Brooks said. "We will have them sign a consent form."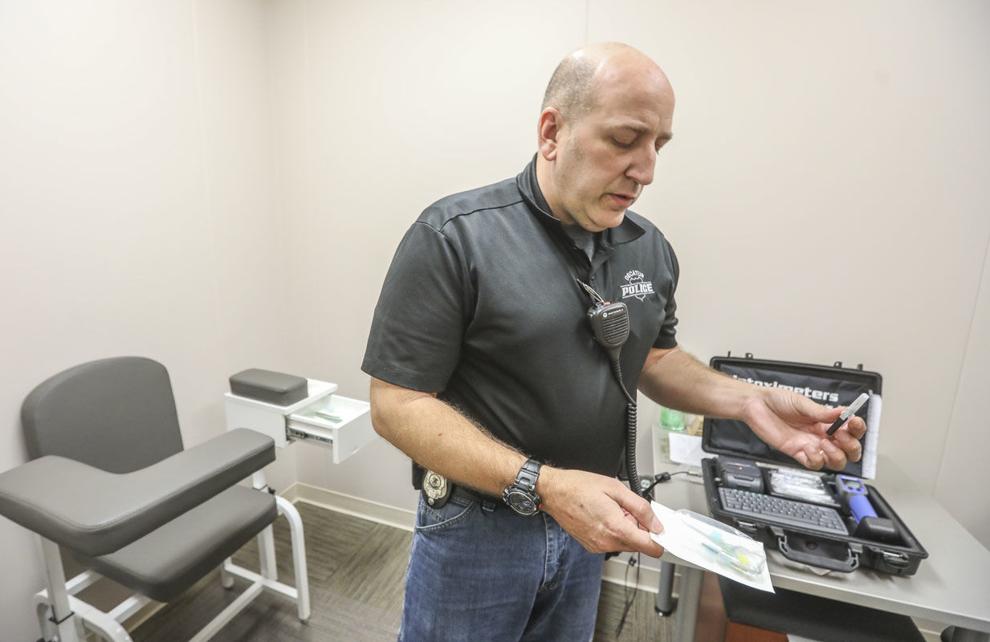 If consent isn't given, state law does allow police to obtain a search warrant for blood tests. Brooks said, as an example, this might be done in cases involving a crash that resulted in serious injury or death.
Besides Brooks, the other three certified forensic phlebotomists in Macon County are: Macon County Sheriff's Deputy Jessie Owens, Mount Zion Patrol Officer Craig Reed and Decatur Police Officer Austin Lewis. Owens and Brooks work closely to train law enforcement statewide.
Under standards followed by the agencies, a person whose blood is being tested must be brought to a clean space where he or she can be seated and secure while a trained forensic phlebotomist administers the test. The Decatur Police Department and Macon County Jail both contain spaces that are suitable for this testing.
Sometimes it can be difficult to find a vein, particularly if the person is dehydrated or using illegal drugs, Brooks said. If the officer cannot successfully draw the blood from the hand or elbow after two attempts, the person will be sent to a hospital to allow medical personnel to take the blood from an easier access point. Suspects are also brought to a hospital for testing if a forensic phlebotomist is not available.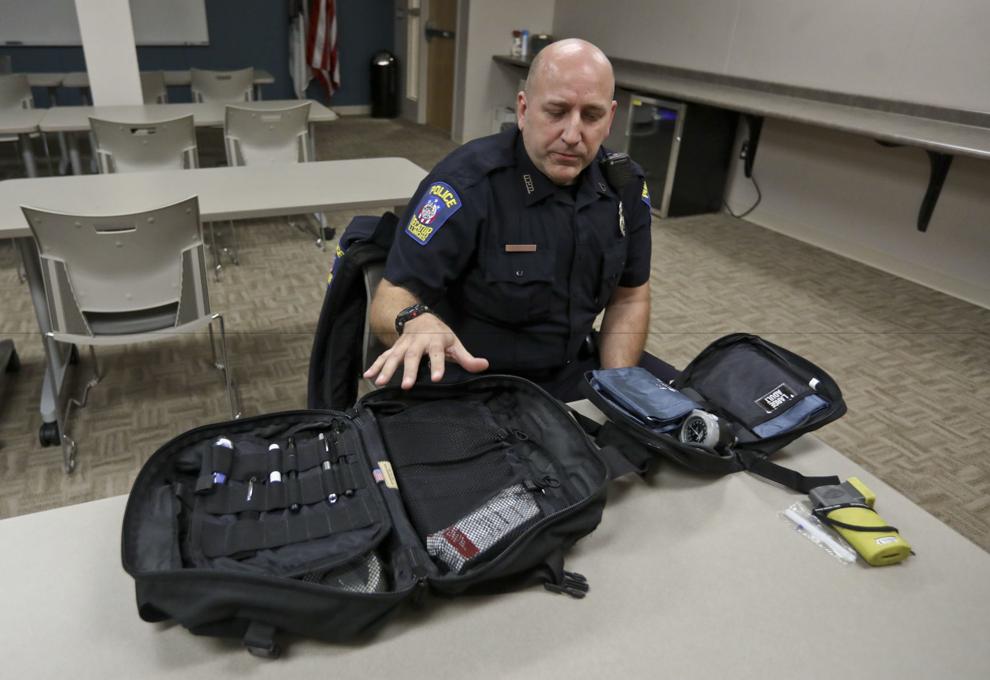 Blood samples are sent to the Illinois State Police Crime Lab in Springfield to be processed, and it could take police two to three months to receive the results, Brooks said. Officers then determine whether or not they will pursue disciplinary action, including a driver's license suspension or revocation. Neither measure would take effect until 46 days from the postage date of the notice.
Though blood tests are the most accurate method, Brooks said, they do come with a downside. Officers have a two-hour window before THC levels start to drop.
"With alcohol, we know how long the impairment actually lasts, how long it takes to get out of your system," Owens said. After using cannabis, "within the first 30 minutes to an hour, you lose almost 90 percent of the THC that's in your system."
While the THC leaves the body, Brooks said, impairment effects can remain longer. One danger with cannabis, he said, is that those who smoke or ingest THC might not feel its effects until 30 minutes later. This can prompt the person to ingest more.
Brooks, Owens and three other area officers received training in administering blood tests through funding from Buffett's foundation. In spring 2018, the foundation — which has funded a number of law enforcement-related projects and efforts in recent years — paid to send the officers to a 16-day training course in Arizona, confirmed foundation spokesperson Sabra Brucker. The Arizona program has been offered to law enforcement for over 20 years.
Others who attended the training were Ellen Colbeck, dean of nursing at Richland Community College, and Jennifer Cifaldi, the Illinois Traffic Safety Resource prosecutor in Springfield.
Based on what Colbeck learned during the trip to Arizona, she led an effort in to curate a forensic phlebotomy course at Richland through the IIllinois Law Enforcement Phlebotomy Program. The curriculum is the only of its kind offered to law enforcement officers statewide who would earn a forensic phlebotomy certificate upon completing the roughly five-week course.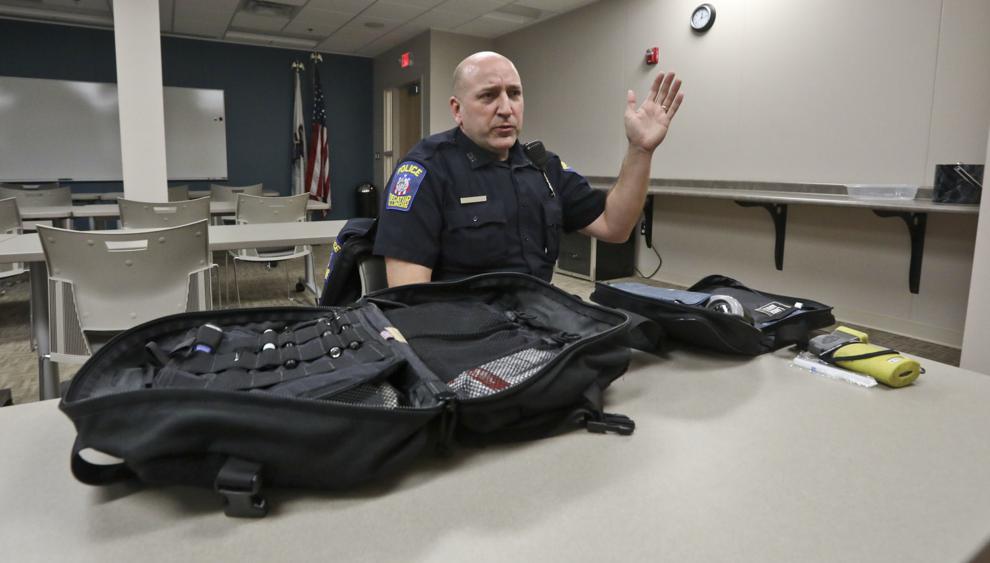 The content, coursework and clinicals created by Richland staff are rigorous and tailored to law enforcement, Colbeck said.
"You can't just go through this class and start doing (blood) draws," Colbeck said. "There is a whole process and you have to have the proper equipment."
The course is completed in portions: the first part is a month-long, 100-hour online course, followed by three days of lab work and and a seven-day clinical.
Brooks and Owens will lead a training next month at Richland, when 16 officers from around the state, including five deputies from the Macon County Sheriff's Office, will pursue the certificate. Law enforcement agencies typically pay for their officers to take the course, which costs about $660 plus the cost of a textbook and scrubs required for lab work, Colbeck said.
Brooks and Owens will also offer courses to law enforcement officers around the state to become drug recognition experts next year— one in April and another in September.
Using discretion
Even as police and government leaders have worked to become familiar with the new law since Gov. J.B. Pritzker signed it in June, the legislation underwent changes. Lawmakers made amendments during the fall veto session in November.
As they work to implement the legislation, police officials say they will use discretion, just as they do in many other matters.
"Officers everyday, multiple times a day, use their discretion," Brandel said. "An officer has the discretion as to whether or not they write someone a ticket and they base that on a few things." Police look at driving history, the speed the vehicle was going when the person was pulled over, and if the driver acknowledges that they have done something wrong, he said.
If a person is consuming cannabis, Brandel said, officers would look at whether he or she is doing so within the guidelines of the law. They will also consider whether there is probable cause to merit further investigation.
For example, he said: "If I pulled someone over for speeding and there is a burning cannabis smell within the car, that does not mean the person is high," Brandel said. "They could have just come from a friends house or their own home where they legally consumed cannabis. But the smell, among other observations, also gives us probable cause that they could have been smoking in the car.
"It is the same as if I pull someone over and I smell alcohol, it does not mean they are drunk. But it does mean I can further investigate whether or not they are drunk. It is the same thing."
If further investigation does not give the officer reason to believe the person was smoking in the car, he or she will be free to go, Brandel said.
The law says a driver who is 21 or older can have 30 grams of cannabis in a vehicle, so long as it is in a sealed container not easily accessible to the driver. If someone has just slightly over that amount, Getz said, police likely would charge that person under city ordinances prosecuted through administrative court.
"But if you are getting up to 100 or 200 grams, we are probably going to charge that at the state level," Getz said.
Training is ongoing. Decatur police will be given daily briefings from shift commanders and supervisors to go over portions of the legislation that apply to law enforcement, Brandel said. The department is creating a fact sheet that succinctly breaks down what officers need to know about cannabis possession and consumption which they can then use to determine how to handle traffic stops.
"We are asking a lot of questions that we don't know the answers to, so we are making our best guesses based off of our training and education," Brandel said. "We are very well aware of the fact that the courts will certainly weigh in on a lot of things that we will do. We just want people to be safe."
---
ARCHIVES: Decatur police through the years
Contact Analisa Trofimuk at (217) 421-7985. Follow her on Twitter: @AnalisaTro