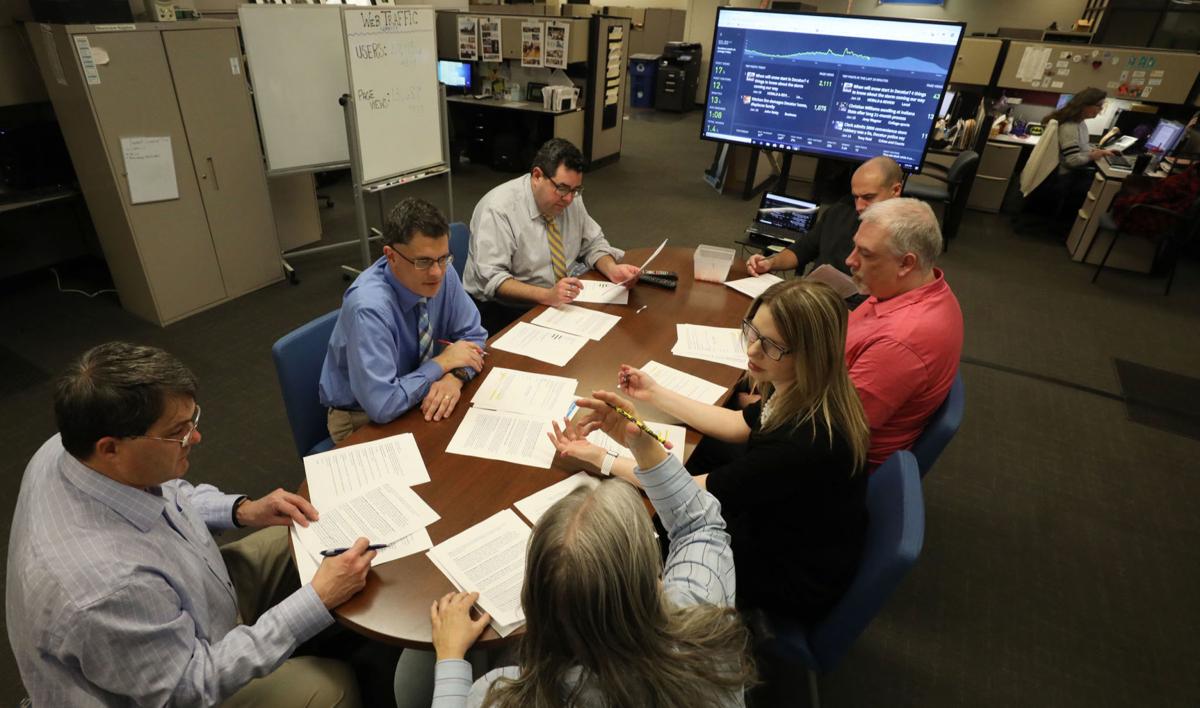 A commonly raised question on the Herald & Review Facebook page is why  in our crime and police stories we name some suspects and don't name others.
We've compiled the following FAQ to explain our policy, including the ethical issues our journalists face, and how we developed our in-house guidelines on naming suspects. The entire guide is posted here.
WHEN DO YOU NAME PEOPLE ACCUSED OF CRIMES?
Generally, the Herald & Review waits until formal charges are filed before someone is named. There are some exceptions to this, which are explained below.
We adopted this framework in May 2017. Previously, naming a suspect was decided on a case-by-case basis. The updated way provides a more consistent standard.
Under the rule, we'll report that someone faces preliminary charges — meaning the State's Attorney's Office is reviewing the case — but we won't name the person. Only after a formal charge is filed will a name be included in subsequent stories. We then follow the case through the legal process.
WHY IS THIS NEEDED? THE PERSON HAS BEEN ARRESTED.
Anyone can be arrested for any reason and, as our crime guidelines say, "although most people who are arrested are charged, they are not always charged with the same crimes they were arrested for." 
Rather than reporting these initial allegations, we wait until formal charges are issued. This indicates that there is probable cause and a prosecutor agrees with an arresting officer that a crime has been committed.
As the Online News Association puts it: "The journalism of today is permanent, searchable and accessible. If a person has been accused of a crime, charged, tried or convicted, there are often searchable records of that occurrence. Individuals are named as suspects by the police or others, some are tried and acquitted, charges dropped or they were convicted possibly years ago. Should all of them be named in the first place?"
WHAT ABOUT SOURCING?
We report what law enforcement is saying, often in a signed affidavit or in a court document. Police reports are generally not available to us.
Any information about a person doing something illegal is attributed to a source, which is why we don't use the word "allegedly." Rather, we attribute the allegation to police or prosecutors.
We also seek comment from the accused person's lawyer or explain if that's not possible, such as if it's a public defender, who have a policy of not talking to the media.
We also are committed to tracking the case from then on.
"Whenever we name a person, we take on the responsibility of reporting their legal process," our crime guidelines say. "... When we use the name, we are making a commitment to follow through on covering the outcome of the prosecution.​​"
WAIT, BUT OTHER NEWS ORGANIZATIONS NAME PEOPLE
Different news organizations, from broadcast to online to print, have different standards. There is no one standard.
Our policy is for ethical, not legal, reasons. The information is public. But according to our crime guidelines, "just because we have information doesn't mean we should use it."
WHAT ARE THE EXCEPTIONS?
As our crime guidelines indicate that "there are exceptions to waiting for formal charges to name an accused criminal, and serious risks should be weighed in each."
These exceptions are mostly when authorities indicate a serious or high-profile crime has happened, typically a Class X felony, or if the person involved is noteworthy. There also may be exceptions when police are searching for a suspect and have distributed an image of the person.
Our newsroom takes making these decisions very seriously. In the rare cases when names are used prior to formal charges, we carefully weigh the public interest before moving forward.
HOW CAN I SHARE FEEDBACK ABOUT THIS POLICY?
---
---
Chris Coates is the Central Illinois editor. Contact him at (217) 421-8905. Follow him on Twitter at @ByChrisCoates.
Be the first to know
Get local news delivered to your inbox!