MACON — Work starts next week to bring the state's first "J-turn" intersection to U.S. 51 in Macon, a $1.9 million project that aims to improve safety in an area that county officials and lawmakers have long deemed hazardous. 
Work on the highway's intersection with West Andrews Street Road was set to begin today, but was pushed back to May 28 because of wet weather in the forecast, said Tim Hemmen, project implementation engineer for the Illinois Department of Transportation's District 7, which includes Macon County. Weather will also determine whether the project will meet its initially scheduled completion date of Sept. 1. 
Since the highway expanded from two lanes to four in the early 2000s, the intersection has been the site of a number of crashes. The changes are designed to restrict through traffic and left-turn movement on West Andrews Street Road, and to keep drivers from attempting to cross four lanes of U.S. 51 at once, IDOT engineer Greg Jamerson previously told the Herald & Review. 
"Some people don't use turn signals," said Damon Reed, who works in Macon and was pumping gas at the P&V Quick Stop, 399 E. Andrews St., on Tuesday, "so you don't know if they're turning, or if they're going straight or the same direction you are."
The J-turn project will be the latest of several safety improvements the state will make to the intersection. Previous attempts have included reducing the speed limit of U.S. 51 and installing flashing stop signs and beacons.
But crashes have continued to occur. 
Asked whether he thought the intersection was safe enough or could use improvements, Reed, of Mount Zion, said he felt it was "a little bit of both." The stop signs at both ends of Andrews Street Road and other markers are clear to see, he said, but it's hard to predict the actions of other drivers.
IDOT engineers first unveiled their design in August during an open house at the Macon Community Center. Officials have said the intersections are common in states such as Minnesota and Missouri, and that statistics show J-turns have helped reduce traffic crashes at major expressways. 
"I've been on a couple in Florida (and) they seem to work fine," Hemmen said. "It seemed to flow well. I could follow the striping and signs with no problems."
When finished, the J-turn will primarily restrict through traffic and left-turn movement on West Andrews Street Road. Greg Jamerson, IDOT's District 7 program development engineer, told the Herald & Review in August that this will keep drivers from attempting to cross four lanes of U.S. 51 at once.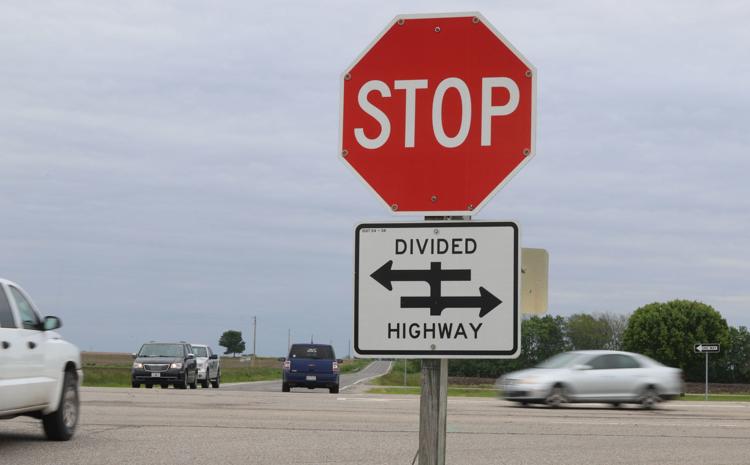 U.S. 51 will mostly be the same when the J-turn is done, but drivers heading east or south on Andrews Street Road must make a right turn, drive along U.S. 51 and make a legal U-turn using a marked lane. They'll also have to use the U-turn lanes when turning left onto U.S. 51 from Andrews Street Road. 
Hemmen said Andrews Street Road will likely remain open until June, which is when crews are expected to close down the median area at the intersection.
He said U.S. 51 will be reduced to one northbound lane and one southbound lane. IDOT said motorists should expect delays and allow for extra time when driving through the area, and should consider alternate routes if needed. 
To help ensure drivers will understand how the J-turn works when finished, Hemmen said signs and markings will be put up for people to follow.
"Once (drivers use the intersection) once or twice, it'll probably become normal," he said. "... It's a very unusual intersection configuration."