DECATUR — Brutal temperatures Wednesday sent animal control wardens out to check on pets who could have been in danger, and one man was arrested in Shelby County after deputies said he failed to provide adequate shelter for his dog. 
"Pets cannot handle being left outside in temperatures below freezing as it only take minutes for them to develop hypothermia and frostbite," said Sgt. Matt Reynolds of the Macon County Sheriff's Office. 
Under state law, pet owners cannot leave cats or dogs in extreme cold or hot weather that results in injury or death. If an animal is injured or dies, the pet owner can be charged with a Class A misdemeanor punishable by up to a $2,500 fine or up to one year in jail if they are found guilty.
The Shelby County Sheriff's Office in a Facebook post said deputies arrested a Stewardson man Tuesday for failing to provide adequate shelter for his dog. The dog's housing was non-insulated, the sheriff's office said, and a bowl for water was turned over with a chunk of ice next to it.
Because the dog was exposed to the extremely frigid temperatures from Monday night through most of Tuesday, Shelby County Animal Control took it into temporary custody, according to the sheriff's office. 
Speaking Wednesday afternoon, Sgt. Matt Graham said the dog's owner faces a preliminary charge of animal cruelty, which is a Class A misdemeanor. Graham said the owner posted $1,500 bond Tuesday night and was released from custody. 
Reynolds, administrator of Macon County Animal Control, said Wednesday that animal control wardens were traveling the county looking for pets that might be in distress, and had responded to several calls reporting animal welfare concerns. In those cases, he said, pet owners corrected the conditions and no arrests were made.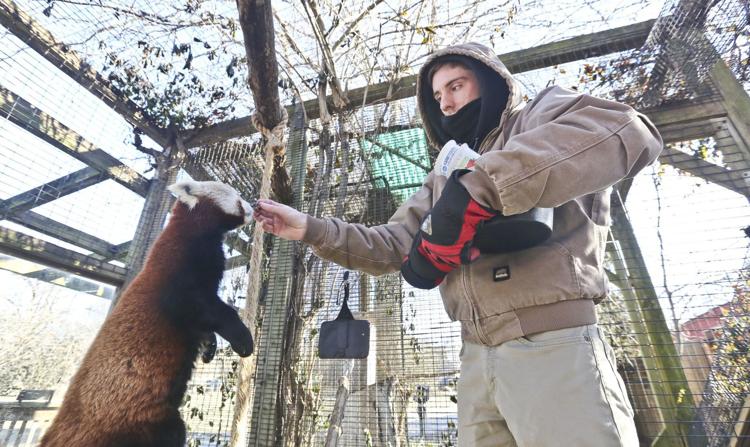 Wardens are working with pet owners to make sure the animals have proper shelter and ideal conditions. "They could have straw, heat lamps, heated water dishes," Reynolds said. "But the best thing is to get them inside."
Reynolds also suggests bathroom trips outside should be brief. "And let them back inside as soon as they are done," he said. "Again, it only takes a few minutes for a dog to get frostbite."
Of course, not all animals can come in the house. Keepers at Scovill Zoo and farmers who care for livestock took extra steps Wednesday to keep their animals safe. 
Decatur farmer Tom Leeper raises market cattle for freezer beef, so it's important for him and other livestock farmers to track the arrival of snow, ice or the arctic blast that has engulfed the area for the safety and health of his herd.
"Cattle are really durable animals," said Leeper, who has 17 head on his farm.
And he said they are smart, too, knowing when to seek shelter from the cold.
For his part, Leeper said he used the warmer days leading into the cold snap to make sure there was enough feed and hay in the barn for them to eat, they have access to water and proper bedding in place to keep them from getting cold.
Like humans, Leeper said the cattle are prone to sickness if conditions, like too much moisture underfoot, exist.
Since the cattle need extra energy to keep themselves warm, he said having extra feed available allows them to keep healthy and grow so they are ready for market come spring.
For his part, weather like this might mean an extra check on them during the day, just to make sure they are OK. He said the challenges would be greater for dairy farmers, who have schedules that need to be maintained regardless of the weather conditions.
The frigid temperatures don't bother the wolves at the Scovill Zoo, who are going about their business as usual, said assistant director Dave Webster.
Most animals who can't withstand Illinois winters have long since been moved indoors to their winter quarters, he said, though in these extreme conditions some extra provision has been made for the ones who stay out.
Those who stay in their usual enclosures have been given extra bedding and windbreaks. Some have heat lamps, and everybody gets some extra food in colder weather.
"We close some of them into their shelters," Webster said. "The cheetahs are locked in today, but most of (the animals) can come and go as they please if they're already out for the winter."
Scott Perry and Jaylyn Cook contributed to this story.