DECATUR — To measure the impact of the brutal pothole problem this time of year, head over to Ron Badorek's Auto Service on North 22nd Street in Decatur, where manager Jeff Deemer gets to see the carnage right up close.
"I know the potholes are terrible in this town," said Deemer, whose garage was handling a pothole-caused brake line repair costing $125-$150. "I don't see it getting any better."
The last week has seen an explosion of the jolting hazards, the byproduct of roller coaster swings in temperatures that have turned minor fissures and pockmarks into full-fledged craters. The worst of the worst are on state-maintained highways, where limited funding has meant miles of neglected roadways. Some pavement looks like Swiss cheese.
Macon County and Decatur crews have been out working, but with each patch seems to come another cavity, posing a risk to tires — and fraying the nerves of motorists along the way.
"Last week, we were driving through and it scared the living daylight out of my son," said Capri Smith, a Cerro Gordo resident who drives in Decatur. She pointed to a massive pothole on Aldi Drive, near Billingsley BP gas station.
The Herald & Review on Friday asked readers on Facebook to share where they've seen the worst potholes, and was inundated with dozens of responses about deteriorating roadway conditions. The most common areas, according to our unscientific poll: Illinois 36, Illinois 121 near Mount Zion, Illinois 48 to Blue Mound and in the South Shores area.
Potholes seemingly pop up everywhere as we drive during the winter. Crews patch them as quickly as they can, but moisture and brutal cold cons…
All those abundant cavities translate into a hectic period for patching road crews, with weather being the driving factor. They have to act fast, said Decatur Public Works Director Matthew Newell.
"If we just stood back and left it, it would just be mush," he said.
Most start when moisture slips under pavement and freezes, expanding the gap in the process. Then comes the melting, creating a cavity when there's a sudden warm-up and surfaces crumble under pressure. Rock salt, snowplows and heavy trucks accelerate the process. The temperature change in recent weeks has been especially taxing.
Worse off is concrete pavement, said Macon County Engineer Bruce Bird. His crews handle about 245 miles of roads, mostly rural and made of asphalt.
In Illinois, state highways are especially prone, a reflection of ongoing funding shortages from Springfield. The budget stalemate and declining revenues from the state motor fuel tax have had an impact on how much money is being spent on infrastructure. Illinois hasn't had a major capital bill in a decade, further choking funding for roads.
Nationally, the Trump administration has called on lawmakers to develop a plan for upgrading crumbling roads and bridges. A proposal would use $200 billion in federal money over 10 years.
"The president wants Congress to come together and craft a bipartisan infrastructure package that rebuilds crumbling infrastructure, invests in the projects and industries of tomorrow, and promotes permitting efficiency," said White House spokesman Judd Deere.
The federal tax on gasoline now stands as 18.3 cents per gallon and at 24.3 cents per gallon for diesel fuel. It hasn't been raised since 1993.
A whole lot of holes: 51,445 patched last year
Gov. J.B. Pritzker during his inauguration speech last month said the state needs an infrastructure plan, but didn't offer specifics about how to pay for it.
Pritzker previously pointed to increasing the gas tax, which sits at 19 cents per gallon and hasn't changed since 1990. Chicago Mayor Rahm Emanuel wants a 20- to 30-cent per gallon increase to pay for repairs, and he has pointed to major infrastructure problems. Steel beams on a Chicago bridge cracked after temperatures went from 23 degrees below to 51 degrees in a short period this winter.
Legislation being considered in the state House also would create a 2 cents per-mile driving tax, a plan that brought strong opposition when Pritzker proposed it as a candidate. House Bill 2864 would create a pilot program to test the fee on 2,000 participants, replacing the motor fuel tax for them.
A Herald & Review analysis in December 2017 found that none of the spending proposals from IDOT at the time included any funding for road improvements in the Decatur region.
You have free articles remaining.
The declining support was one of the factors in the Decatur City Council passing a per-gallon Local Motor Fuel Tax of 5 cents for non-diesel and 1 cent for diesel in 2016. The money goes to transportation-related projects.
Last year, $395,000 was spent patching 51,445 potholes, an amount that's expected to be about the same this year. Crews used 473 tons of Sylvax, a pliable pothole-patching material.
At least three crews are out all winter patching, said Dan Mendenall, municipal services manager for the Decatur Public Works Department.
"If a pothole is left unattended, it just gets bigger and bigger and bigger," he said.
They use a map that shows the worst roads marked in red. Those include Jasper Street and Martin Luther King Junior Drive, which are concrete and have been rough to drive on for quite some time.
Decatur resident James Taylor credits city crews with responding to problem spots. He pointed to Illinois 36 over Lake Decatur and West Main Street near Millikin University. There are several other railroad track crossings with potholes before and after crossing them, he said.
"All in all, I think the city does a better job than they used to," Taylor said.
Watch out for that …
For now, the biggest pothole benefactors are auto mechanics.
"The most common thing is tire damage," said Todd Banning, who owns Banning's Auto Service on East Pershing Road in Decatur.
He also sees curved rims and bent tire rods on steering or suspension systems, he said.
Banning said, in his experience, some potholes are unavoidable – and trying to avoid them can make things worse. He suggests trying to coast across the problem spot.
"If you see (a pothole), the worst thing you can do is try to slam on your brakes and slow down really fast, because sometimes it impacts it worse," he said.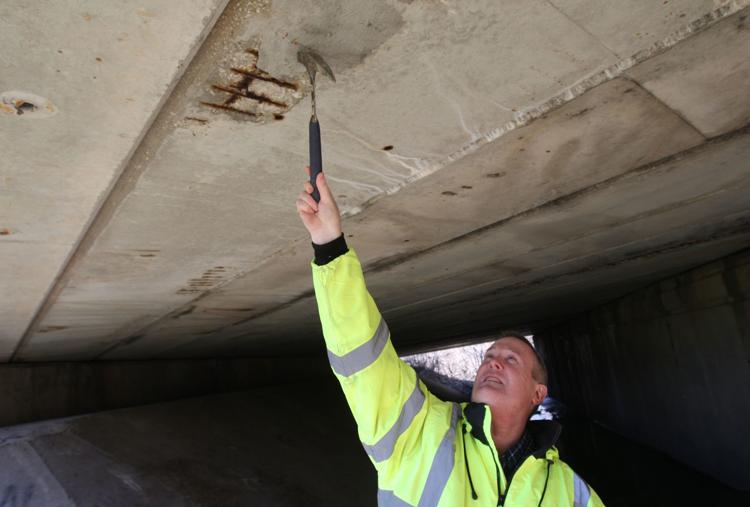 For now, Newell said he's preparing a new list of repairs for the city council. But he knows what the warm weather will mean. His work isn't ending anytime soon.
"When spring gets here, next month or about a month from now, it'll look like the city's just blooming in potholes, because the pavement has been frozen all winter long," he said. "A good thaw comes in, a little bit of rain shows up and the potholes just explode."
Bird, the Macon County official, said motorists should give crews more room while they do their job.
When they are finished, Bird said, "The nemesis isn't there to cause problems anymore."
The Associated Press contributed to this report. 
---
PHOTOS: February polar vortex plunges Decatur area into deep freeze
PHOTOS: Polar vortex plunges Decatur area into deep freeze
Contact Kennedy Nolen at (217) 421-6985.