DECATUR — Heads up, drivers: With warmer weather approaching, repair crews could soon start fixing some of the region's most well-traveled roads.
City, county and state officials have identified several roadways for repair or improvement projects. Whether they begin this summer or are completed before the construction season ends depends on several factors: budgeting, weather and approval from governing bodies.
"We start putting together (a list of) streets for the coming construction season at the start of the previous construction season," said Griffin Enyart, Decatur's assistant city engineer. "... The goal is to get these projects out early in the spring."
The Decatur Public Works Department on Monday will present city council members a list of roads that it has targeted to repair using funds collected by the local motor fuel tax, which is 5 cents on each gallon of unleaded fuel and 1 cent per gallon for diesel. The council will vote on whether it wants to approve the list and allow staffers to work toward getting the projects ready for contractors to bid on. 
More road projects could be coming in the next few years. Republican President Donald Trump, Democratic Gov. J.B. Pritzker and state and federal lawmakers have all called for major increases in infrastructure spending, but progress has been stymied by how to pay for it.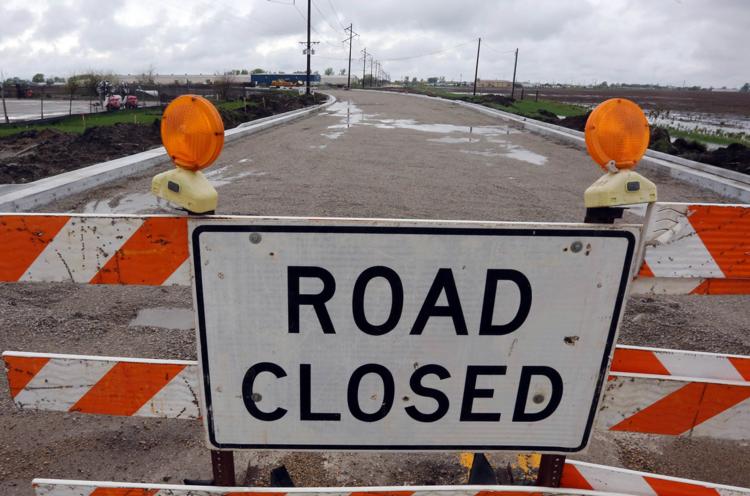 At the federal level, infrastructure could bring together Trump and Democrats in Congress, who said last week that they had agreed to work together on a $2 trillion plan. How to fund that plan remains up in the air. Trump campaigned on a promise to upgrade deteriorating roads and bridges and has been trying for two years to roll out such a package. 
For now, city and county leaders say they're focusing on what they can fix with the resources they have. The rising cost of asphalt, decline in motor fuel tax proceeds and other budget pressures have spurred a growing problem for Decatur and communities across the state that have struggled to keep up with repairs. 
Deteriorating roads are a continual source of frustration for residents, who say the potholes hurt their cars and make for an unpleasant drive. County Engineer Bruce Bird said the highway department gets a lot of calls from residents about roads that they think should be prioritized for repairs.
There are more roads and bridges on the county's "to-do" list than can be repaired immediately, he said. 
"We don't use dart boards and Ouija boards," he said. "Some people think we do it that way, but we have a five-year plan for any projects that we have on the radar."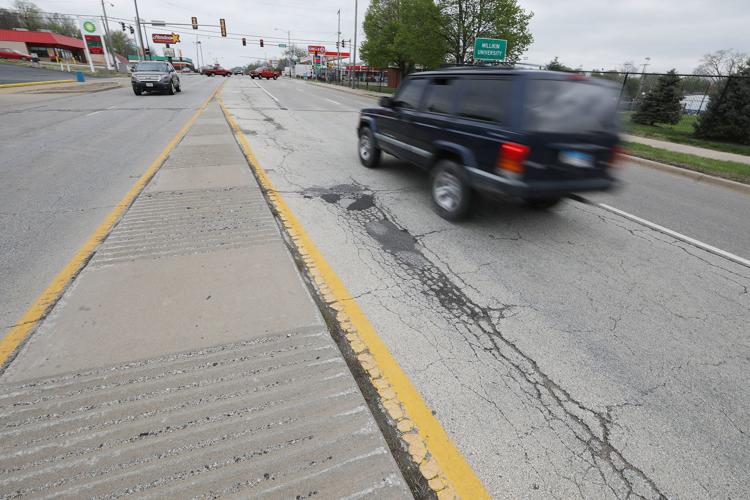 Targeted city streets
Some of the Decatur roads targeted for improvement include a reconstruction of East Division Street and North 34th Street to North 35th Street, patchwork for East Wood Street and North Martin Luther King Jr. Drive to North Maffit Street, and East Wood Street between Jasper and 22nd streets. 
A memo provided to city council members highlighted the Wood Street project as the primary project on the list. About 80 partial lead water services will need to be replaced as part of the project, which means portions of Wood Street will be closed to all traffic until they're replaced. 
The proposal as a whole is estimated to cost about $1.8 million, with $1.4 million coming from the motor fuel tax fund and about $367,000 in utility costs coming from the city's storm, sewer and water main replacement funds.
Enyart said the city does street inspections every year, and grades the roadways on a scale of 0 to 100 called a "pavement condition index."
The proposal memo said the city's annual capital improvement list generally focuses on streets with a PCI rating of less than 75. About 41 percent of the city's streets fall below that rating and the overall condition of city streets has dropped from an average PCI rating of 82 to 78 in the past six years. 
You have free articles remaining.
Enyart notes that low PCI scores aren't the only things that city staff takes into consideration when planning repairs. Other factors such as how much traffic the street regularly gets, or whether underground repairs are scheduled for a certain road also guide the city's decision-making.
"There will be certain ones deferred to future years for some of those reasons," he said. "We'll also decide which ones really need the work based on the budget and what can fit within our budget."
In addition to the primary roads that city staff are recommending for repairs, the city's proposal also features alternate streets for council to consider.
These streets are ones that don't score quite as high on the PCI, but could be improved if bids come in below the engineer's estimate. They can also be switched out for some of the primary repair proposals if the council feels that their repairs should take precedence over the staff recommended projects. 
Alternate projects mentioned in the proposal include a $40,000 asphalt overlay to East Eldorado Street and North 33rd Street to North Lake Shore Drive and a $105,000 overlay from 33rd and South Lake Shore Drive to East William Street Road. 
Beltway progress
The beltway is a 22-mile loop of road that will run from Brush College near Interstate 72 over Lake Decatur and through Long Creek into Mount Zion before linking to Elwin Road. Macon County Engineer Bruce Bird said crews have made "really good progress" on the Brush College project. 
David Brix operates a corn, soybean and alfalfa farm on Garver Church Road, near the closed portion of Brush College. While he and his family aren't blocked in on Garver, he said, they now have to drive toward Illinois 48 and wrap around in order to travel south in the city. Looking toward the eventual completion of the beltway, Brix said it'll be a challenge getting used to how the new traffic patterns work and also getting large farm equipment down the smaller lanes of roadway that the connector routes will boast.
He also said the overall cost of the beltway project could probably be used to tend to the needs of several other roads in the area. When asked what roads are in the most need of repair, Brix said "all of them. We've sure got a lot of bad roads that could be fixed."
One thing Bird said people should take into account is that local government may not have jurisdiction over many of the major roads going through the area. The responsibility for those roads typically falls on the Illinois Department of Transportation, Bird said.
Other road and bridge projects that the county currently has scheduled include work on Wyckles Road between Illinois 121 and Illinois 36, a bridge on 85th Street in Long Creek, the Baltimore bikepath between Harryland and a reconstruction of Lost Bridge Road from Country Club Road to Illinois 121. 
In addition to repaving the worn-and-torn street, new traffic lights and curb ramps that are compliant with the Americans with Disabilities Act. 
Greg Jamerson, program development engineer for IDOT's District 7, which includes Macon County, previously said there's no defined start date for that project. It will ultimately depend on how quickly the state can acquire land for the new traffic signal systems. 
Enyart said that while the city doesn't currently have a multi-year plan for road improvements, staff is considering adopting one in the near future. 
The plan "still maybe would change a little bit year-to-year as priorities do change, but we'll at least have a plan in place," he said. 
Contact Jaylyn Cook at (217) 421-7980. Follow him on Twitter: @jaylyn_HR
"We've sure got a lot of bad roads that could be fixed."

— Resident David Brix