https://cdn.field59.com/PANTAGRAPH/57a302fba5c86470148b8b831a63c7a4db320b62_fl9-360p.mp4
And the ordinance as originally drawn up by council legal staff did not get by unscathed. Councilman Chuck Kuhle balked at the notion of imposing fines of $50 for a first offense and up to $500 for a fourth and subsequent offenses.
Council members then voted by another 5-2 margin to support a Kuhle amendment to slash the fines in half for individuals, but keep the higher penalties in place for business scofflaws. Councilman David Horn was one of the nay votes on that one, having first ascertained that dropping litter in Decatur could net offenders a fine up to $500.
"I think if littering is a much more significant fine, it sends the wrong message about the importance of wearing masks," he said.
And whether the penalty is $50 or $500, the task of deciding who gets ticketed is going to fall to the Decatur Police Department. Chief Jim Getz did not appear comfortable with having his officers at the sharp end of every upcoming confrontation spurred by the wearing or not wearing of masks.
The chief told council members police will use their discretion and keep in mind officer safety. He said his officers are not going to wade into a bar full of a mob of 100 unhappy drinkers to try and enforce a mask complaint. "If it's unsafe for officers to deal with it, we're not going to deal with it," he said.
He also cited the example of businesses that do their best to impose mask-wearing rules but can't be held to account for the actions of one rogue customer. "Walmart is doing a great job (of mask enforcement) and some of your other businesses are doing a great job of enforcing this," said Getz.
"But if they have one person who comes in for shopping and half way through shopping decides to take his mask off, that's not Walmart's fault, or any other businesses' fault. So each instance (of enforcement) is going to have to be a case by case scenario."
The police chief could foresee other troubling situations, too. He said one of the biggest problem areas is likely to prove private parties and didn't relish having his officers show up as the surprise mask police at some child's birthday celebration. "You as a council have to decide whether you want the police going to Johnnie's birthday party where there are 25 family members there and if you want the police to get involved in that," said Getz.
"Me, personally, I don't like the idea of my police officers looking like the bad person going to this birthday party and saying 'You guys have to break it up."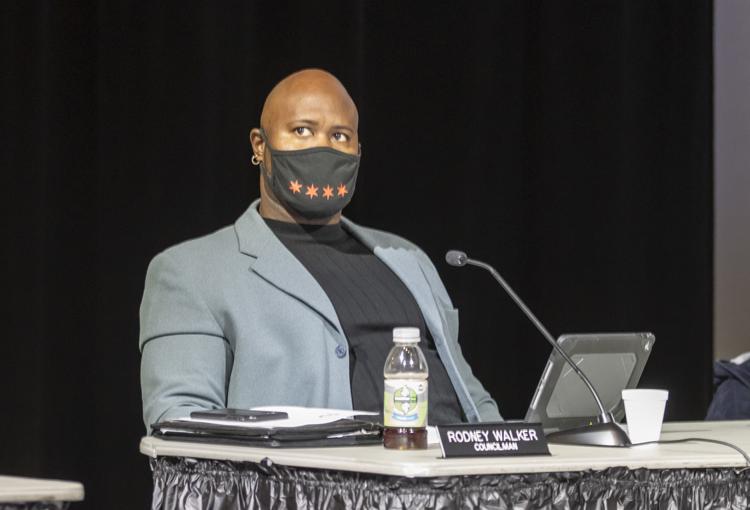 Getz also said he understood the public health issues at stake and said the department stood ready to do the best it could to carry out the council's instructions. "Obviously, we work for you guys and will do what you guide us to do," he added.
The consensus of the meeting, summed up by City Manager Scot Wrighton, was that leaving the right approach in each enforcement situation to police discretion was the ideal path forward.
"I think the best way to implement this is to trust the discretion of the police officers to know what the right situation is," said Wrighton. He said that may range from imposing a fine on some particularly belligerent customer who "drives a clerk to tears" or calling a business to account for overcrowding its interior with non mask-wearing patrons.
As for debate on the mask ordinance itself, council views were as split as the many public speakers who addressed the meeting on the issue. The anti-ordinance feeling was summed up by bereaved mother Theresa Palmer whose 23-year-old son Logan was killed in an accident in 2017 in the service of his country aboard a U.S. Navy warship.
"My son… died for my right to take my mask off and not to have to live in some tyrannical-type society," she said.
Councilman Horn, however, had no sympathy for critics who regarded a mandate to wear masks as a crass infringement of their Constitutional rights. Horn said wearing a mask was becoming a matter of life and death as COVID-19 illness and fatalities exploded: he cited a 208% increase in hospitalizations in Macon County in a month and 89 deaths — 41 of them occurring in a single month.
"To put that number into perspective, between January and October of this year in total there were eight homicides in the city of Decatur," said Horn.
Councilman Pat McDaniel voted to support the mask mandate but tried to get the council to back a plan to defy Governor J.B. Pritzker's orders shutting down indoor dining at bars and restaurants.
McDaniel proposed an unusual arrangement where bars and restaurants would close for several weeks to see if the COVID numbers drop, and otherwise be allowed to be open for inside dining and service. But his proposed ordinance amendment was voted down 5-2, with Councilman Kuhle the only other yes vote.
The bulk of the council heeded the words of Mayor Julie Moore Wolfe, who had pushed the mask ordinance, when she said allowing indoor dining and service was reckless. "It's wrong on many levels as have been talked about tonight…" she said.
"We're going against an order by the governor if we moved forward with this and we are putting the city at risk; we're not helping the situation, we're encouraging more behaviors that put more of the community at risk."
The mayor said she was painfully aware that businesses were suffering and said it was time for the federal government to step forward with a financial rescue plan to help them. In the meantime, she said the virus was raging through the community and in danger of overwhelming local hospitals and health care providers.
"We've got to get our arms around this community and stop this virus — it's out of control," she warned.
Councilman McDaniel then proposed scrapping the mask mandate's fines on individuals altogether and just keeping the financial penalties in place for businesses, but that amendment died when there was no seconder.
When the vote came on the mask mandate itself, the only "nay" votes were cast by councilors Bill Faber and Rodney Walker.
Faber, an attorney, said those who criticize the ordinance as being unconstitutional were wrong, and mask-wearing was not a constitutional issue. But, having said that, "I don't believe that we need to impose it on our community," he said. "...For us to impose a mandate on our community is counter-productive because it is just going to anger and alienate an important segment of our community."
Walker, who had been criticized by a member of the public at the start of the meeting for a video on social media allegedly showing him at a party with no one wearing masks, said he couldn't support imposing fines on people.
He proposed waiting until Dec. 31 and then taking "more aggressive measures" if the number of virus cases hasn't dropped by then.
"Decatur is at its best when we all come together," he said. "I believe the citizens of Decatur will begin to take proper precautions in the fight against COVID. Together, and only together, we will win."
---
Here are the 10 categories of new statewide COVID restrictions announced Tuesday
Bars and restaurants
Health and fitness centers
Hotels
Indoor recreation, theaters, cultural institutions
Manufacturing
Meetings, social events and gatherings (including weddings, potlucks, etc.)
Organized group recreational activities (sports, indoor sports and activity facilities, etc.)
Personal care service
Retail (including service counters)
Office
Contact Tony Reid at (217) 421-7977. Follow him on Twitter: @TonyJReid