DECATUR — The snow and ice are finally going away, but that doesn't mean motorists are in the clear.
Pothole season is upon us.
Municipal Services Manager Dan Mendenall said every available crew was out Monday afternoon tracking down large potholes and cracks along primary city roadways and filling them.
"There's quite a few, but usually after a winter like this we can get most of them, especially the major potholes," Mendenall said. "We'll get them filled in a couple days and then we'll go onto the minor potholes."
Once the primary roadways are addressed, Mendenall said crews begin making repairs to the lesser traveled roads.
"We will continue until we get them all filled," he said, adding that prolonged snow remaining on the ground delayed the start of the pot-hole filling process.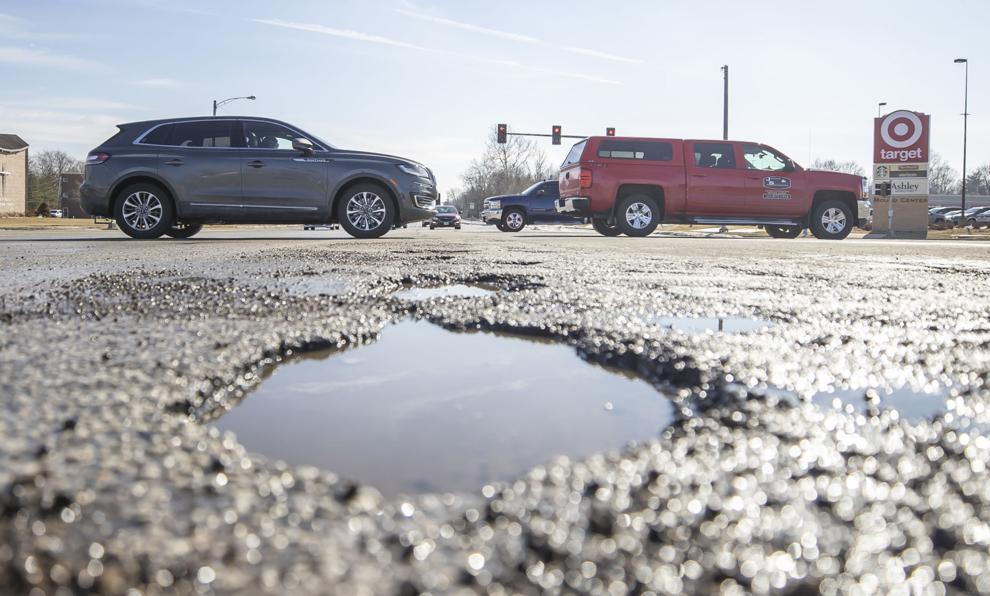 The process, Mendenall said, is to first clean out the pothole and pour in asphalt cold patch that eventually hardens into a permanent repair. Potholes ranging from small cracks to larger vehicle-jarring ones are caused by melted water seeping into the cracks and refreezing. 
"We do have a truck that heats the material so it's pliable so we can get it into the hole good and smooth," he said. "And then we use a tamper to tamp asphalt into the hole."
Until the holes are filled, some of the vehicles that fail to navigate the damaged terrain wind up at local car repair shops.
Sid Palmer, owner of Palmer Tire & Auto Service, on Monday said he'd already had several customers come through his doors in need of repairs.
Common fixes include side wall damage "where the side wall either has a bubble on it or it's ripped a hole in the side" and bent wheels, Palmer said.
"On the low profile tires, like 35s and smaller, it's not uncommon that when it hits a pothole that the tire will actually collapse so far that the wheel will cut the inside of the tire," Palmer said. 
The auto shop owner said several factors, like the extent of the damage and the wheel's size and style, figure into what can be repaired, what has to be replaced and how much it will cost.
Repairs to a "plain-jane steel wheel" is roughly $80 minimum and alloy wheels start at around $150, with replacement of the actual tire ranging from $75 and up, according to Palmer.
Mendenall urges Decatur residents to try and maintain the speed limit when driving until city, state and county crews can get around to fixing all potholes, as to avoid any major vehicle damages. Any concerning potholes on city streets can be reported to the municipal services division.
"We probably don't know about it if we haven't patched it yet," Mendenall said. "Give us a call and we'll dispatch a crew."
---
 History photos: Past winters in Decatur
Contact Garrett Karsten at (217) 421-6949. Follow him on Twitter: @GarrettKarsten