DECATUR — Family, football and food are usually the centers of attention for many Thanksgiving celebrations, but experts say fire safety should also be a top priority. 
The National Fire Protection Association said that Thanksgiving is the leading day for home cooking fires in the United States. Cooking is already the leading cause of reported house fires year-round, the trade association said, but the number of cooking fires in the United States increases nearly 250 percent on Thanksgiving. 
"Thanksgiving is one of the busiest cooking days of the year," said Decatur fire Inspector Mike Wigginton.
In 2016, 1,570 home cooking fires were reported on Thanksgiving, the fire group said. The daily average for cooking fires that year was 460. 
Lorraine Carli, the trade association's vice president of outreach and advocacy, said a reason for the spike in fires on Thanksgiving could be the holiday's hectic nature — as many people are preparing several dishes at once while trying to entertain their family and friends.
"These factors all contribute to the increased likelihood of home cooking fires and underscore the importance of being extra vigilant in the kitchen," Carli said in a statement. 
How to cook safely
The NFPA suggests people keep the following tips in mind when cooking a massive Thanksgiving feast this year: 
Never leave food cooking on the stove unattended, especially when frying or sauteing with oil
Use a timer to keep track of cooking times
Keep things like oven mitts, wooden utensils, food wrappers and towels away from the cooking area
Push up shirt sleeves and avoid wearing loose clothing that could come in contact with open flames
Avoid cooking when drinking alcohol
Make sure children stay at least three feet away from all cooking areas
Wigginton and the NFPA said that leaving cooking equipment unattended is the top factor behind cooking fires in the United States. 
"We get so distracted anymore," Wigginton said. "When we get phone calls, or the doorbell rings, our minds kind of go 100 miles an hour. We start going different directions and forget what we're doing."
Check your fire extinguishers and smoke detectors
Tim Highley, vice president of Decatur-based CC Fire Equipment Co., said anyone who has a fire extinguisher in their home should be sure to test it and make sure that it's filled and functioning properly. While his company mostly does business with commercial clients, Highley said, they do check residential fire extinguishers and either recharge them or sell the customer a new one if needed.
It's not uncommon for people to forget to check their extinguisher after going months, or even years, without using it, he said. 
"It's something you have to tell people," Highley said. "It's shocking how many people have no clue how to use them, even when there's a pressure gauge on the front telling you if it's ready to use."
Highley said the pressure gauge is a key tool in figuring out whether a fire extinguisher OK to use. If the extinguisher is low on pressure, then it's probably time for a recharge. Many extinguishers also come with a guide explaining how to use it attached to the cylinder, he said. 
Highley said said that for those in the market for an extinguisher, you get what you pay for when solely seeking out cheap products. 
An extinguisher "is something that I wouldn't try to go cheap on. Some are made cheap," he said, referring to when fire safety product manufacturer Kidde recalled several extinguishers  due to unreliable plastic being used in their design. 
You have free articles remaining.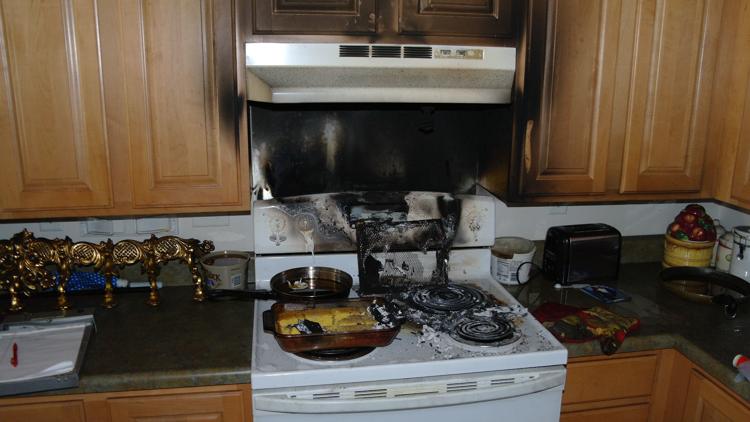 Wigginton said people can call the Decatur Fire Department at (217) 424-2811 and an official will come by to check and test their smoke detectors and carbon monoxide detectors.
If it's determined that a home smoke detector should be replaced, he said, the fire department has a program that offers homeowners new detectors for free. 
Avoid putting water on grease fires
In case of a grease fire, Wigginton and Highley advise against using water to try and put it out. 
"Putting water on it will splash and spread the grease fire over a larger area," Wigginton said. 
Instead, Wigginton said, smaller grease that start in a pan or pot should be extinguished by placing a lid over the cookware. People can then turn off their stove tops as the lid smothers the fire, he said.
For fires that start within an oven, Wigginton said the heat should be turned off and the oven door should remain closed. 
Highley said that ABC fire extinguishers that contain dry chemicals and powders used to put out a variety of fires — such as fires caused by trash, wood, paper, liquids, gases, solvents and electrical equipment — are very effective in putting out grease fires. 
Brush up on escape plans
Wigginton said most important thing to do if a fire starts in someone's home is to call 911 and get to safety. He said the holidays provide a good time for families to review their escape plans and practice a fire drill. 
"They need to know two ways out of the home," Wigginton said. "One way might be a window, but we tell people that's only for an emergency."
Highley said that teaching family members how to use a fire extinguisher should be covered in escape plan conversations, too. 
"We don't want people fighting fires and getting hurt," Highley said. "People should know how to use their fire extinguisher to save your house and put out a small fire."
This story has been updated with the correct phone number of the Decatur Fire Department.
---
🔎 Thankful for holiday deals: Thanksgiving ads from the Herald & Review archives!