DECATUR — Amy Flock has been maneuvering a Maroa-Forsyth School District school bus for three years, transporting 60 kids at a time twice a day through all kinds of weather, through all kinds of turns, past all kinds of vehicles rushing here and there. And despite that her multi-ton bus has flashing lights, a red stop sign affixed to an arm and is painted bright yellow, Flock still sees motorists seemingly oblivious to the rules of the road. 
"Honestly, a lot of times, because my eyes are on (the students) — especially when they're getting off — people will blow my stop sign and I can't do anything about it," she said. "My first priority is the children getting on or getting off the bus."
Flock is trying to prevent one of her students from becoming another gruesome statistic because of motorists ignoring bus stop arms. According to the National Association of State Directors of Pupil Transportation Services, 106,306 school bus drivers that participated in a 38-state survey reported 83,944 vehicles ignored stop arms on a single day during the 2017-2018 school year. 
Bailey Broderick, a mother of three Dennis School students and founder of the Decatur IL Moms group, said stop arm violations and distracted driving through school bus zones is an issue that concerns her and other area parents.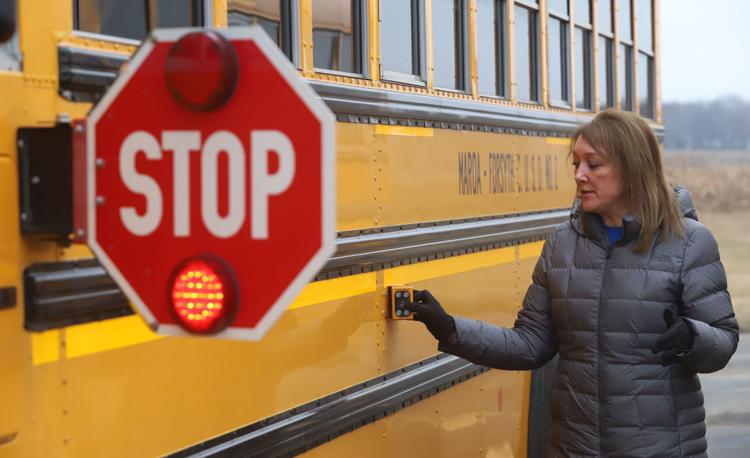 On its Facebook page, Decatur IL Moms shared a post from Illinois State Police in November that promoted awareness of the state's stop arm laws. Broderick said the attention garnered by the initial post and her group's reposting of it is a sign that it's an issue that many are passionate about. 
"That's actually why I shared it," she said. "I don't think that people know about (the law). If you share that little tidbit of information, more people are made aware of it. They can say, 'Hey, I saw something about that' before there's a tragedy."
Not only is ignoring a bus stop arm a violation of Illinois state law, but it can also lead to deadly consequences.
Killed were three siblings: 6-year-old twin brothers Xzavier and Mason Ingle and their 9-year-old sister Alivia Stahl. A fourth was critically hurt. 
DECATUR — It's a new front line in making sure kids are safe in the classroom. Police and Decatur School District officials are monitoring soc…
The driver, Alyssa Shepherd, was charged with three counts of reckless homicide and a misdemeanor charge for passing a school bus with an extended stop arm. She will also face an additional charge of criminal recklessness for injuring the fourth student. 
The National Transportation Safety Board said it was one of three fatal bus stop crashes that killed young children within a week, the Indianapolis Star reported Thursday. Similar crashes in Georgia and Mississippi were being investigated.
Some districts add cameras 
Paula Ray, transportation director for the Meridian Community Unit School District, said getting motorists to pay attention is an ongoing battle. 
"When they see that bus stop with the red lights, there's a student moving somewhere," Ray said. "They might have been late, or grabbing a backpack. They're not thinking of a vehicle coming down the road. Drivers need to be aware of their surroundings."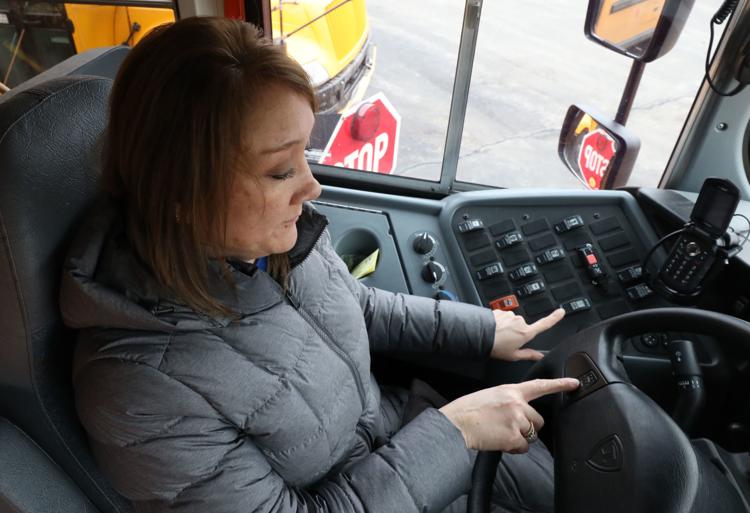 Ray said the Indiana incident became a topic of conversation among district staffers, particularly regarding what went wrong and what could have been done to prevent the incident. 
For bus drivers, who have to pass rigorous testing, there's the added challenge of having a blind spot in front of the vehicle. The area within 10 feet of the bus is considered a danger zone for that reason. 
Some school districts, such as Argenta-Oreana and Maroa-Forsyth, have bolstered enforcement efforts by adding camera systems near school bus stop arms. The cameras will be active during routes and will record any car that passes the bus when it is stopped and the stop arm is activated. 
Jody Luttrell, transportation director for Maroa-Forsyth schools, said all of the district's 24 buses were outfitted with cameras in 2017. 
"On the system that I have, I can slow (recorded footage) down and it's just amazing how clear it is," said Luttrell, who added that at least 12 violations were recorded since the installation of the cameras. "We do a snapshot of that and the license plate shows in the picture."
Like Argenta-Oreana, Maroa-Forsyth takes a record of any stop arm violations and submits them to the proper authorities. Illinois law states that anyone who is convicted of passing a stopped school bus will have their license suspended for three months on a first offense and will pay a $150 fine. 
Sgt. Ron Atkins with the Macon County Sheriff's Office said that fine will increase to $500 for all subsequent convictions. He said that in his experience, it's rare for people to violate the stop arm law more than once — as many of the people who violate the law are either in a hurry or were not aware of the stop arm law in the first place. 
"The biggest thing to remember is that kids are still growing," Atkins said. "They don't have the mental capacity to make the decisions that adults do ... people in both directions have to stop. That's more important than the 60 seconds or the 30 seconds it takes to stop and wait."
For school districts that currently don't utilize stop arm cameras, like Mount Zion, Meridian and Decatur, officials say the cameras installed inside the bus can be helpful in tracking down stop arm violators, too. 
"We are looking at adding the cameras to the outside of the buses here in Mount Zion, and those are really there to help law enforcement with traffic violations after the fact," said Mark Hogan, director of transportation for the Mount Zion Community School District, in a statement. "We have actually used our inside the bus cameras to verify that a vehicle has indeed ran the stop sign and given that footage to the police."
Hogan said the Mount Zion district has also given lists to the village police department on bus stops where repeat violations have been recorded, and officers "have been great on patrolling those areas."
'We can work together'
In January, Illinois State Police also conducted a crackdown on violators by following Argenta-Oreana buses on routes. 
It also helps when bus drivers are aware and proactive, Ray said. In the Meridian district, she said, all of the drivers are trained to get as much information as possible when a motorist violates the stop arm.
Hogan said Mount Zion drivers train students who ride the bus to wait by the side of the road until the driver gives them the OK to cross the street. Flock said this training is also applied to the students, and they're given instruction on how to get on and off the bus and proper bus behavior. 
The same applies for Decatur Public Schools, according to the district's Director of Operations Henry Walker.
He said the district works to raise awareness not only by educating the students, but also through communications with parents about the inherent safety of a school bus. According to the NASDPTS, school buses remain the safest way for students to get to and from school. 
"Just by the design of the bus, it was designed to be highly visible with red flashing lights, cross view mirrors and on the inside of the bus, they have the protective seating," Walker said. "... They're 70 times more safer than driving any type of vehicle in the road."
But in the end, Flock said there's only so much that drivers or cameras can do in these situations, as she has no control over what happens outside of the bus — an area that the NASDPTS calls the "danger zone."
Broderick agrees, and said it's the main reason why she believes awareness of the stop arm laws will be important now and as time goes on. 
"Awareness is the biggest thing that can help this," she said. "... As a community, I think we can work together and bring more safety to our kids."