DECATUR — The National Weather Service in Lincoln said remnants of Hurricane Florence along the East Coast are not expected to make their way to Central Illinois. 
Meteorologist Kirk Huettl said the hurricane system may bring isolated chances of showers to areas near the Indiana border and the Wabash River on Monday and Tuesday. Areas south of Interstate 70 might also see cloud cover in the coming days, he said, but that may not be a direct result of the storm. 
"Most of the brunt should stay east of Illinois," Huettl said Wednesday.
Florence, a Category 4 hurricane with winds up to 130 mph, is expected to hit the Carolinas by noon Thursday. Mandatory evacuations are underway in the Carolinas and in Virginia, affecting more than a million people. 
The National Oceanic and Atmospheric Administration's National Hurricane Center predicts that Florence's winds will weaken by the time it hits the Carolina coast, losing major hurricane status.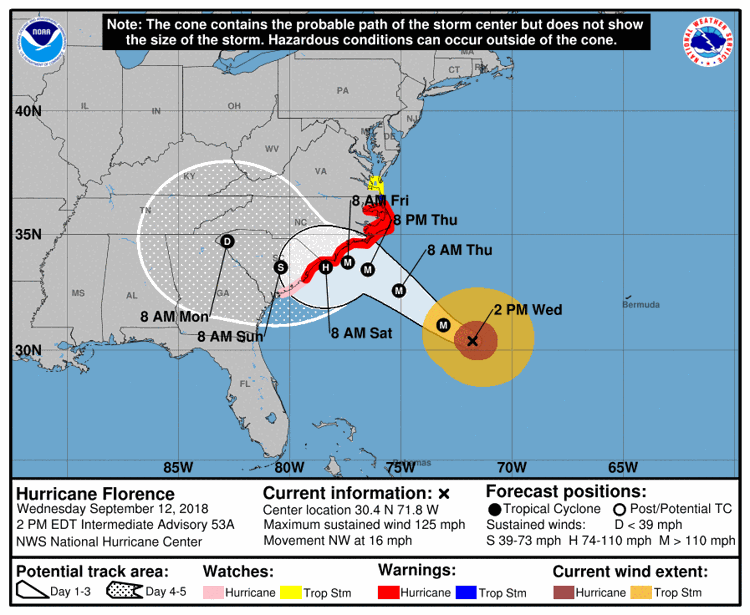 But the storm will still be classified a hurricane at that point, boasting a wind speed between 74 and 110 mph, the hurricane center said. 
Last week, remnants of Tropical Storm Gordon along the Gulf Coast arrived in Central Illinois, bringing multiple periods of heavy rain and flash floods on Friday, Saturday and Sunday. Huettl said the reason Florence isn't making its way toward the area like Gordon did is because of the storm's trajectory. 
"Remnants of systems that come in from the Gulf have a better chance of arriving in Central Illinois," he said. "Those that start over in the Atlantic stay east of us and usually get blocked by the Appalachian Mountains."
https://twitter.com/NWSLincolnIL/status/1039608041522569218