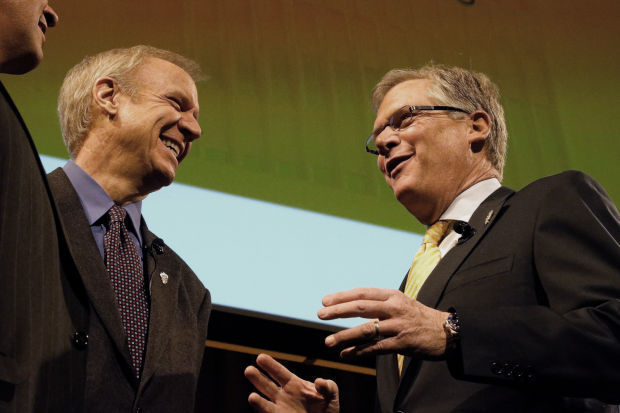 Doug Oberhelman, former Caterpillar Inc. CEO from 2010 to 2016 and former chairman of Millikin University Board of Trustees, visited his alma mater Friday as part of the school's celebration of its new University Commons building. Oberhelman and his wife, Diane, have made significant contributions to the school's financing of the Commons and other Millikin initiatives.
He sat down with the Herald & Review to talk about Decatur's economy, American business trends and how to combat the declining population of Macon County. 
You mentioned Millikin's proximity to the companies in town and how the business school has benefited from that, as have the companies. Can you talk more about that?
Certainly with the executive MBA, it draws a more experienced workforce that's already in business. They have an undergraduate degree, they may be working for 10 or 15 years and they want to go back for more education. To me, that connection with a university draws the two closer.
Take (Archer Daniels Midland Co.) or CAT for example. If you have a lot of ADM-ers with executive MBAs, Millikin's going to be all the stronger for it and vice versa. My encouragement on this today was the more of that can happen the better. Because those ADMers today are here in Decatur, but later they could be all over the world, and they're flying the Millikin flag while they do it.
There's a lot of talk about recruitment, and Decatur having a challenge to recruit talent. You're an Illinois guy and attended Millikin. You see Amazon's locating efforts for its second headquarters; it's all big-city based. What do you see as the future of economies like Decatur?
When I was here and when I started in business, the trend was, you're going to work for a company your whole life. That trend has gone away today. That trend I predict will come back, because I firmly believe that businesses are going to value people that understand their business.
A lot of these companies are new, 2-year-old, 5-year-old, 10-year-old company. Caterpillar's 90, and it's survived all this. I often ask a lot of our folks: 'Okay, tell me who you think will be (here) 90 years from now? Will Facebook be here in 90 years?' Not a hand will go up in the room ... 'Caterpillar?' Every hand goes up. You only last for generations because people really know the business, so I will predict that will turn.
I think today there's a trend toward big cities, people will wear out on that. They'll mature and realize, 'I don't want to raise my kids like this' or whatever. We'll see, that trend will reverse down the road, I'm absolutely convinced. Right now, it's something we have to worry about.
Why do you think that went away?
Well, the technology boom created a huge amount of new jobs, new wealth and new opportunities. And the technology product cycle, I guess is a good example as any, is very very short.
Whereas at Caterpillar or ADM a product cycle is a lot longer. We design a machine today, and it's going to be in production for maybe up to 10 or 12 years before it's modified greatly. It's very different. So I think that's driven a lot of the expectation, and it's worked that way.
I think at some point people are going to value a true knowledge base of their customer base, of their businesses and so on, and that pendulum will swing back. It may not go all the way back to 40 years ago, I understand that.
You hear criticisms sometimes that large American companies, that it's all become about short-term gains and it's too shareholder-focused. Do you worry about that?
I don't, no. But if you think about what's behind that — if you have a 401(k) or if you have a savings account, you get a monthly statement, and if that statement shows your results are bad, you move your money to somebody else. That's all these investors do.
And so we are driving that to a great degree, but in the end the companies that juggle short- and long-term are going to win every time. I was never overly (worried) about quarterly results. I was more worried about, will I be the guy that helps this place live another 90 years? You've got to worry about both because you can't sustain a bunch of losses in the near term and go out of business.
But I think this pressure is way overblown on quarterly returns. Companies that have a capital investment can't operate that way and they don't. I've argued this a long time, but boy, it's a popular thing to argue against.
As someone who's spent time in this community, there's a lot of challenges. There's another U.S. Census estimate that the population in Macon County is still declining. Is there anything you'd like to see to combat that?
The No. 1 thing we all face in this state is the Illinois political climate, which has been a disaster for 20 years or more. The financial situation here is horrible. Universities, public and private, all say the same thing: 'The state of Illinois is killing us.' That's by far what's leading this that all of us have got to worry about, because it can get a lot worse before it gets better.