DECATUR -- The Decatur Park District presented three options during Tuesday's public informational meeting to discuss the future of aquatics in the community.
But in the eyes of Kate Jordan, a mother of two from Decatur, there was only once choice.
"Option 3," Jordan said. "This is something we need to do."
Option 3 was the most expensive of the three presented by Counsilman-Hunsaker, an aquatics consulting firm hired by the park district, at an estimated $9.2 million, but it was also the biggest and had the most attractions. They included two water slides, children's play structure and tot features; a plunge pool with bowl slide, climbing wall, rope swing and drop slide; and a six-lane, 25-yard lap pool.
"I have two active boys, and they'd be all over those slides," Jordan said. "We drive an hour out of town to go to water parks five or six times a summer. We'd rather stay here."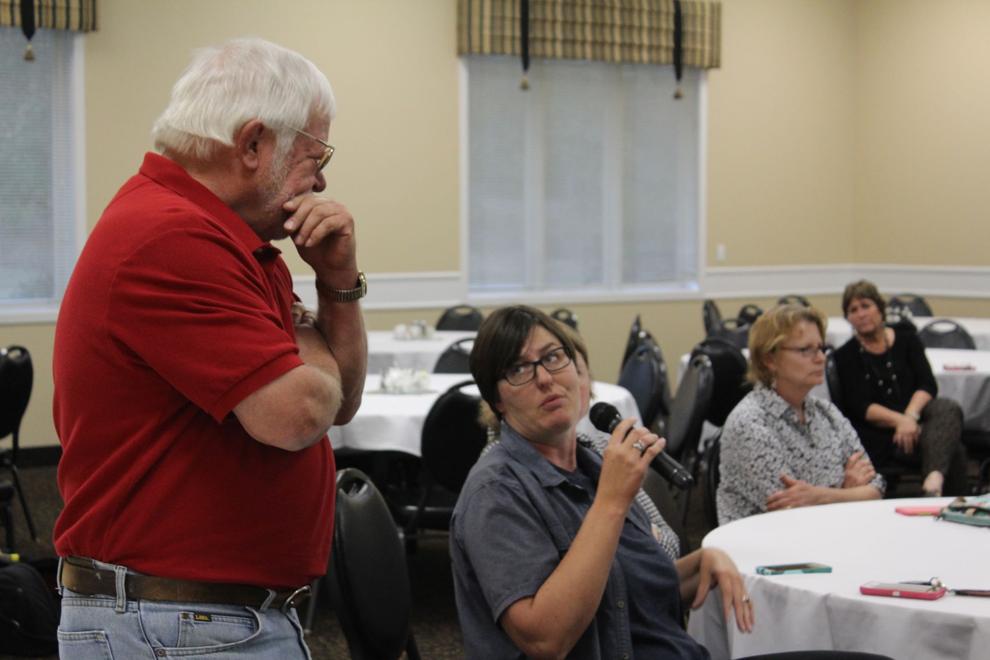 The park district hired Counsilman-Hunsaker because it wants to upgrade its aquatic center, the one at Fairview is 25 years old with bath houses from 1966, and its location isn't ideal. After building Overlook Adventure Mini Golf at Nelson Park and the recent announcement of a new amphitheater as part of the Lakeshore Landing lakefront development project, the park district would love to add the new aquatic center just east of the mini golf park.
"We want to make it a one-stop shop," Board President Bob Brilley II said.
Counsilman-Hunsaker agreed that Nelson Park is the better option for location. Counsilman-Hunsaker Principal Kevin Post said floodplains like the Fairview Park area used to be considered ideal for pools, but that's no longer the case.
"The creek often floods and closes the road to the pool and the area is limited for parking and pool expansion," Post said. "Nelson Park offers easier access, synergy with other park district activities and more area to work with."
Option 1 was to renovate the bathhouses and "sprayground" at the Fairview Aquatic Center and add a children's play structure in the shallow end, two slides and shade structures. The estimated cost for option 1 was $5.3 million.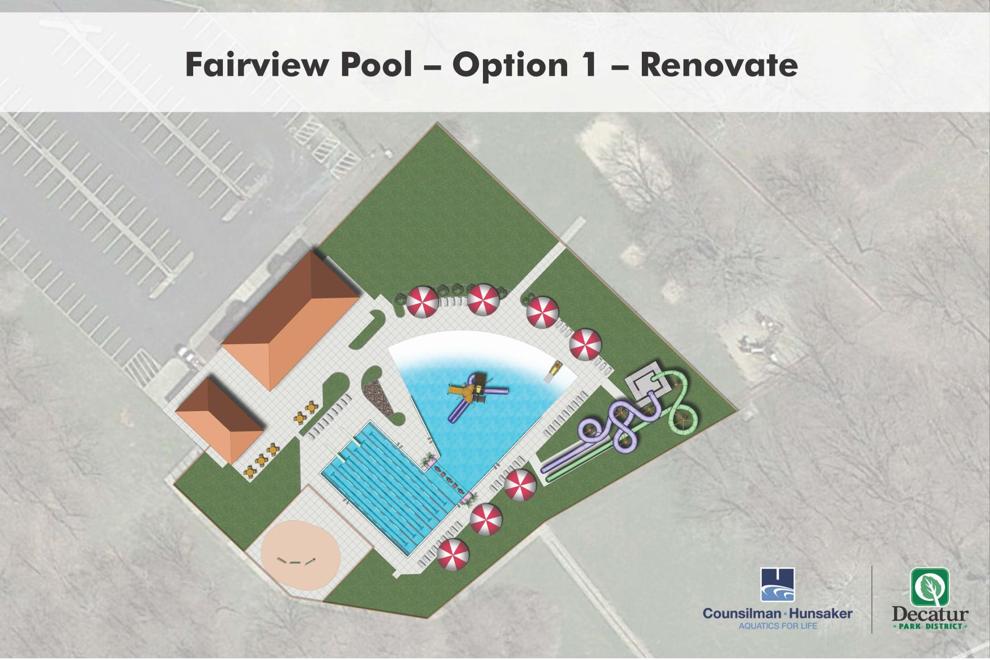 "This would add 15 years, but after that a complete demo and rebuild would be required," Post said.
New construction at Fairview -- option 2 -- would last, like option 3, an estimated 30 to 50 years. The sprayground would be removed, but additions would include a leisure pool with vortex, lazy river, slide tower with two slides, play structure and bench seating, in addition to a lap pool and diving board. The estimated cost for option 2 was $7.5 million.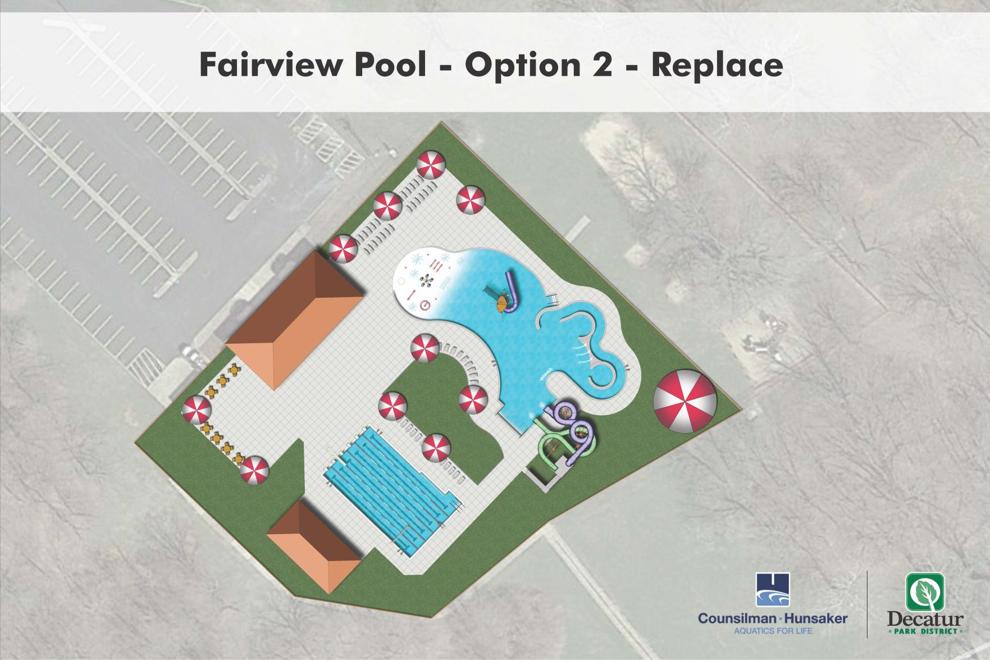 "This gives you separate pools so you don't have to shut down for fecal incidents, and it makes one side more of a passive, relaxing atmosphere and the other side more active," Post said.
Parking, Post said, would be an issue in option 2; more people would be drawn to visit, and there isn't room to accommodate the parking.
Option 3 offers the separate pool areas, additional attractions, better parking and a significantly larger facility, 2,500 more square feet of pool than option 2.
Post said Counsilman-Hunsaker's research shows that people will drive three to five minutes to go to a pool, but will drive farther -- 20 to 30 minutes -- if they have fun.
"Willingness to drive was based on experience," Post said. "For something like option 3, people would be willing to drive 30 to 45 minutes."
Swimming has the highest participation of any park district sports activity, and while the park board will discuss it at today's meeting and will have to find a way to pay for it, Brilley was clearly in favor of building something that would draw people.
"This is a feasibility study; we're not locked into anything," Brilley said. "These are three options. We did this so we could keep the public informed. You pay the taxes, so we want your input.
"But I'm for anything that gets kids off the streets and into the parks. If that costs money, it costs money. For people who are looking to move here, they want recreation. And we have to get kids to the parks."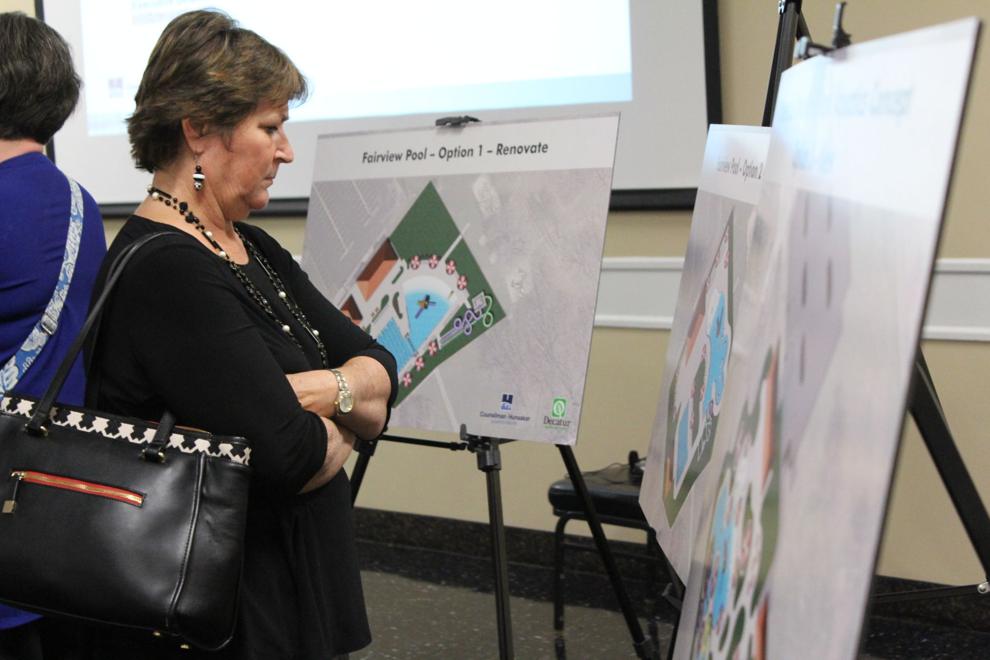 Courtney Settles of the Decatur School District and Ellen Hearn of Grow Decatur asked if a shell could be built over the lap pool for year-round use. Settles said he hoped a new aquatic center could help return competitive swimming to the high schools and swimming lessons to the grade schools.
"That is an option," Post said. "But most city park and rec programs aren't funding those by themselves. We'd recommend a partner for that."
Hearn said a Grow Decatur survey showed people in Decatur wanted a water park, particularly for activities for what they perceived as the most underserved ages: 10 to 25.
"People were very specific; they wanted more things in the parks for the ages older than toddlers," Hearn said.
Post said that need was addressed in their plans, with more room and activities in the shallow area, where younger swimmers often congregate, and more to do for tweens and teens, particularly in option 3 with the plunge pool attractions.