DECATUR — The Decatur Park District is busy with big construction projects, including two nearly finished that will be a major benefit to baseball and softball players, especially younger ones.
Ryan Raleigh, the park district's director of operations, said the new batting cages at Nelson Park's Overlook Adventure Park should be ready by the end of June at the latest. Jamie Gower, park district director of recreation and facilities, said the new Redbird Rookies youth field at Hess Park is also nearing completion.
It was hoped that the batting cages, which will include four stations — all with the ability for users to adjust pitch speed and height, and use baseballs or softballs — would be finished by mid-May, but heavy rain and other construction complications pushed the date back.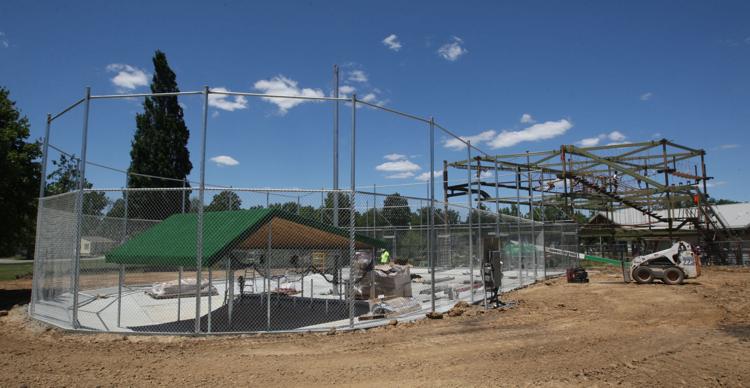 "It's on a hill and you have to dig a pit for these, and anytime it rained, the pit filled in and they would have to wait a couple days for it to dry up," Raleigh said. "There was a lot of rain, heavy rain, for a couple of weeks.
"Once they got the concrete in, things started moving, but then there was a whole thing where we couldn't do all the excavating around it until they got the concrete poured, and we couldn't get the electrician in until that was done. You think you can just have everyone come in at the same time, but it's a process of steps."
Jamie Shasteen and her children Alissa, 11, and Caden, 10, made the trip to Decatur from Shelbyville to play some mini golf on Thursday and are looking forward to the batting cages opening in the near future.
"We were hoping it was open today," Shasteen said. "We can't wait. It's going to be a great addition."
Shasteen said the addition of the ropes course, batting cages and a water park to the mini golf course will keep her family coming to Decatur from Shelbyville. Karyn Haskell of Decatur, who was at CherryBerry with her grandsons Devin and Blake Smith, 9 and 7, respectively, said Overlook Adventure Park has given her a lot more options for something to do with them.
"It used to be the zoo and the children's museum, and that was about it," Haskell said.
Blake said he was excited about the coming of the batting cages. He tried to convince Devin that he should be excited, too.
"We went to the ones in Morton," Blake said. "These will probably be better."
Raleigh said the current step in construction was getting the electrician in to do trenching and run conduit, which will be followed by a technician setting up and calibrating the machines, then the pouring of the sidewalk from where it ends at the mini golf course to the batting cages.
"We don't have a hard date set for opening, but it's close," Raleigh said. "The biggest question mark is how quickly the electric can get done. That's what will hold us up to the next point. We're looking at a couple more weeks."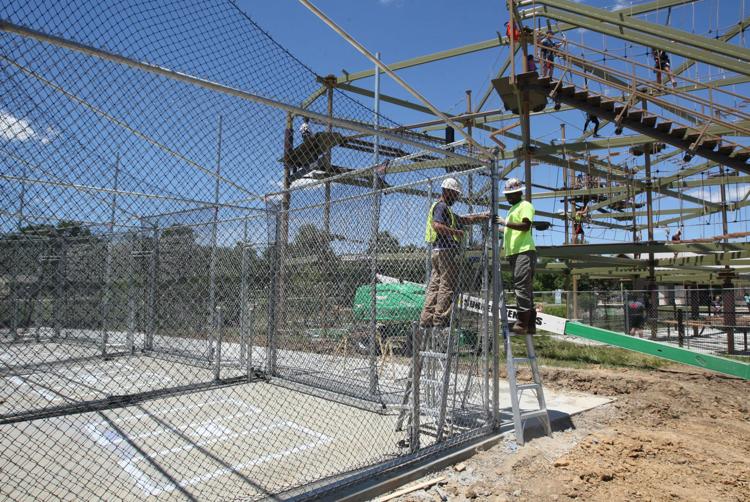 The batting cages have a price tag of $372,240, a portion of which was covered by a 2015 Open Space Lands Acquisition and Development grant.
A $1.50 token will buy 15 pitches, though the cage can also be rented by intervals of 15 ($10), 30 ($18) and 60 ($32) minutes.
Youth baseball field
The Redbird Rookies field at Hess Park finally got the go-ahead from Cardinals Care — the charity arm of the St. Louis Cardinals — and the park district chose the lot at the north end of Hess Park.
The Redbird Rookies program, in its 10th season in Decatur, came with the promise of a new youth field. The program has built more than 20 youth fields in the St. Louis area, each coming with a scoreboard, covered dugouts, home run fence and an irrigation system.
The scoreboard and dugouts are already in place. Raleigh said the irrigation system, sod and fencing are next. Gower said there's no set date for opening, but it's close.
"They're making pretty good headway — they've done a lot of these, so they know what they're doing," Gower said. "It will be our marquee youth field out there. Redbird Rookies teams will have first priority, but our other youth baseball and softball programs will also play on it."
Gower said the park district hopes to know soon what the name of the field will be. The other Redbird Rookies fields have been named after a Cardinals player or someone in the organization.