Here's everything you need to know about the ropes course:
What is it?
A 35-foot, 9-inch tall structure with three levels that children and adults can use. Climbers are harnessed in and locked in to one track that can go in multiple directions.
When will it be open?
Opening day is Saturday, April 1, with hours from 10 a.m. until 10 p.m., with the last admission a half-hour before close. Spring hours, which last until May 25, are 4 to 8 p.m. on Thursdays, 4 to 10 p.m. on Fridays, 10 a.m. to 10 p.m. on Saturdays and noon to 8 p.m. on Sundays. Starting on May 1, the course will also be open from 4 to 8 p.m. Monday through Wednesday.
What are the age requirements?
There are none. If you can walk, you can do the course. There is a tots course on the bottom level for those 48 inches or under, but a child under 48 inches can still go up to the other levels with a chaperone.
What are the size limitations?
Decatur Park District staff said 300 pounds is the suggested limit, but they won't have a scale at the gate to check.
"That's somewhat self-policed," said Jamie Gower, director of recreation and facilities for the park district. "If we think someone could be on the verge, we'll talk to them and give them some additional safety tips and see what they want to do."
There are no height requirements or restrictions.
How much does it cost?
For 13 and older, it's $7 for 30 minutes and $11 for 60 minutes; for ages 4 to 12, it's $5 for 30 minutes and $10 for 60 minutes; for tots, it's $4 for 30 minutes and $7 for 60 minutes.
For mini golf and ropes course (18 holes and 30 minutes), it's $10 for ages 4 to 12 and $11 for 13 and older.
In what weather can it be used?
Any lightning in the area will shut down the ropes course. It will also likely be closed in heavy rain, though light rain and cold won't affect use.
"The rain might make it slippery, but that probably just adds some challenge to it," Gower said. "We open in April, so there might be some cold days. It's what you can handle cold-wise."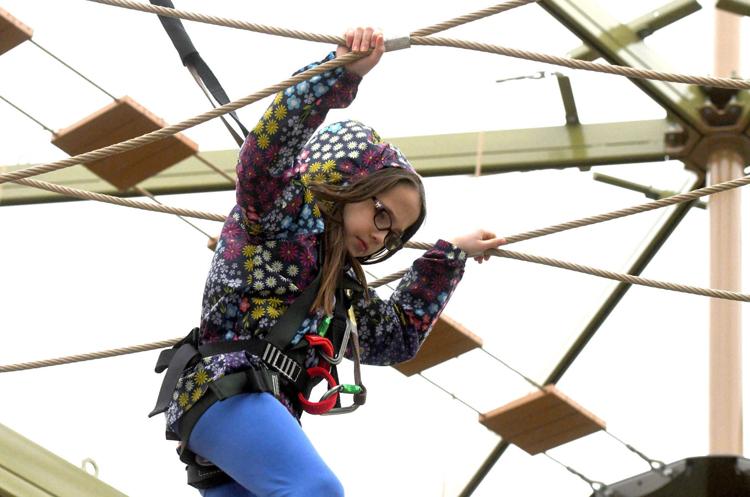 What should I wear?
Shoes are the most important item to remember to wear. No sandals, flip-flops, open-toed or open-heeled shoes should be worn. Ryan Raleigh, director of operations for the park district, said he recommends hard-sole shoes.
Gower suggested comfortable clothes, but said it can be done in any clothing.
"Technically if you came out in your suit, we could get you up there to do it,," Gower said.
How does it work?
Those wanting to use the ropes course should go to the mini golf kiosk, choose what they want to do and pay.
Climbers will walk to the ropes course and be fitted for a harness, then led inside a gate and attached to a rail system that can go in multiple directions.
The course is free-roaming — there's no one direction a climber has to go. They can look out over the edge of the structure or go to the top, where there's a sky rail that will zip a climber from one side of the structure to the other.
Is it safe?
Both Raleigh and Gower said the ropes course was safe.
The harnesses worn can't become unlocked while the climber is on the course without use of a special tool. The lanyard coming off the harness is in a track that can't come out of the unit until it's removed at the end.
"It literally will not come out of there until you're off the course," Raleigh said.
Staff has been through 16 hours of training by Ropes Course, Inc., staff. They were trained on what to do if an emergency situation occurred.
"It was pretty extensive," Gower said. "They make sure everyone feels comfortable with any situation you might face."
Can I do it if I'm out of shape?
Gower said as long as you're comfortable climbing stairs, you can climb the ropes course. Raleigh said doing the course doesn't require upper body strength.
Can I have a birthday party there?
Yes. Call Gabby Cliff at (217) 429-7750 for packages and rates.