DECATUR — Dr. Stephen Huss' passion for the Decatur Park District never seems to lose altitude.
Huss, whose family has a distinguished history of support for the district, was honored with a park bench placed outside the Decatur Airport on Tuesday.
Jim Schwarz, president of the Decatur Parks Foundation, presented the bench in front of family and friends of the doctor. He honored the Huss family and their contributions to the park district and community
"They've been friends with the park district and the park foundation for years," Schwarz said. "They have a family history. It is great all he has done."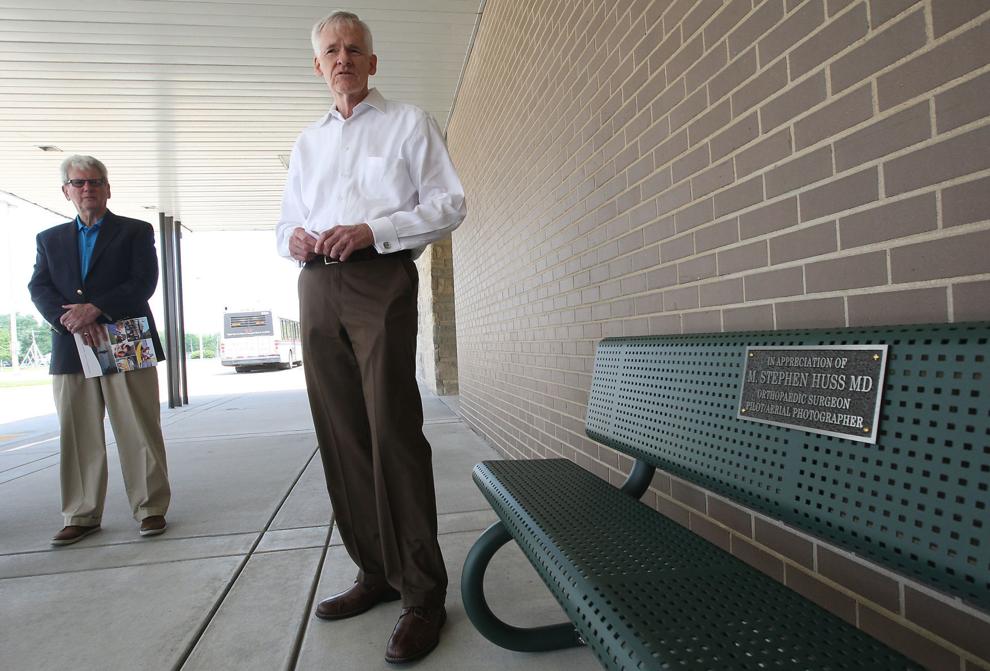 The idea of a bench at the airport originated with Huss' office staff.
"They were wanting to recognize their kind boss," said Judy Locke, a former park board president. "He is an understated individual."
Huss retired five months ago, and as a gift, the seven women employed in his practice presented the doctor with the plans for the bench. The women had an artist draw up the plans and gave their boss a framed picture of it. The style of bench is common throughout the parks in Decatur.
"If you take a walk in Fairview Park, you'll see benches just like this," Huss said.
None of the women were able to attend Tuesday morning's presentation. Three are still working, while the other four retired at the same time as Huss.
The staff chose the airport, which is part of the park district, for the bench. Huss thinks the placement may have to do with his hobby: He owns an airplane and combines his love of flying with photography.
Huss' father, Royce Huss, was a member of the park board in 1967 and one of the founders of the Scovill Zoo, and the family continues to support the zoo. Huss and his wife, Carol, adopted a bobcat on the zoo's carousal. His son also purchased a penguin, naming it after his grandfather.
Huss said he was honored his employees thought of him in this manner and happy with the location they chose.
"It was a gift from a hardworking staff," he said.
He said the bench is a reflection of his career in orthopedic surgery and his passion for aviation.
"It is a great place to be," he said. "It just goes together: flying and park district."