HISTORY
REIDY: Pearl Harbor's stories, unity resonate through newspaper pages 77 years later
Each Dec. 7, the Macon County Honor Guard and Veteran's Assistance Commission of Macon County lead a community remembrance of the Japanese attack on Pearl Harbor.
The Honor Guard conducts a three-volley salute and plays taps, and a wreath provided by the Navy is placed on Lake Decatur from a dock in Nelson Park. It's dignified, almost placid, like that Sunday morning in Hawaii 77 years ago.
You might be tempted to think that in a time before many homes had telephones and the television was in its infancy, news traveled slowly, and maybe America's reaction, while strong, took some time to reach Central Illinois. You'd be wrong.
The archives of the Decatur Herald and Decatur Daily Review show that news, even when coming off presses and fed by wire services, reached Americans in a wave of details and information that scanning the pages nearly 80 years later doesn't fail to impress.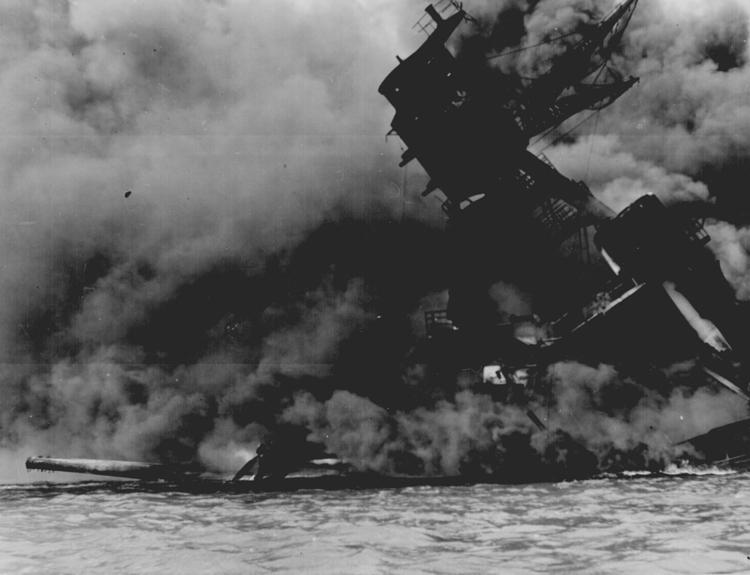 On Dec. 7, 1941, Imperial Japan launched a surprise attack on the U.S. Navy base at Pearl Harbor, Hawaii. The attack that killed 2,403 people and decimated the U.S. Pacific Fleet shocked the nation out of isolationist complacency and into World War II.
The Herald had two editions on the morning of Dec. 8. "JAPAN DECLARES WAR ON U.S." led the front page "Extra" edition, which included a map of the fight in the Pacific and bulletin details of the attack at Pearl Harbor. One story notes Japanese diplomats were still talking with Secretary of State Cordell Hull even as the attack began. That news was almost instantaneously reported, the stuff that history books later pointed to as evidence of Japanese deception.
The first paragraph of the lead story in the earlier Herald edition summed up the country's mood fairly succinctly: "Japan declared war upon the United States Sunday. An electrified nation immediately unified for a terrific struggle ahead. President Roosevelt was expected to ask for a declaration of war today."
Stories across the front page of the Daily Review on Dec. 8 recount what was known of the attack in Pearl Harbor. They paint a picture of a country prepared for war and alarmed at how close Japan had come to our shores, a people up until then secure in the blanket protection of two oceans from the rest of the world's problems.
Within 36 hours, President Franklin D. Roosevelt asked for and received a declaration of war from Congress against Japan. When Nazi Germany and Italy declared war against the U.S. in support of their Axis partner, the U.S. quickly followed suit. Great Britain, the Free French, China and many others all quickly lined up with the U.S. 
"U.S. Congress Declares War on Japan" was the banner headline in The Review on Dec. 8, 1941. "Cheers Accompany Record-Time Vote." "Naval Supremacy Claimed by Tokyo."
In a nation of 150 million people, eventually almost 16 million, more than 10 percent of the population, would serve in the military. The rest of the country turned to sacrifice, production and support. Their newspapers and radios kept them informed over the course of the war, until Sept. 2, 1945, when Japan signed the official surrender aboard the battleship USS Missouri in Tokyo Bay.
In the meantime, Decatur, like the entire nation, gave all it had to the war effort. Mueller Co. stopped making civilian plumbing parts and began churning out shells that could stop tanks on the battlefield. The Sangamon Ordnance plant covered 19,000 acres near Illiopolis, springing up in the fields with incredible speed. Houdaille-Hershey made shells and secretly supplied parts for the atomic bombs that were brought to bear on Japan in August 1945. Scrap metal, rubber and paper drives, food rationing and curfews were the norm. Women entered the workforce and "Rosie the Riveter" became a national icon of American strength. And we reached into our pockets, buying war bonds to help pay the monetary costs.
The cost in blood is measurable if incalculable. Millions volunteered or were drafted for military service. In the end, 1,076,245 Americans were killed or injured during World War II, according to the U.S. Department of Veterans Affairs. About 496,777 American veterans from the war were estimated to still be alive in September of this year.
Most of us today can little understand what our parents, grandparents and great-grandparents endured for almost four years to defeat tyranny's worldwide grab for supremacy. Democracy triumphed.
Every scrap of information that could be fit on a newspaper page to keep the home front apprised of the progress of our armed forces was printed. Every victory and setback reported as quickly as possible. Reporters on the battlefield risked their own lives, as they do across the globe today, in the name of freedom.
Reading those stories today provides a window into our community at a time when we wondered if victory, which seems inevitable to us today, was very much in doubt on Dec. 7, 1941.
Today, we stand a nation divided on many issues, as is the case with most healthy, well-informed people. But on a quiet lake in Central Illinois, we will once again take a moment to remember and appreciate the unity and sacrifice that transpired after Pearl Harbor. Take a moment yourself to do the same. Sometimes, the world spins out of control, but our ability to unite in common cause as Americans should never be underestimated.
Contact John Reidy at (217) 421-6973. Follow him on Twitter: @jsreidy2099