DECATUR – Dr. Thomas Tarter can remember the not-so-distant past when a cancerous prostate was removed, it meant a full week of recovery in the hospital.
But those days are over at both hospitals in Decatur thanks to the da Vinci Surgical System.
The da Vinci provides the surgeon robotic hands that can bend and twist in ways the human hand can't and perform laparoscopic surgery, significantly reducing wound size and recovery time.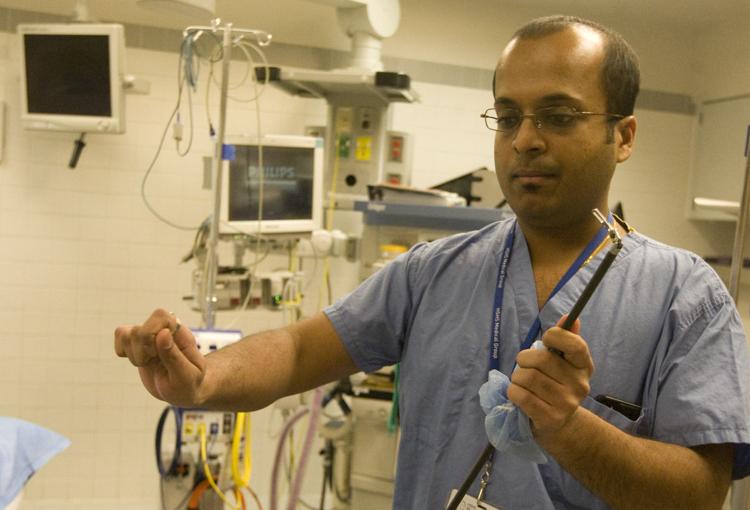 "It used to be that a prostatectomy was a lot of drama; they'd go to the ICU the first night," said Tarter, a urologic oncologist at the Cancer Care Center of Decatur. "Now, at least half of them go home the next day. It's remarkable."
While the da Vinci can be used for a wide range of procedures, from mitral valve repair to hysterectomy, surgeons from HSHS St. Mary's Hospital have performed inguinal and ventral hernias surgeries and gall bladder removals, while Decatur Memorial Hospital surgeons are performing urological, gynecological and colorectal surgeries.
To use the da Vinci, the surgeon sits at a console and a cart holding the robotic arms is placed over the patient. Surgical technicians help position the arms, which are being controlled by the surgeon.
"The robot mimics my movement from where I'm sitting at the console," St. Mary's General Surgeon Dr. Nikesh Lath said. "Whatever operative movement I make, the robot is mimicking it on the patient.
"It's like having my hands in the belly through an 8-millimeter incision, rather than a 15-centimeter incision in open surgery."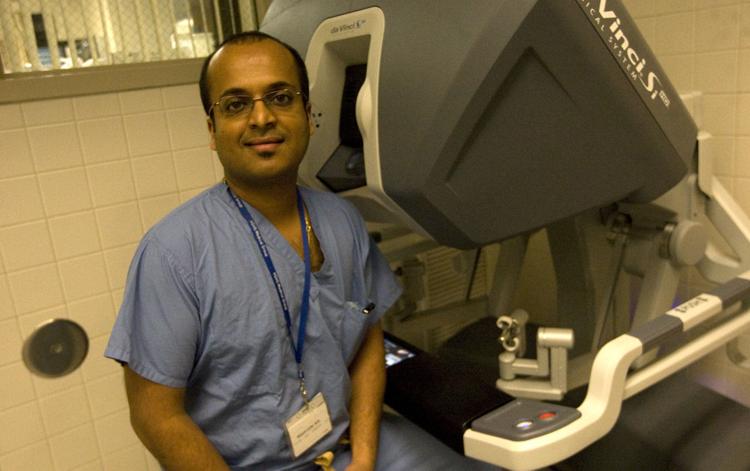 Tarter performed his first robotic prostatectomy while at St. John's Hospital in Springfield in 2008.
"Before those days, there were three ways to take out a prostate gland for cancer through an open incision and with laparoscopy," said Tarter, who has performed more than 800 open surgeries in his career.
Tarter said laparoscopy, a surgical technique in which operations are performed through small incisions, was a popular option, but the learning curve is more than 100 cases before a surgeon reaches a high level of skill. Lath said the ability to improve laparoscopic performance had "hit a plateau."
The da Vinci changed that. Surgeons experienced in open surgeries could easily translate their skills into the robotic system, often becoming efficient within 20 surgeries.
"It's like using your hands, except your hands are now these instruments," Tarter said. "The instruments have more degrees of freedom than human hands. You have a magnified, 3-dimensional image of what you're doing, and the blood loss is negligible.
"Historically, taking a prostate out had a high risk for blood transfusion because of blood loss. Even in more modern times, there's still a fixed rate of blood transfusion in an open prostatectomy. With the robotic system, it would be exceedingly rare to have a blood transfusion."
Tarter said more than 90 percent of prostatectomies and 70 percent of the kidney removals he performs are with the da Vinci.
"Kidney removal patients were definitely in the hospital for a week because you were going through three muscle layers to reach the kidneys – that's a very painful incision with a long recovery," Tarter said. "But with the da Vinci, patients are going home in two days."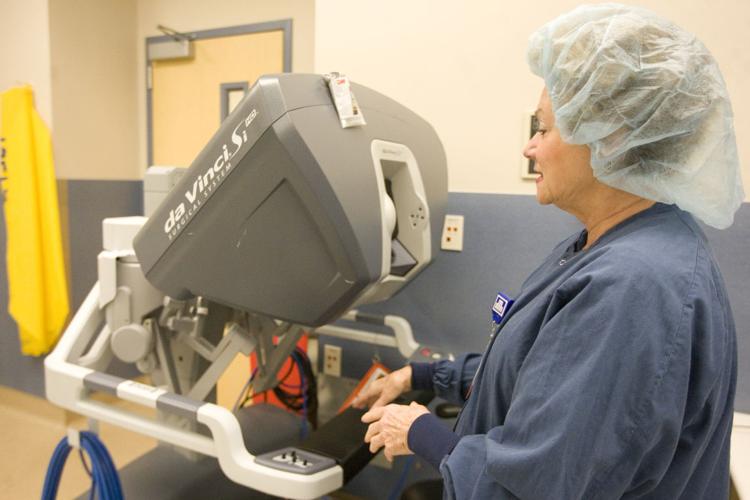 The daVinci was first brought to Decatur by DMH in December of 2006 and steadily gained popularity among the surgeons. The hospital upgraded to the daVinci SI in 2011.
Tarter, who called himself the "self-appointed chair of the robotics group" at DMH, said while the da Vinci is marketed as portable, he didn't like the idea of a piece of expensive machinery used to perform surgeries being rolled through the hallways. Tarter also said he didn't feel comfortable in some of the rooms the da Vinci was being set up in.
"I went to the administration and said, 'If we're going to do more robotic surgery and if we're going to market a robotic surgery, we should really have a dedicated, fully integrated robotic room,'" Tarter said. "You want to have space to set up the room according to each specific type of surgery."
DMH responded with a 540 square foot surgery suite that includes a fiber optic system transmitting HD signals to ceiling-suspended monitors, a multi-input display that allows numerous viewing options and a ceiling-suspended boom to hold operating room equipment, eliminating having cords on the floor. It debuted in June last year.
"Now we have the flexibility in this room to position a patient for an operation the same way every time," Tarter said. "It's the most modern, integrated robotic suite in the state of Illinois at this point."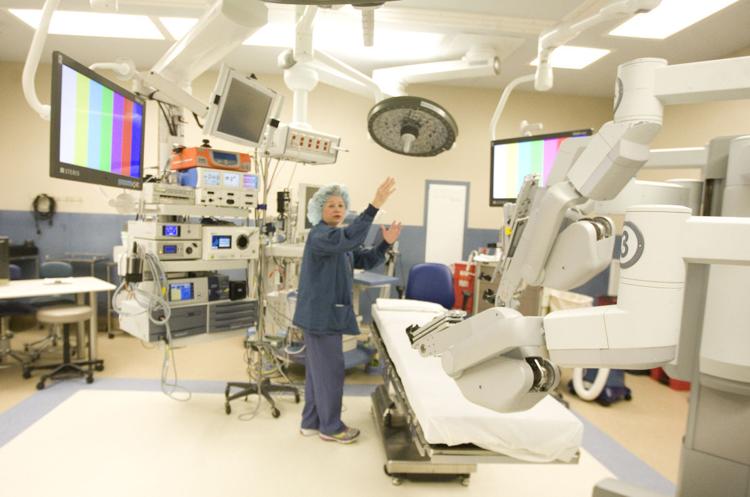 St. Mary's purchased its da Vinci last year, began using it in November and plans to soon expand its robotic surgery division to urological and gynecological procedures. Its model uses Firefly technology.
"It's basically a fluorescent cholangiogram," Lath said of Firefly. "Traditionally, we put contrasting dye in the biliary system and take X-rays. With Firefly, we inject the green dye an hour before the procedure, and all I have to do is switch a button and the green dye is illuminating what I could only previously see with X-rays.
"It makes gall bladder surgeries a lot easier, and it and makes for fewer X-rays, which means less radiation exposure for patients."
St. Mary's Director of Hospital Operations Jacob Roddis said Firefly can also be used to help surgeons identify tumors.
"They can see tumors better during surgery," Roddis said. "In a colon resection, it will show the two ends of the healthy tissue, which will minimize complications in the future."
The technology for the da Vinci will only continue to improve. The newest model now has the arms designed to come out of the ceiling instead of a cart that's positioned over the patient.
"I can't even imagine where all they can go with this," Tarter said. "Things are only going to get smaller and more flexible."
"Things are only going to get better and better," Lath said.