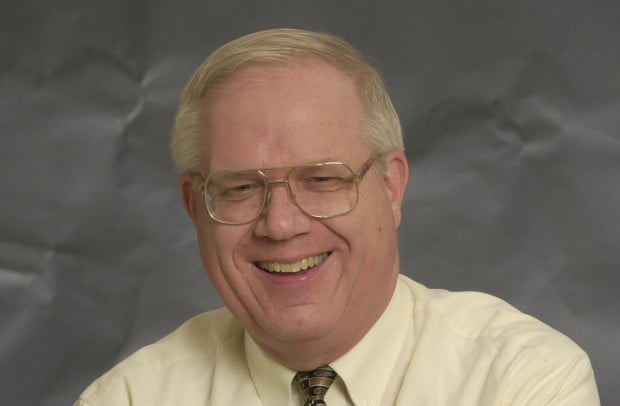 DECATUR - Ron Ingram, a familiar name to generations of Herald & Review readers, died early Sunday morning from complications of carbon monoxide poisoning caused by an accident in his home.
Ingram, 63, had been a reporter at the Decatur paper for 40 years, arriving in September 1969 after graduating from Michigan State University.
Ingram's death was announced Sunday morning by Macon County Coroner Michael Day.
"Mr. Ingram was pronounced dead this morning in St. Mary's Hospital Intensive Care Unit from complications of carbon monoxide inhalation," Day said. "Ingram and another family member (Sue, his wife) were found in distress in the basement of their home on Skyline Drive in Decatur. A third family member also in the residence was unharmed.
"A close family member had come to the Ingram home Saturday morning and discovered the emergency and summoned first responders," Day said. "The Decatur Ambulance Service was dispatched at about 10:30 a.m. Mr. Ingram and the other family member affected were transported to the emergency room."
Ingram's family confirmed Sunday night that Sue Ingram was released from hospital Sunday morning, and Ingram's mother, who had also been in the house, was released Sunday evening.
Sheriff's Lt. Jonathan Butts said the investigation has revealed "dangerously high" carbon monoxide levels in the home. The home did not have carbon monoxide or smoke detectors. The incident is still under investigation by the sheriff's office, Long Creek Fire Department and AmerenIP.
In his long career, Ingram covered everything from business to education and most recently the police and courts beat, along with politics. News of his death has sent shock waves through this newspaper and the communities it serves.
Herald & Review Editor Gary Sawyer said: "Ron had a vast knowledge of the Decatur area. I and others relied on him constantly for the names of sources or to explain how property taxes were established. Ron was a true professional. He cared deeply about this work and he strived every day to be fair, honest and accurate in his reporting. He gave freely of his time, both at the paper and in the community.
"We will miss him a great deal, and our hearts go out to Ron's family."
Managing Editor Dave Dawson, who directly supervised Ingram, said: "We are just devastated by the news of Ron's death. He was a friend, a co-worker and a mentor to many - reporters and editors alike. Perhaps his most amazing quality as a reporter is that he could cover anything from a murder to a children's Christmas party and do both of them with flair.
You have free articles remaining.
"While the newspaper will miss his knowledge of the Decatur area and its people, we will miss even more his presence, his sense of humor and everything else that made Ron who he was, which was a marvelous, giving person," Dawson said.
"He was extraordinarily generous with his time. He always had time to help out at work, at home with his family or other outside interests, including Boy Scouts," Dawson added.
In sending along the notice of Ingram's death, Day unusually included a personal note expressing his own feelings. "I and my office would like to express our heartfelt sorrow and condolences to the family and friends of Ron," Day wrote.
"Ron was a consummate professional. He was a fair-minded and diligent reporter of the news. He was our friend. His untimely passing is a great loss to all who knew him and to all who read his newspaper reports daily."
Ingram's experience and warm personality gave him an unrivaled knowledge of the world of politics, the courts and police, and also the friendship of many of the key players involved. Macon County Clerk Steve Bean had known Ingram since the late 1970s and spoke with him several times a week, always looking forward to the experience.
"There is going to be a big void in my life now," Bean said Sunday night. "Ron stayed at his newspaper job and made it his life and just had this wealth of knowledge; he knew things like the property tax system, which is very hard to understand. He also developed so many friendships in government, politics, the courts system, the police beat and so forth and he saw the human side of all that and knew it was just people trying to do their jobs. I don't think you will ever replace a Ron Ingram."
Macon County Sheriff Tom Schneider met Ingram as a sergeant guarding ballot boxes on election night in the early 1990s. He recalled how the tall, smiling guy with a ready laugh would predict who the winners were going to be and, the next day, was more often right than wrong. "I got to see that this was a guy who really knows," Schneider recalled.
Over the years, as Schneider rose through the ranks, he said he came to trust Ingram as a man he could share confidences with and whose integrity was rock solid. "Ron was very good at what he did. He was always very professional, very friendly and very knowledgeable," Schneider added. "And he was a very good judge of people. I am thankful I had the opportunity to build a rapport with him."
Bean thought Ingram's innate sense of good will and optimism perhaps came from his Boy Scout experience. In a relationship stretching back decades, Ingram devoted his spare time to Scouting and enjoyed serving as a leader and mentor who shaped young lives through the organization's various activities. Along the way, he collected many accolades for his efforts, including the Silver Beaver Award, one of the highest.
The Scout awards shared crowded shelf space with his numerous reporting honors, which in 1992 included the grand prize of the National Education Writers Association for a series, co-authored with fellow Herald & Review writer Theresa Churchill, called "Lost Horizons," examining the issue of children who quit school.
A devoted family man, Ingram and his wife had four children: Ronald Ingram III, Dana Kretsinger, Matthew Ingram and Mark Ingram. His son, Mark, died March 5, 2003.
The family said Sunday that a visitation was being planned for Tuesday evening at First Presbyterian Church, where Ingram attended, with a memorial service scheduled for Wednesday, probably at 10 a.m., although arrangements still were being made.
Managing Editor Dave Dawson assisted with the reporting of this story. Tony Reid can be reached at treid@herald-review.com|421-7977