MACON — For the Macon Speedway this season, when it rains, it pours.
The dirt raceway hasn't experienced a season quite like this one in its 73-year history. Rain and wet conditions have canceled five events this year — including the last two in a row — and there's a whole summer ahead.  
"In my experience, we have about three rain-outs in the entire season on average, so I've never seen a year quite like this," said Macon Speedway owner Bob Sargent.
Illinois had the third wettest May on record, according to the Illinois State Climatologist Office, and it was the sixth-consecutive month with above-average rainfall. Decatur Airport reported 8.26 inches of rainfall for the month, the sixth most on record. 
That continued into June, which produced round after round of storms, a pattern that flooded roadways and sent waterways across the state higher for weeks.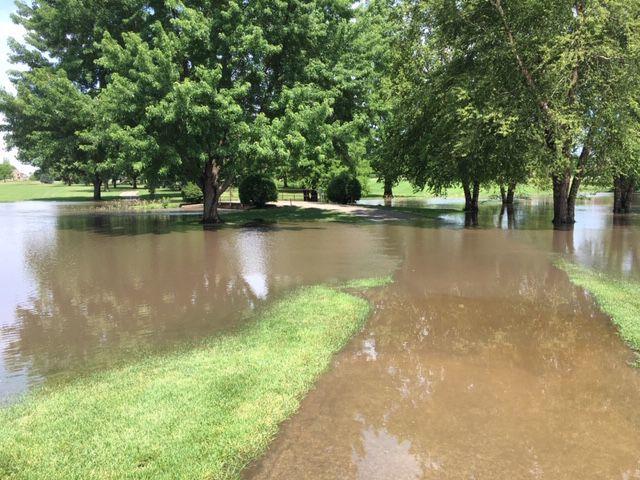 Standing water remains a problem on agricultural fields. The U.S. Department of Agriculture said the planting season in Illinois is off to the slowest start on record.  
The economic impact of the heavy precipitation is trickling down. 
At Hickory Point Golf Course, the wet weather exacerbated problems that the winter brought. 
"It's been wetter than normal, but that has been the common theme across the Midwest," said head golf professional Andy Potts. "The winter was wet too in that we had less snow and more rain than we normally have. That has contributed to winter kill, it's a lot of extreme conditions that hurt the grass."
When the ground freezes under severely cold conditions and then temperatures rise, the top layers of soil will thaw. Any rain received will then sit above the frozen ground and drown the top grass layers, leading to large patches of dead or missing grass. 
"Out here in front of hole No. 2's green, it looked like a crime scene because of all the low spots," Potts said. 
They intended to open for this year's season on March 1 but poor conditions pushed that back to March 18, and even then business was extremely slow. From the beginning of April through mid-May, Hickory Point had 23 days in which they could not allow motorized carts on the course due to weather, effectively closing the course.  
"You do still get the people who are used to walking but it really kills business," Potts said "A lot of people are not in shape enough or they just can't walk that distance. Not having carts out here is almost like not being open. It has been a lot of that this year."
'The flexibility is very limited'
Golfers Bob Rubin, of Mount Zion, and Jim Markman, of Champaign, have each seen their golf play hampered by the storms.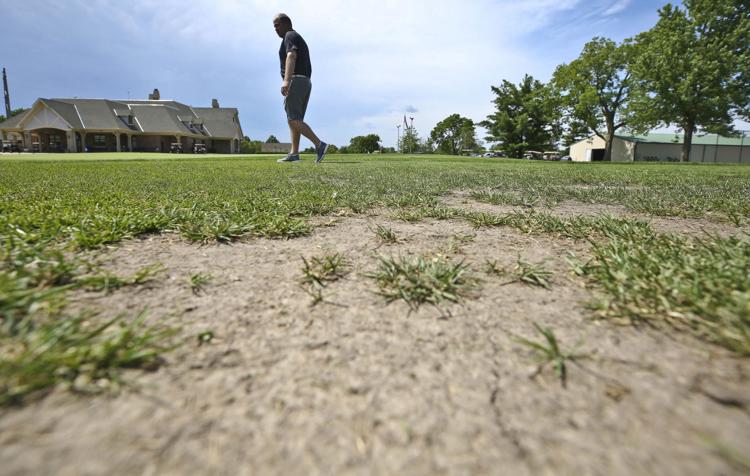 "There were times I got ready to play, got in my car and got about halfway and then it would start to rain," Rubin said following a round at Hickory Point. "There are a few fenced off areas here where there used to be high water hazards but it is dry now. I think the course is in beautiful condition with everything so green and lush. It's just too bad the play is down."
Markman, who plays regularly at Mahomet's Lake of the Woods Golf Course, Red Tail Run, Hickory Point and the Moweaqua Golf Course, describes himself as a "fair weather golfer." 
"I try to play three times a month so I haven't been able to golf as much as I would like to due to the weather," he said. "At Lake of the Woods they had water all over the place. One of my balls landed and sunk into the ground so much that is was nearly covered."
Water has also been an issue at Hickory Point as Stevens Creek has quickly flooded the course several times this season. 
"From last Wednesday to Saturday, we had between 4.5 and 5 inches of rain here at the course," Potts said. "Up here between Forsyth and Maroa on the farmland, it drains straight to Stevens Creek, which runs through the middle of the course, so it can flood very quickly."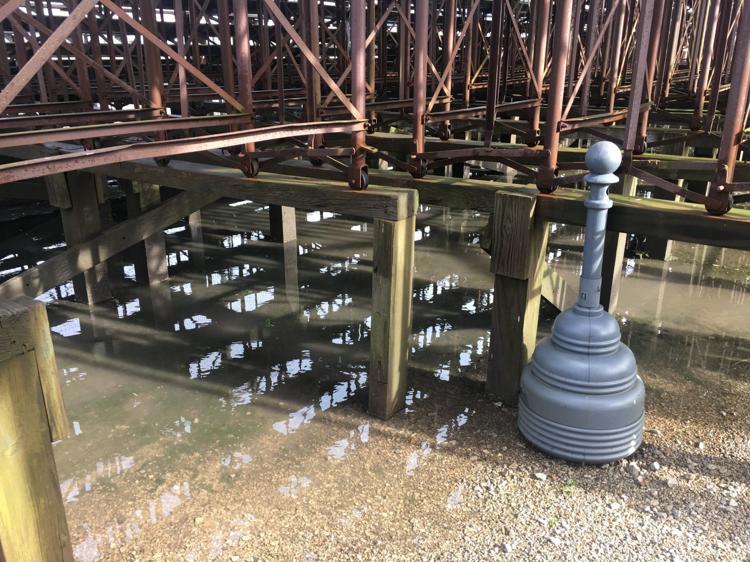 For Macon Speedway, when an event is rained out, the income is lost — and losing 20 percent of the season's revenue so far hurts.
"We have a 25-race window for the whole year, and so when we get five rained out, that affects us. It affects the city economics, the economic impact of the gas stations and the bars and restaurants," Sargent said. "For Decatur's economics, these guys are buying parts for these race cars and people travel to get to us and so it's an economic strain on all of us."
The tight racing schedule offers few opportunities to recover the rain-out events. When large storms hit the 1/5-of-a-mile track, rain quickly accumulates in the center.
"We have pumps, and if we didn't have those, then the track would just fill up like a bowl. The rain just goes to the middle and washes everything in," Macon Speedway operations manager Adam Mackey said. 
The track recovers quickly, though. 
"We are ready 10 hours after a good rain," Sargent said. "After a 24-period, you can't even tell it happened. It is when we get rain the 12 to 24 hours before that it hurts us."
'Hard to come back from'
Showers also brought fewer people out to Overlook Adventure Park, but other Decatur Park District facilities have held their own in the inclement weather. 
Purchases of rounds of mini golf at Overlook are down 842 rounds so far this year compared to last year, according to Jamie Gower, director of recreation and facilities for the park district.  
"Missed rounds in general are hard to come back from on the mini golf side," Gower said. "We have had a bounce back in June, but April and May were very tough for us. We will know more in mid-July about where we are for the season."
The recently opened Devon Lakeshore Amphitheater has largely been spared any weather-related cancellations.
"Fortunately enough, knock on wood, we have been extremely lucky with the weather on the amphitheater front," Gower said. "The only thing we had to postpone was the first movie night we offered. We had rain and had to postpone but we were able to reschedule that."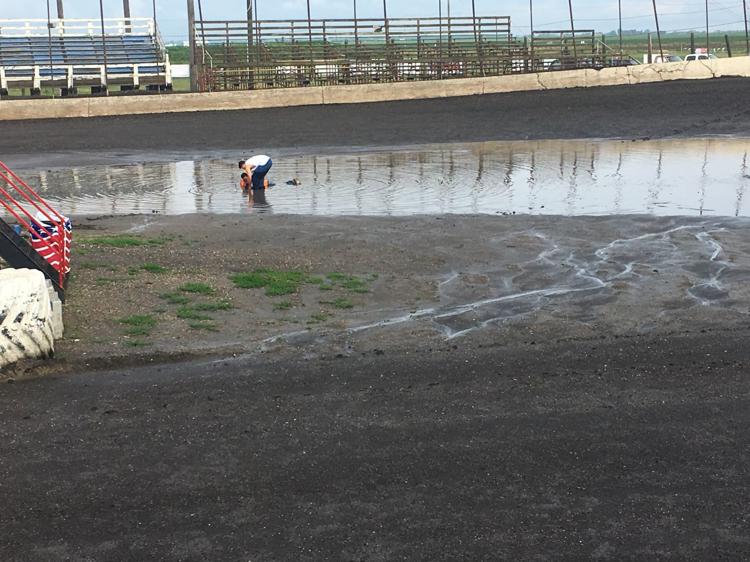 "Some of our facilities we were definitely affected in the spring up through May and then we did see a little bit of a bounce back at Overlook Adventure in June," Gower said. "Also Scovill Zoo has been holding its own and we've seen a good response for (the train extension and baby penguins) as well."
Rain also led to many cancellations in the sports leagues the District offers. 
"As far as programming goes with a lot of our sports leagues — youth baseball, softball and adult softball — we have had a lot of rain outs so our staff works to do make up games on off-nights or weekends and so luckily we are able to get a lot of those covered," Gower said. 
Getting people back on the miniature golf course after a rain cancellation can be a challenge, but Gower and his staff look for ways to entice customers. 
"Although the weather affects us dramatically, we do our best to overcome some of those possible losses and we hope the rest of the season works out for us and the weather cooperates with us," Gower said. 
Back at Hickory Point, there is hope the weather will even out. Last week's hot and humid temperatures have brought the golfers back. 
"Over the last several days, since it has gotten warmer, it has picked up substantially, so hopefully we can make up for some of those lost rounds," Potts said.
Contact Matthew Flaten at (217) 421-6968. Follow him on Twitter: @MattFlaten
Get local news delivered to your inbox!
Subscribe to our Daily Headlines newsletter.