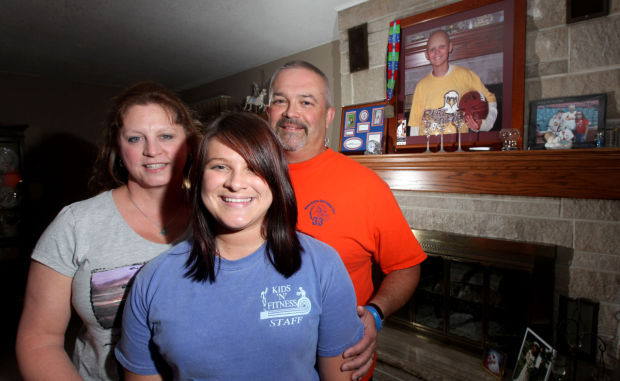 DECATUR — Runners and walkers in the first Adam Carter Memorial 5K on June 15 will receive blue rubber bracelets and a temporary tattoo that is a script capital A over a heart.
"When I sign things, I always sign 'Tim, Shannon and Maegan' and put an A with a heart because he's always in our hearts," said Shannon Carter, Adam's mother.
Adam died in 2010 at age 12 of Ewing's Sarcoma, after a courageous yearlong battle. He was beloved by his classmates and staff at Holy Family School, who named a corner of the library and the annual Outstanding Christian award after him and planted a tree on school grounds in his memory, and his friends who are at St. Teresa High School now, where he'd have been a freshman last year, wear the No. 33 on their football helmets. That was his number in the JFL, and the coach at St. Teresa has agreed that no player will wear No. 33 during the four years that Adam would have been a student at the school.
The 5K will benefit the Adam Carter Memorial Fund, which the family established to raise money for pediatric cancer research, Camp Coco, Make-A-Wish Foundation and Uplifting Athletes. Uplifting Athletes is an organization for college athletes, and Boston College player Mark Herzlich was diagnosed with Ewing's Sarcoma around the same time Adam was, so Adam took great interest in following Herzlich's story, Shannon Carter said.
The Carters held a golf outing a couple of years ago for the fund and while it was well attended, running was a favorite activity of Adam's, and the 5K is more in keeping with his legacy.
"(With the proceeds from the golf outing) we set up a scholarship fund (in Adam's name) at St. Teresa," Tim Carter said. "But we just wanted to do something more that we could have families involved, more of his buddies who could participate in something."
A favorite family memory is that Adam wasn't very talented at riding his bicycle, and after he crashed it one too many times, he told his parents, "Oh, the heck with it, I'd rather run anyway."
The summer that Adam was undergoing treatment at St. John's Hospital in Springfield, marathon runner Scott Dahl visited and gave him one of his medals, which still hangs on Adam's portrait in the family home. The program Medals for Mettle connects runners with adults and children suffering serious illness, and a photo of Dahl giving his medal from the Chicago Marathon to Adam still hangs in St. John's. Dahl helped establish the program in this area.
"Just everything kind of went together," Tim Carter said.
Registration is still open. Call (217) 423-8009 or email funrun@
Get local news delivered to your inbox!
Subscribe to our Daily Headlines newsletter.