DECATUR — The Fairview Plaza Kroger has always been a part of Mary Richardson's life.
Richardson said she can remember as a child going there on Thursdays with her father when he got off work. As she got older and had her own family, Richardson said Kroger was their one-stop-shop for most of their needs, from groceries to gas.
"They probably get three-fourths of my paycheck," she said.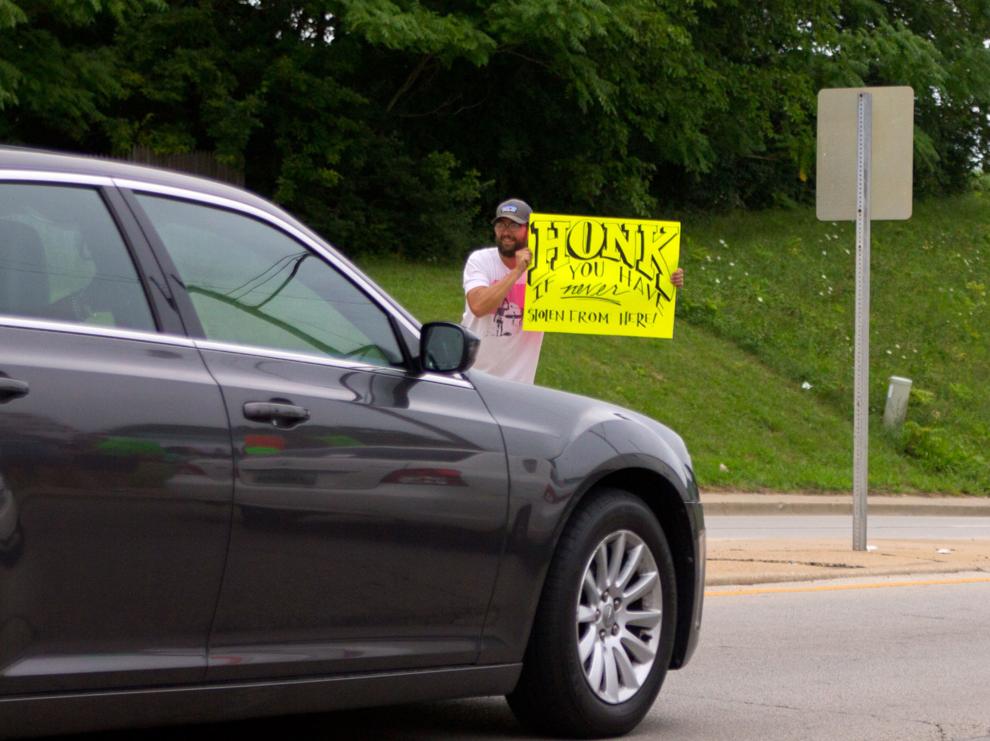 Richardson was among those who were surprised and disappointed by the announcement last week from The Kroger Co. that it would not renew its expiring lease at the store, 1401 W. King St., citing a lack of profitability. The store is set to close at the end of the month. 
So Richardson joined her daughter and nearly 100 others at the Fairview Plaza Kroger on Tuesday evening to show their support for the grocery store and to possibly convince Kroger officials to reconsider its decision.
With signs expressing their love for the store, and a soundtrack that combined supportive car horns with chants of "Don't shut it down!" and "Save our Kroger!" the rally felt like a party to honor the store which has been the anchor tenant at Fairview Plaza since it opened in 1958.
Eric Halvorson, manager of corporate affairs for Kroger's central division, said in an email that the Decatur rally represents the personal connection that develops between shoppers, employees and the stores. The company appreciated the spirit that inspired the gathering, he said. 
"We have great respect for the message of the rally," he said. "We can't fault anyone for wanting to save the store."
Halvorson said the rally likely encouraged the Kroger employees and reminded them how much their work was valued by customers, a sentiment with which he said the corporate office agreed.
The Fairview closure affects 95 employees, which Kroger said would be assisted by its human resources department to find positions at other Decatur Kroger stores, which are located in Brettwood Village, Airport Plaza on the city's east side and South Shores Plaza. 
The rally was the brainchild of Abi McIntosh and Rochelle Boline, who despite never meeting in person until Tuesday, connected on Facebook and helped organize the event.
McIntosh said she and her family bought a home in the West End neighborhood four years ago. A major factor in choosing their home was its close proximity to Kroger and its selection of produce and organic food, she said. With Kroger's closure set for just over three weeks from now, McIntosh said it feels like a major loss for all those who live, work and spend time on the West End.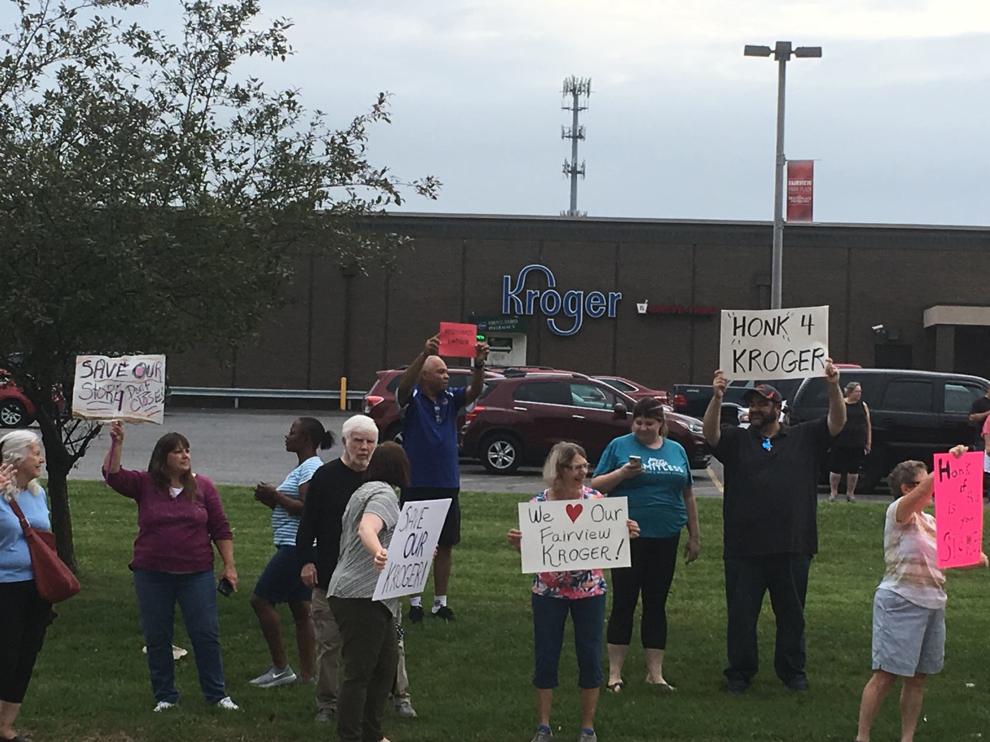 "Millikin students depend on it, MacArthur (students) depends on it for first jobs, and the whole West End and surrounding area depend on it," she said. "So it kind of sparked this effort to see if we could fight for it."
Boline said she worries about the students, but also those senior citizens and other adults with disabilities in the area who may not have access to vehicles or transportation.
"We're just really upset that the store is closing, they've got awesome employees here, we know them by name," she said. "We just hate to see it go."
The closest grocery store in the area is the Save-A-Lot about half a mile north of Fairview Plaza. Several people at the rally said they did not see that as a viable substitute, with McIntosh saying it lacks the options of Kroger and is not as easily reachable for Millikin students.
Several people at the rally said the store always seemed busy when they were there, and questioned whether or not Kroger was truthful in saying the store was losing money. Many on social media speculated that a high theft rate at the store may have led to the closure. 
Halvorson said in an email Tuesday evening after the rally that profit margins are tiny in the grocery industry.
"A busy store is not necessarily a profitable store," he said. 
Halvorson also said he never heard a reference to theft in any discussions he attended about the store. The losses are bigger than anything related to stolen goods, he said. 
Even if Kroger continues with steps to close the location, McIntosh said she hoped community support would convince another grocery chain to move into the vacated space.
Tim Raycraft of Main Place Properties, which owns Fairview Plaza, said this week that the company had tried to work with Kroger to keep the grocery store open. Despite cordial discussions, Kroger never provided a dollar amount that would have caused it to renew the lease, he said.
Among the Kroger supporters at the rally was Charles Young, who continuously waved and gave thumbs-up to drivers who honked in support, saying later that the good vibes from the event made him want to just keep smiling and waving.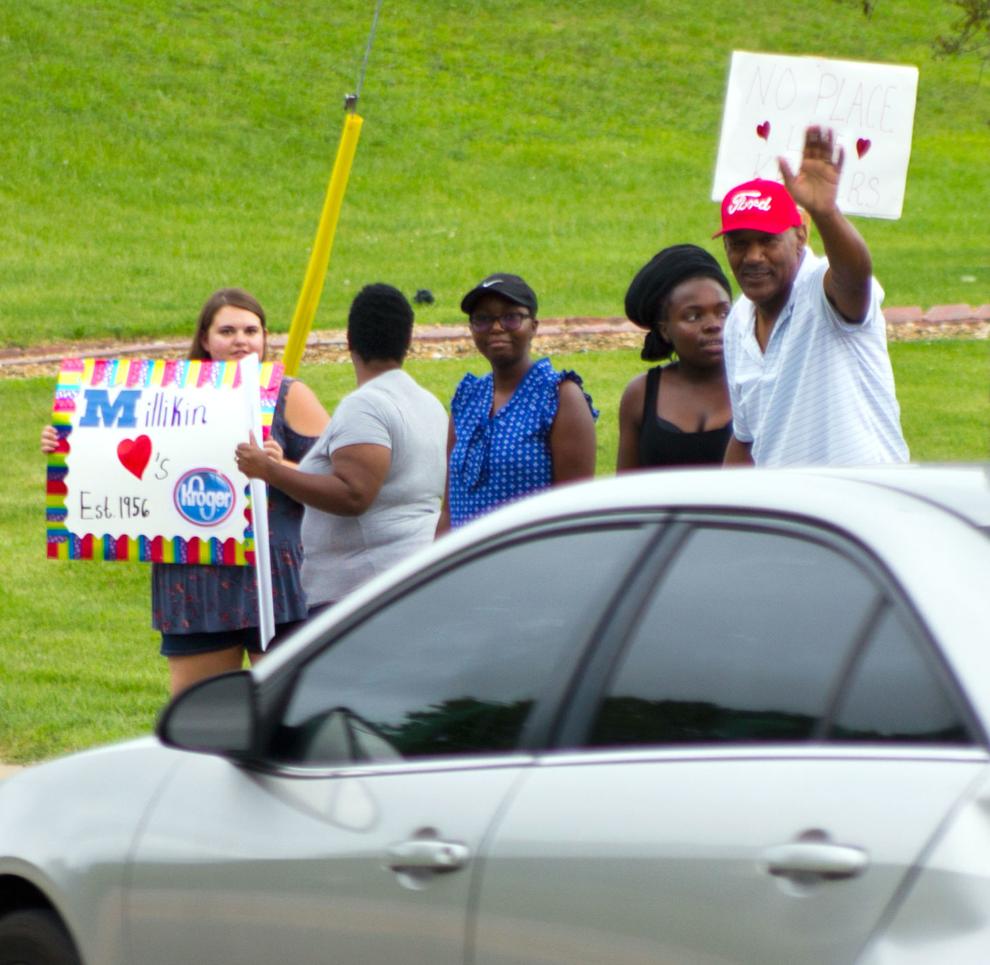 Young, who has lived in the neighborhood for 12 years, said he was "heartbroken" when he heard the news about the closure, adding that about 90 percent of his necessities are purchased at the store.
His first step was to find out who he could call at Kroger to urge them to reconsider. When he heard about the rally at 5 p.m. Tuesday, Young said he immediately got to work on a sign showing support for Kroger.
"Kroger has been here for me for a long time," he said. "I need Kroger, and I hope Kroger needs me."
Contact Ryan Voyles at (217) 421-7985. Follow him on Twitter: @RVVoyles