DECATUR — Just like a family getting ready for important company, Decatur has spent the last year cleaning up.
Now the time has come to show off their work.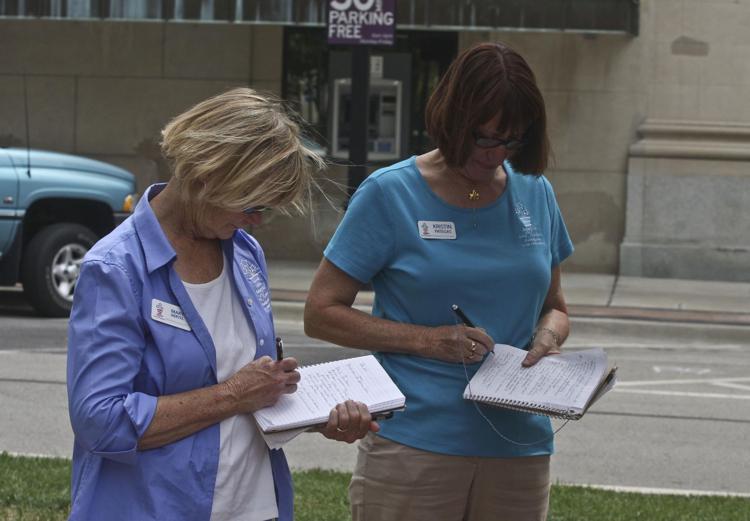 America in Bloom judges Kristin Pategas and Mary Hertel arrived Wednesday evening at the Decatur Airport to a crowd of well-wishers, a first for the the experienced judges.
"To have a group to welcome you is just 'wow,'" Pategas said. "It shows that everyone is excited about what they have been doing and their hard work."
America in Bloom is a national awards program designed to encourage community bonding and beautification. Decatur organizers announced their acceptance into the competition in September.
As the judges traveled through Decatur on Thursday for the first part of a two-day tour, they learned about the community's history, economy and heritage, as well as evaluating its appearance. They were studying floral displays, landscaping, urban forestry, environmental efforts, historical preservation, overall appearance and community vitality.
"In other words, what does the community do to get people outdoors?" Pategas said.
Local volunteers traveled with them, answering questions and offering background information, and others met the judges at each stop to provide information about the location or venue. Historical impersonators even joined in at some landmarks, such as the James B. Millikin Homestead and the Oglesby Mansion.
"We aren't from this city, so we want to know everything about it," Hertel said.
While the judges were greeted by colorful flowers, pruned bushes and tidy parking lots, they also got a chance to see resources in action. Cyclists were riding bike trails through Fairview Park, employees were taking a break in Central Park and children were attending a summer camp at Richland Community College.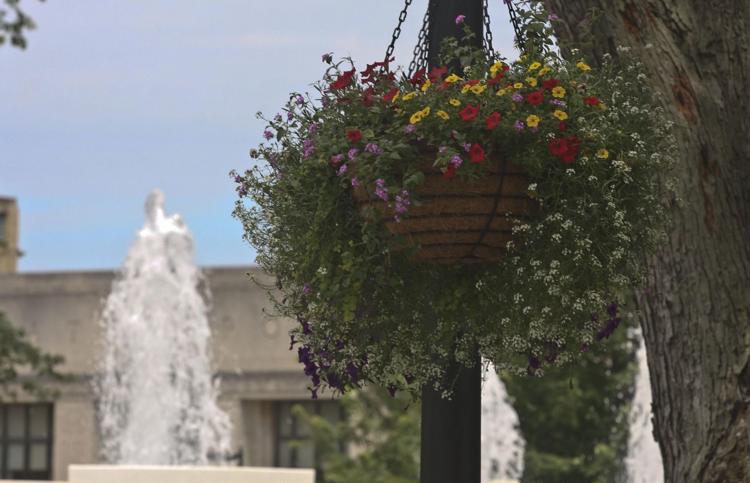 Since the contest was announced, Jill Davis, co-chair of the Beautify Decatur Coalition, has found a new hobby. "I zone in on a piece of litter and think 'Can I get that'," she said.
Individuals, businesses, organizations and government bodies all cooperated to prepare for the contest, Davis said. The Decatur Park District, city of Decatur, Decatur Area Arts Council, Millikin University, Coalition of Neighborhood Organizations, Economic Development Corporation of Decatur and Macon County, Decatur School District, landscaping companies, Caterpillar Inc. and others have all been cleaning up litter, trimming bushes and planting. 
"Many groups and organizations have really coalesced into a workforce to spruce up the city," she said.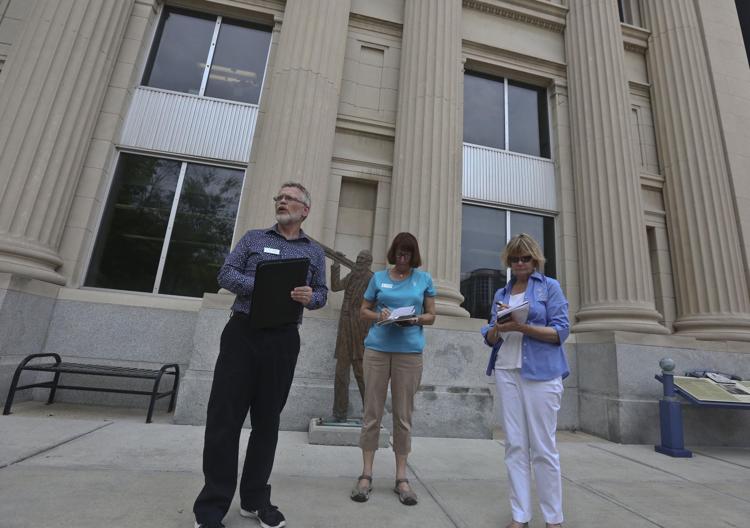 You have free articles remaining.
"Even if the areas are not gorgeous, we want to change the mindset," Davis said. "We want people to say, 'I can put a pot of flowers out.'"
Marvin Sowers and his family have volunteered their time tending to areas of Decatur even before the contest was announced a year ago.
"I've had five grandkids working the entire time," he said. "We've been working probably the last three or four years as a team."
While the judges were being escorted through the city, they could see employees and residents continuing the cleanup by weeding and pruning their landscapes. "There is so much going on and so many people jumping on the bandwagon," Sowers said.
Nicole Bateman, community marketing manager for Limitless Decatur and Macon County, explained Decatur's role in the world economy as the tour traveled past the facilities of major employers such as Caterpillar and multinational agribusinesses Archer Daniels Midland Co. and Tate and Lyle. "We have the largest concentration of food scientists in the nation," Bateman said.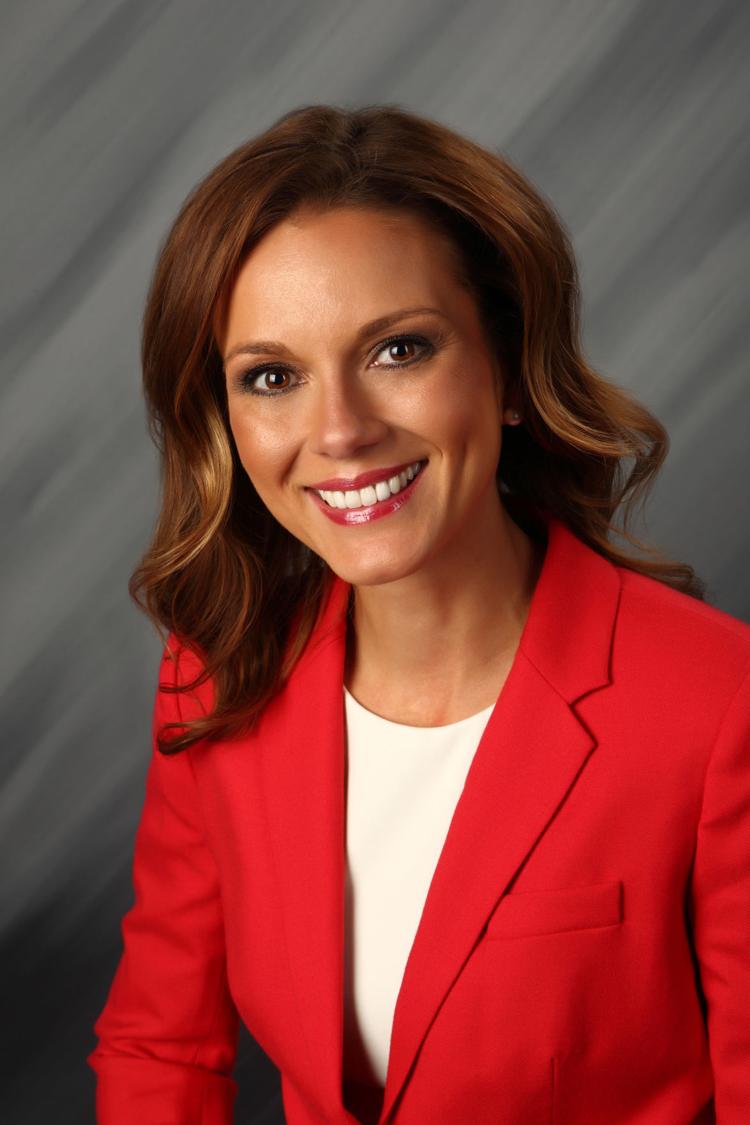 On Thursday, the judges and volunteers made scheduled stops at various locations including the CAT sculpture on 22nd Street, an individual's home, Decatur Memorial Hospital, Coffee Connection and Richland Community College.
To see the city's hidden gems, they walked down paths, into buildings, rode in golf carts and even found themselves on the rooftop at Decatur Memorial Hospital. 
Jim Peck, director of facilities, took the group to the top of the hospital for a bird's eye view of the city. "People don't realize how many trees we have until you can get over the top of it," he said. "You take it for granted when you drive through town."
Throughout the tour, the judges offered brief pieces of advice and opinions. One of the areas they acknowledged was the Dennis-Millikin Laboratory School's Community Garden Project on Wood Street, where elementary school children and Millikin University students work together to maintain a neighborhood garden with a small stage and play area. 
The judges said they have seen the positive effects community gardens can have on a city. "People say, 'We don't need community gardens,' but that's not the case," Pategas said. "It's a social aspect."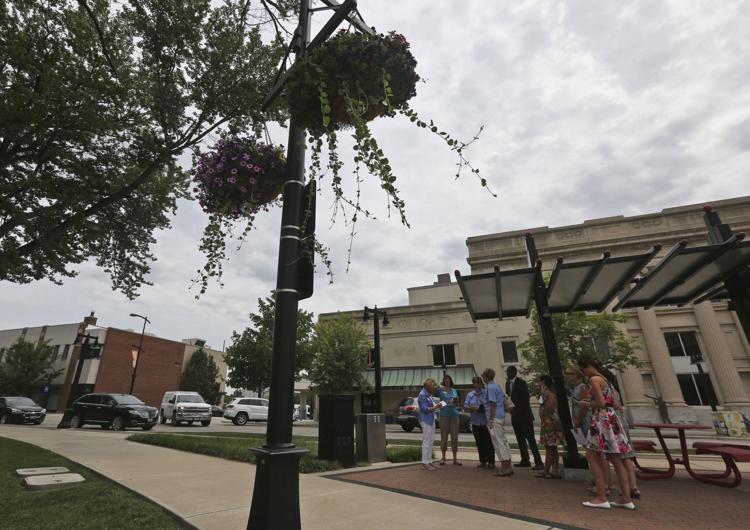 The judges will take one more look at the city today during visits to Scovill Zoo, Macon County History Museum, HSHS St. Mary's Hospital, Eisenhower High School and more. They will end their visit with dinner and an opportunity to offer suggestions to the local organizers.
By the end of the first day, at least one of the community's assets stood out: "It is obvious how much you love your city," Hertel said. 
Decatur, which is competing against other communities in a population category of 25,000 to 75,000, was the first stop for the judges on a two-week tour. 
"Everybody is putting on the best face of Decatur we possibly can," Sowers said. "My only regret is that we only have two days to show the judges what we've got."