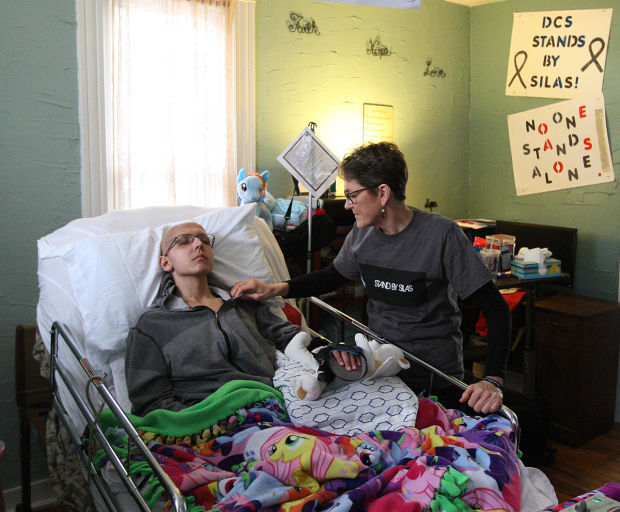 DECATUR – One of Silas Martin's favorite things to say was that he was healed, "this side or the other."
Early on Tuesday morning, 16-year-old Silas found that healing on the other side after a courageous battle with cancer, first diagnosed at age 6.
"We want the world to know that this is a celebration," his mother, Gloria Martin, posted on Facebook. "Silas is no longer trapped in his body, nor is his vision impaired. He is with Jesus, and he wanted us to long to be with him."
Silas was born with neurofibromatosis type 1, a genetic disorder. Symptoms include overactive growth hormones, deteriorating eyesight and tumors on the spine. He was diagnosed with brain tumors at 6, and those wrapped around the optic nerve, further damaging his vision so that he was legally blind. Silas' childhood was spent in rounds of hospital stays, chemotherapy and surgery, including the removal of his right temporal lobe and hippocampus in 2010 to reduce seizures, a not-uncommon result of brain surgery to remove tumors earlier.
Ever cheerful, Silas made jokes about feeling "lightheaded" when he awoke.
You have free articles remaining.
The tumors came back in 2013, a new cancer so rare that only three other cases are known. In late November, doctors told the Martins that nothing more could be done, and Silas went home under hospice care. The doctors said he would have a couple of "good" weeks and family and friends packed that time with fulfilling some long-held dreams. "Man vs. Food" star Adam Richman came to visit after his Facebook and Twitter feeds were inundated with requests from Silas' friends. Other friends organized a motorcycle ride in a sidecar, something Silas always wanted to do.
One friend credits Silas and his family with showing her how a life lived in faith looks. Poppy Anantachai was a Buddhist all her life until May, when she became a Christian. She said she was confused about God until she saw how Silas and his family handled everything that happened. She and Silas' older brother, Shobi, are friends, and Poppy knew Silas at Decatur Christian School.
"I saw how he and his family trusted God completely," she said. "Then I stopped questioning God because they had it so much harder than anyone else and they still trust God completely. I can honestly say that my faith in God has become stronger and stronger every day."
Randy Grigg, administrator at Decatur Christian School, said that Silas always thought first of others. He wanted people to know his testimony of faith. His classmates will sing at his funeral, at his request. He discussed it with them himself.
"Silas was probably one of the most giving people ever, and because this tumor was so rare, one thing he requested was when he died that his brain would be harvested so they could study that tumor and maybe be able to help other people," Grigg said. "He doesn't feel any more pain. There's a lot of grief for those who are left, but the kind of spirit he displayed will live on as long as we live. He touched people in a special way."
Silas donated his collection of My Little Pony to Dove Inc. for distribution to children there, and asked his mother to take his leftover medical supplies to Northgate Pet Clinic as soon as possible after his passing, and she fulfilled that wish by dropping the items off Tuesday. When she came home, The Secret Garden had decorated the exterior of the house with balloons.
"She actually called me last week when they called hospice in to arrange that, and we were happy to help her," said Secret Garden owner Lori Barrett. "She wanted it to be a celebration of going home for him. She wanted a life celebration rather than sadness."