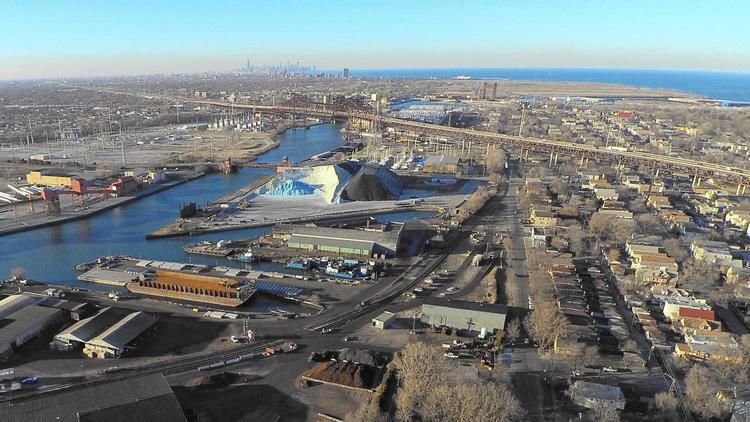 CHICAGO — A bulk storage operator on Chicago's Southeast Side will stop storing toxic manganese outside and suspend barge transfers during intense winds to reduce harmful dust blowing into neighborhoods.
S.H. Bell Co. agreed last month to follow a plan created by the Chicago Department of Public Health after Mayor Rahm Emanuel's administration rejected the company's proposed overhaul of how it handles manganese, the Chicago Tribune reported . Health officials said the heavy metal used in steelmaking can permanently damage the nervous system and cause learning difficulties and memory loss.
Residents in area neighborhoods are increasingly worried about the facility after learning about problems with a similar S.H. Bell operation in Ohio and about University of Illinois at Chicago researchers testing neighborhood children for manganese.
"It's not like this is an isolated incident," said Olga Bautista, an organizer with the Southeast Side Coalition to Ban Petcoke. "If manganese is worse than petcoke, they should be even more aggressive about protecting us."
The changes at the facility come more than three years after investigators found the storage terminal while looking at two nearby sites that stored dusty piles of petroleum coke along the Calumet River. Neighborhood activists have since urged federal, state and local authorities to push against local polluters with the same intensity that made petcoke storage operators change their practices.
Representatives from a coalition of neighborhood and health groups wrote last month to Mayor Emanuel, citing an urgent need to protect children from manganese exposure. More than 1,700 children age 5 and younger live within a mile of the facility.
S.H. Bell released a statement saying the company is working keep a healthy environment for the community.
"We worked closely with the city to develop our recently approved dust control plan that goes above and beyond local, state and federal regulations," the statement said. "The city of Chicago has among the strongest bulk material handling regulations in the nation, and we believe that all facilities in the region should also be in compliance."