The CEO of a Central Illinois ethanol production facility thinks there is still plenty of room for the ethanol industry to grow, despite the current uncertainty in the worldwide trade market, much of which has been inflicted by the growing trade war between the United States and China.
Ethanol is a renewable fuel made from corn and other plant materials that can be blended with gasoline. The use of ethanol is widespread: More than 98 percent of gasoline in the U.S. contains some ethanol. Many service stations provide a blended fuel that typically is 10 percent ethanol and 90 percent gasoline.
"In our market here locally, you have more gas stations that are offering products other than E-10. There is E-15 (gasoline blended with 15 percent ethanol) and E-20 (20 percent) being offered to the retail public, and we are really in our infancy as far as that part of the process," said Steve Kelly, CEO of One Earth Energy in Gibson City. "But that's where it starts, with the distribution channels providing more flexible options."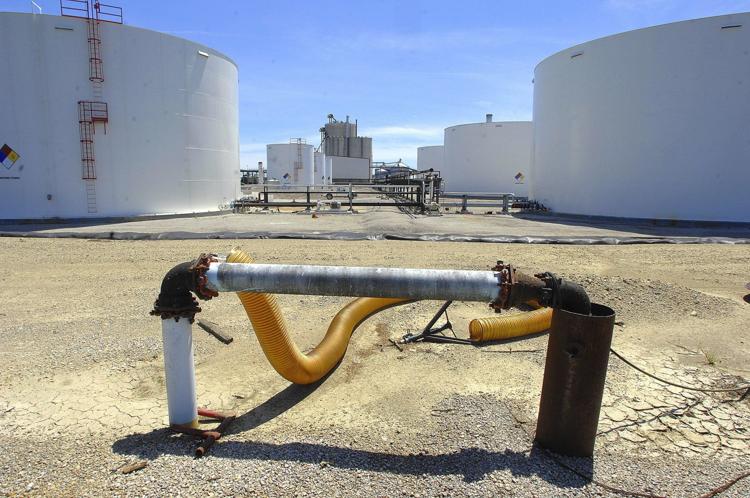 In March, in response to U.S. tariffs placed on imported aluminum and steel products, China issued an extra 15 percent tariff on ethanol, on top of the 30 percent tariff already in place. According to the Washington, D.C-based Renewable Fuels Association (RFA), the latest round in the U.S.-China trade war on July 2 pushed the total tariff on U.S. ethanol exports to China to 75 percent.
The U.S. is the world's top producer of ethanol at 15.8 billion gallons in 2017, according to the RFA, 58 percent of the world total. Brazilian ethanol, which is primarily derived from sugarcane, is second with a little more than 7 billion gallons supplying 26 percent of the total.
Ethanol exports for the U.S. set a new record in 2017, with 1.37 billion gallons shipped to more than 60 countries. In 2017, for the third year in a row, Brazil and Canada were the top two markets for U.S. ethanol exports, receiving roughly 60 percent of 2017 shipments, according to the RFA. China received about 3 percent of exported ethanol. India, the Philippines, the United Arab Emirates, Peru and South Korea were other leading destinations.
Bob Dinneen, RFA president and CEO, said he was disappointed in China's retaliatory action. He said once China imposed its first U.S. ethanol import tariff in April, shipments to that country "nearly disappeared."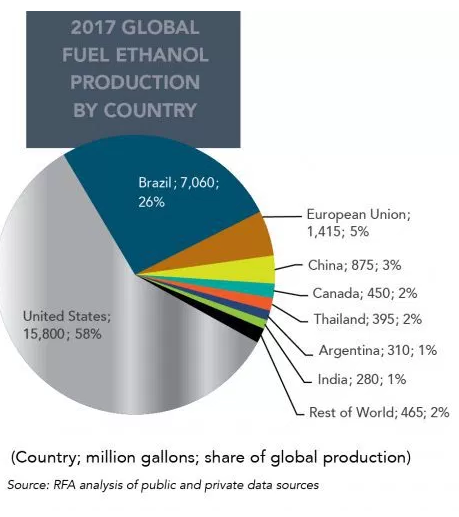 "This one-two protectionist punch will ultimately harm Chinese consumers who are being denied access to the lowest-cost, highest-octane and cleanest fuel on the planet," he said. "But it will also hurt farmers in the U.S. who have worked to build value-added markets for their commodities here and abroad."
The impact the tariffs will have on Illinois ethanol-producing facilities and farmers may not be known for several years, according to the U.S. Department of Agriculture. Ethanol is an important market for corn production in the U.S. In 2016, U.S. farmers produced about 14.5 billion bushels of corn, of which 5.28 billion bushels went to ethanol production, according to the USDA.
You have free articles remaining.
Several area ag-related organizations declined to comment on the impact the tariffs could have on the industry, including Archer Daniels Midland Co., which has its North American headquarters in Decatur, and Bloomington-based Illinois Farm Bureau. Several Central Illinois farmers also declined comment, citing a lack of concrete information at this time. ADM is the nation's top ethanol producer, according to the Renewable Fuels Association, with eight facilities in four states churning out 1.76 billion gallons in 2016.
"Ethanol production is a primary market for many Central Illinois corn farmers," said Tricia Braid, Illinois Corn Growers Association spokesperson. "Due to work supported by farmer checkoff dollars, export markets around the world are demanding increasing amounts of corn-based ethanol to help meet their own air quality and sustainability standards. China is a fundamental growth market for corn ethanol exports. Ethanol exports, by extension, support local corn prices."
Braid said prior to the implementation of the tariffs, the Chinese government had shown interest in increasing ethanol use to reap the environmental and human health benefits it offers compared to other energy sources. When blended with gasoline for use as a vehicle fuel, ethanol can offer some emissions benefits depending on vehicle type, engine calibration, and blend level, according to the U.S. Department of Energy.
"Trade-distorting practices, like tariffs, hamper progress on important initiatives like improving human health through air quality," she said. "Trade-distorting practices can certainly contribute to negative farm-level impacts if the tariffs create demand destruction that persists over time. We're confident, however, that China and other trading partners understand the value that corn ethanol brings to their fuel supply and that we will continue to build relationships for mutually beneficial trade."
One Earth Energy in Gibson City is one of 15 ethanol production plants in Illinois. According to the RFA, ethanol production is responsible for more than 4,000 jobs in the state and is used for a wide range of purposes besides blending with gasoline — from producing medicine and synthesizing chemical products to fueling other products like heaters and lamps.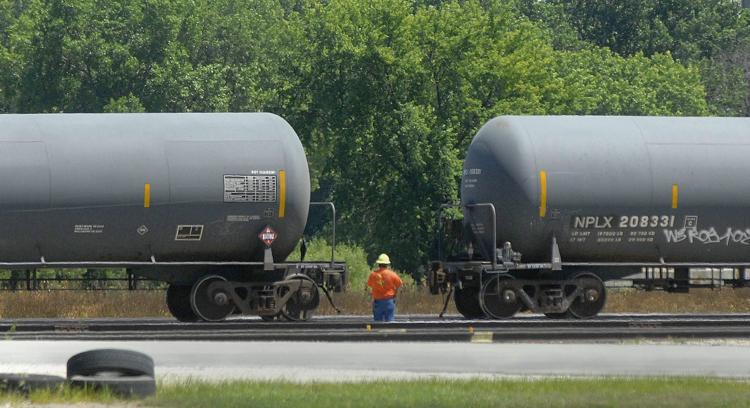 With the implementation of the Renewable Fuels Standard (RFS)  in 2006, the U.S. has become the largest single-country consumer of ethanol, along with being the world's largest exporter. The threat of counter-tariffs on biofuels and the impact of President Donald Trump's policies on biofuels have caused some uncertainty for exporters.
Todd Hubbs, an agricultural economist at the University of Illinois, said uncertainty about the market will continue for the next several months.
"Strong corn consumption appears set to continue through the summer with limited short-term damage from the tariff battle with China influencing consumption," he said, but "a prolonged trade fight may affect global economic growth and hurt corn consumption over the long term."
---
Want to see more local news like this?
Our Daily Headlines email is for you! Delivered daily at 10:30 a.m., you'll get the local stories you need to see directly in your inbox.
I understand and agree that registration on or use of this site constitutes agreement to its user agreement and privacy policy.
---