DECATUR — The GOP candidate for state attorney general, Erika Harold, during a stop in Decatur Wednesday said she would defend restrictions on gun ownership enacted by state lawmakers, regardless of her personal views on the matter.
At least 26 of Illinois' 102 counties in recent months have passed "gun sanctuary" measures that deem further state gun control measures as a violation of the Second Amendment. Many have said the resolutions are symbolic and nonbinding, and are meant to send a message to lawmakers.
A few counties have taken things a step further. Effingham County's resolution says employees won't enforce laws that it deems unconstitutional, although the county's state's attorney said the measure wouldn't control decision-making for the sheriff's office. Monroe County Sheriff Neal Rohlfing told the Belleville News-Democrat his department will not enforce any of the gun control bills in the state General Assembly if they pass into law.
Harold, an Urbana native and graduate of the University of Illinois and Harvard Law School, said the attorney general's role is to defend state laws from legal challenges.
"That's not even a discretionary choice," she said in an interview at the Herald & Review. "It's just something you would have to do, and that's again why it's so important for the attorney general to not necessarily to be making decisions on policy or issues."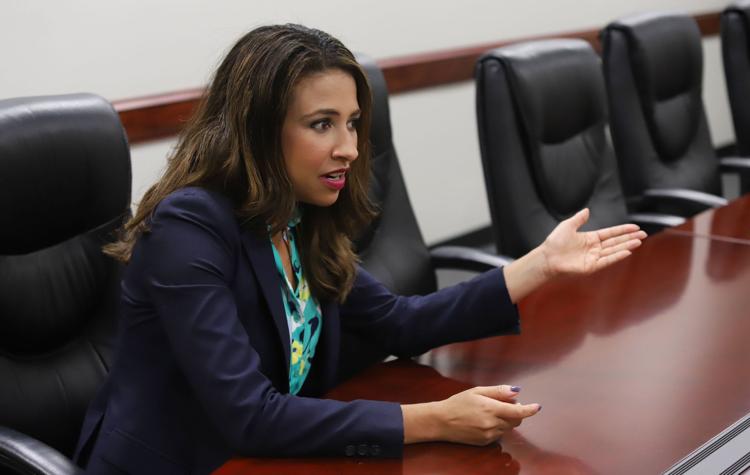 Harold and her Democratic opponent, state Sen. Kwame Raoul of Chicago, are vying to succeed longtime Attorney General Lisa Madigan, a Democrat with a strong record of taking on consumer protection measures against bad actors like for-profit colleges and predatory mortgage lenders in the wake of the 2008 financial crisis.
Harold said she had talked to advocates of the gun sanctuary measures and law enforcement in some of the counties where they were enacted.
"It's my understanding that some of state's attorneys are not going to change the way they enforce the law, but it is a way for people to express that they're concerned about their Second Amendment rights," Harold said, adding that local governments have the right to make their voices heard. "But ultimately, it's up to state's attorneys to what extent (they're) going to change the way they will enforce the law."
When asked for comment, Raoul responded in an emailed statement through a spokeswoman. "As attorney general, I will enforce and defend restrictions and safety measures pertaining to firearms," he said. "Counties do not have discretion to pick and choose which state laws to enforce, so my opponent's statement lends confusion to this debate." 
As part of her campaign, Harold said she wants to emphasize fighting government corruption and cyber-bullying efforts, rather than the lightning rod issues of the day. 
Raoul has said he would take an advocacy role on enforcing voting rights, protecting immigrants from threats and "unfair treatment," and fighting federal efforts to dismantle the Affordable Care Act. 
While Harold expressed a desire to stay out of the partisan fray, the office of attorney general has grown increasingly political in other states. Democratic attorneys general in states like California and New York have used their positions to challenge policies from President Donald Trump's administration, much in the same way that their Republican counterparts did to federal agencies under former President Barack Obama's leadership.
Harold, who also won the Miss America contest in 2003, has never held public office, but she challenged U.S. Rep. Rodney Davis in a 2014 Republican primary with the message that as a young African-American woman in the GOP, she would help to bring fresh ideas and new voters into the fold.