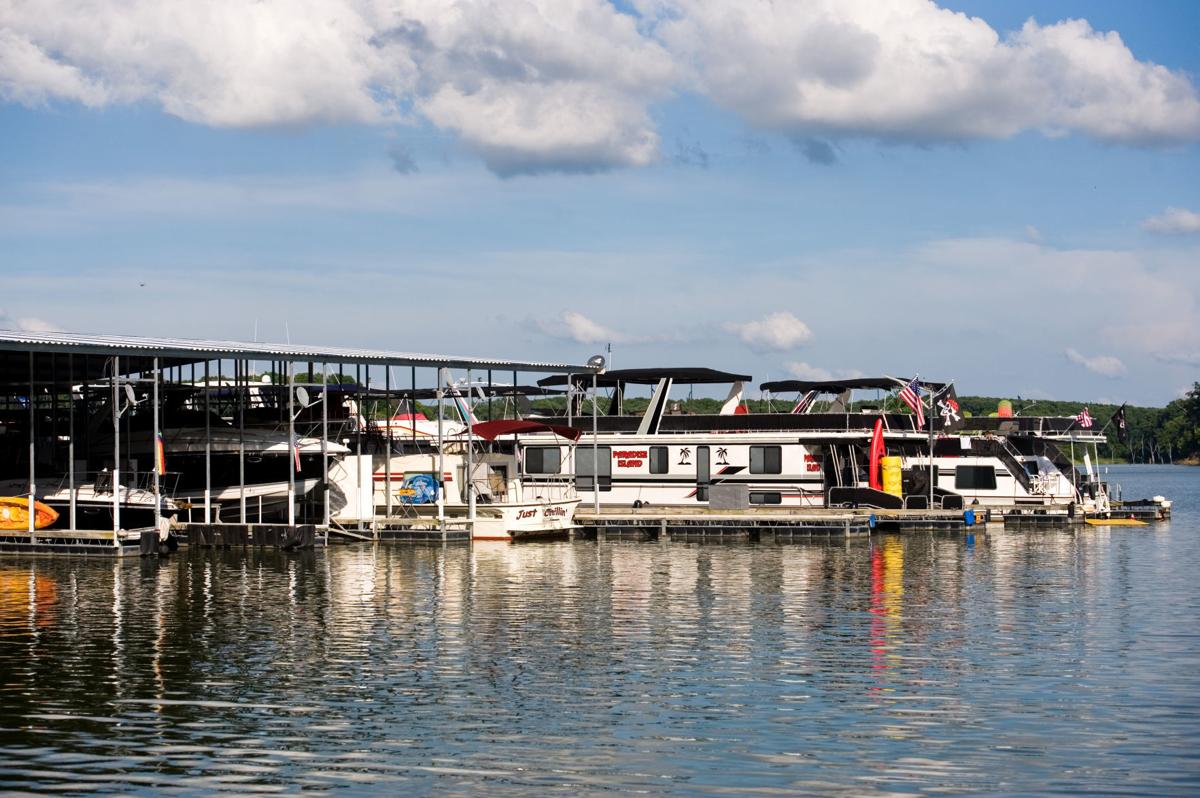 SHELBYVILLE — When Craig and Crystal Kowalski of Effingham head out for an overnight trip on Lake Shelbyville, they bring all the comforts of home with them.
The Kowalskis can anchor in a secluded cove and spend the night on their 80-foot-long Sumerset Houseboat, Love N Life, with its full-size kitchen, two full-size bathrooms, and four bedrooms. They are often accompanied by family and friends on these boat trips to the great outdoors, and the boating also provides opportunities for fishing. 
"It's like camping, but not as much work," said Craig Kowalski, who docks at Lithia Springs Marina in Shelbyville.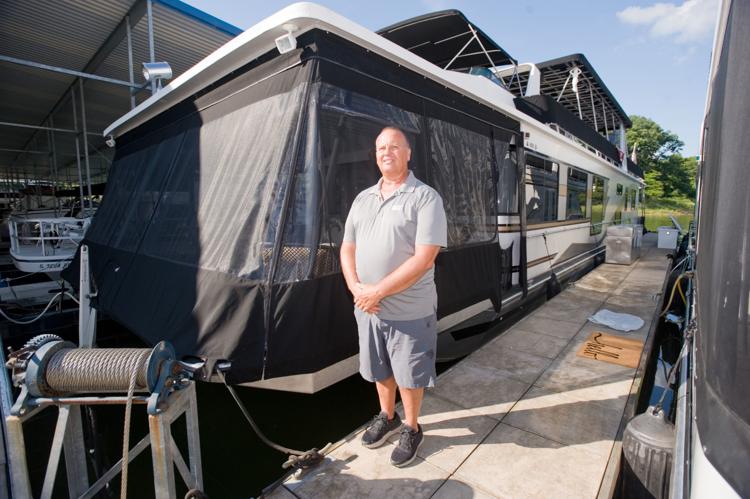 Houseboats, such as the one owned by the Kowalskis, have long been a popular option across North America and in Europe for extended vacations, group getaways and living spaces for those seeking adventure and flexibility. A robust rental industry draws thousands each year to explore popular destinations such as Lake Powell on the Colorado River, Shasta Lake in northern California and Dale Hollow on the border of Kentucky and Tennessee. 
No matter the style of boat, the 11,000-acre surface area of Lake Shelbyville offers plenty of room to explore. The lake stretches from Shelbyville, along Illinois 16, northeast by Findlay to Sullivan, along Illinois 121.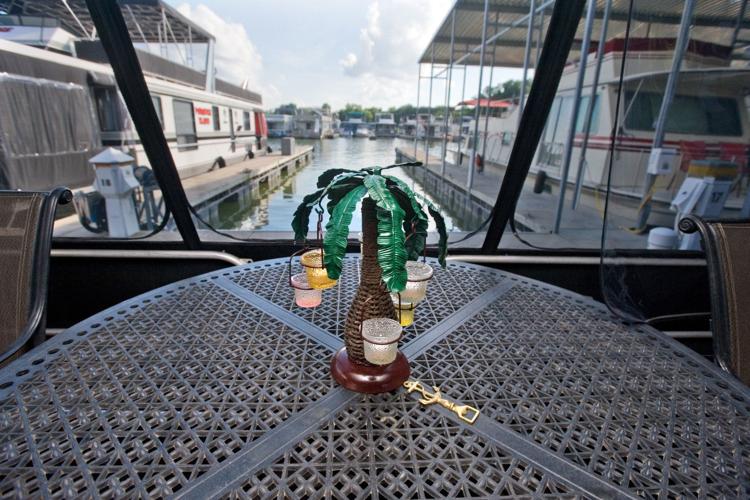 "You can go for a long ride before you get to the end and have to turn back," said Gail Ritter, a retiree from Bourbonnais who has had a houseboat at Lithia Springs with her husband, Stan, since 2000.
Many boaters find home bases at Findlay Marina, Sullivan Marina & Campground and at Lithia Springs, where Kowalski estimated that 20 percent of the marina's 365 boat slips are used by houseboats. 
The Ritters' current boat, Absolut Pleasure, is 64-foot-long Sumerset Houseboat with two bedrooms, two bathrooms, and satellite television. The two have spent a lot of time over the years on Lake Shelbyville with their son Scott, who also has a houseboat there, and his two daughters, who have grown up on the water while boating and swimming.
"This is probably where we get together and have the most fun," Gail Ritter said. She added that keeping the houseboat cleaned and maintained is hard work, but is well worth the effort.
You have free articles remaining.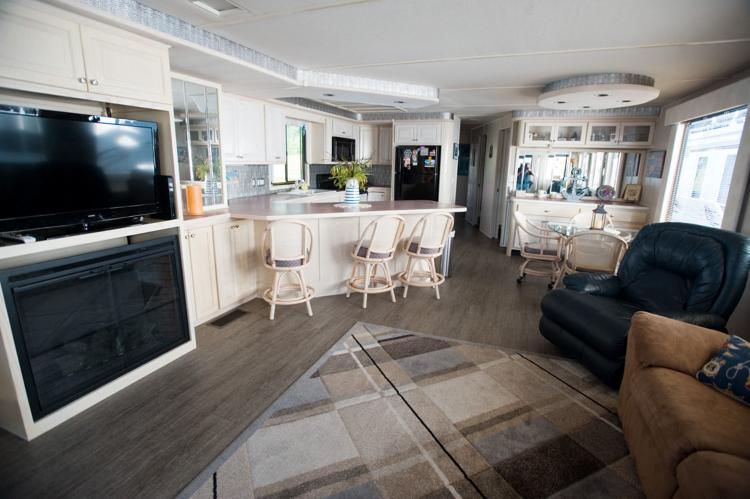 Houseboaters go out on the open water from approximately late spring to early fall at Lake Shelbyville, but some do spend time on board in their marina boat slips during the winter. Kowalski said he enjoys all seasons at the lake, including the warm water in the summer and the beautiful foliage in the fall. 
Gail Ritter said her favorite time of year at Lake Shelbyville is the Fourth of July, when the family's houseboat provides a comfortable vantage point for viewing the annual fireworks display at the Dam West Recreation Area.
"A lot of houseboats go out and anchor out to watch the fireworks from Shelbyville," she said.
While they are at Lake Shelbyville, many houseboaters check out local attractions and frequent nearby businesses. Ritter said she and her husband enjoy purchasing supplies from Wade's Quality Meats in Shelbyville and dining with friends at restaurants such as the Tailwinds Steakhouse in Findlay.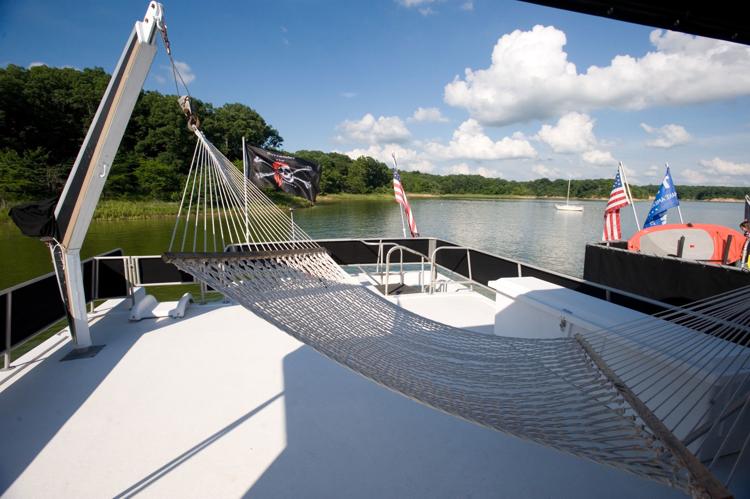 Kowalski said he enjoys golfing at Eagle Creek Golf Course in Findlay and at other courses in the area. He said he also likes being able to dock for a meal at the NorthEnd Pub & Grill in Sullivan and at the Subway at Lithia Springs Marina.
Freddie Fry, director of Shelby County Tourism, said local businesses benefit from the hikers, swimmers, anglers, day boaters and other visitors that the lake draws, particularly those who have extended stays on houseboats.
"They are contributing to the economy in a large way because they are staying overnight. They are coming into the community to do their shopping, dine at restaurants, and visit the attractions," Fry said. She added that those who rent houseboats often arrive the day before their rentals start and stay at local motels.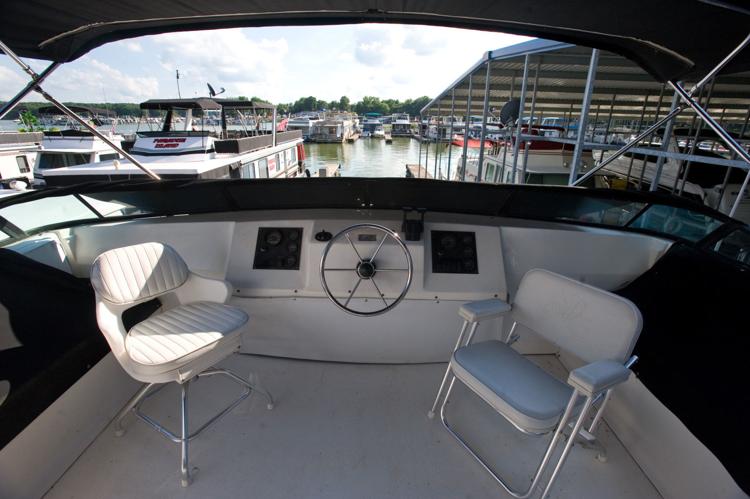 At Lithia, Kowalski has worked as the parts service and sales manager since 2010. After having owned Jubilee Foods in Effingham, Kowalski said he has enjoyed this new second career, where he gets to ride a golf cart to work during the day and visit with friends at the marina in the evening.
"Everyone knows everyone because they are their neighbors. It is more or less a boating neighborhood," Kowalski said. 
Ritter said the marina is a seasonal home to a community of boaters that socialize with each other and look out for each other and their boats. She said being in dock combines the comforts of home, such as plugging into electricity to run air conditioning, with the scenic backdrop of the lake.
"We just love coming down here," Ritter said, "because it's a fun place to be and a place to relax."