PANA — Through more than a century of newborns, treating illnesses, answering emergencies and navigating the health care landscape, Pana Hospital has been there for its communities.
Its imprint is about to get even bigger with a $20.1 million, two-phase expansion of its facility expected to take about 18 months.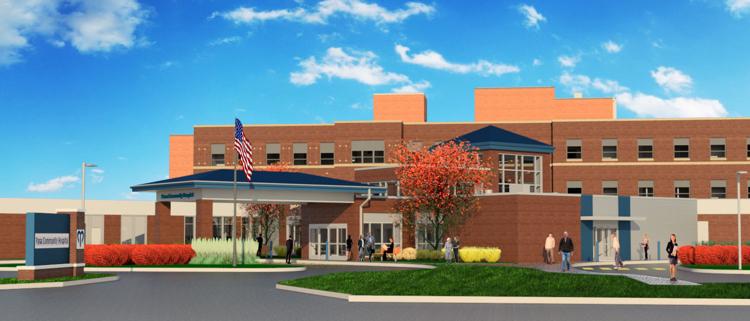 Two of the oldest and youngest members of the Pana community were celebrating Thursday afternoon on the front lawn as the hospital broke ground on its expansion. The hospital said this will be its biggest project since the early 1970s. The hospital's original building was constructed in 1914.
"I've been coming here since 1930," said 96-year-old June Clark Cheney, who was attending the ceremony with her family. "It's where I get all my medical care, and I'm glad it's growing." 
Another of the guests at Thursday's event was 4-year-old Roman Pollman, with his brothers Dominic, almost 3, and Cash, 6.
"This is where we go to the doctor and where mom works," Roman said.
Roman's mother, Jessica, is a medical technologist at the hospital. She said it is convenient to have her children's medical care in their hometown and have it provided by people she knows.
"It's very comfortable, and everyone else's children are here too," she said. "The hospital is important to the community."
Pana Community Hospital is jointly owned by the communities of Assumption, Cowden, Herrick, Lakewood, Nokomis, Oconee, Ohlman, Owaneco, Pana, Ramsey, Robinson and Tower Hill.
Pana Community Hospital has been working closely with Farnsworth Group, an architect/engineering firm, and O'Shea Builders on the project.
More than 30,000 square feet will be added to the back and front of the hospital and will be designed in two phases.
Phase I of the project will create additional space for a new surgical suite, laboratory, diagnostic imaging, cardiopulmonary, materials management and dietary departments.
Phase II of the project will create additional space for urgent care, improve access to the hospital building and provide a contemporary waiting area with private registration offices.
Pana Community Hospital received final approval from the State of Illinois Health Facilities and Services Review Board in May. With this required stamp of approval from the review board, Pana Community Hospital was given the green light to proceed with the expansion.
The hospital currently has no debt and employs 252 full-and part-time employees, according to a news release.
Hospital Board Chairman Carol Schramm said the current administration is made up entirely of Pana High School graduates.
"We're looking at your health and our future," Schramm said, quoting the hospital's fundraising slogan. "We don't want to get sucked up by various corporations. We serve four counties and 21,000 people. We are the communities we serve.
"We know you, we care about you and we suffer with you. There's no place else I'd rather be."