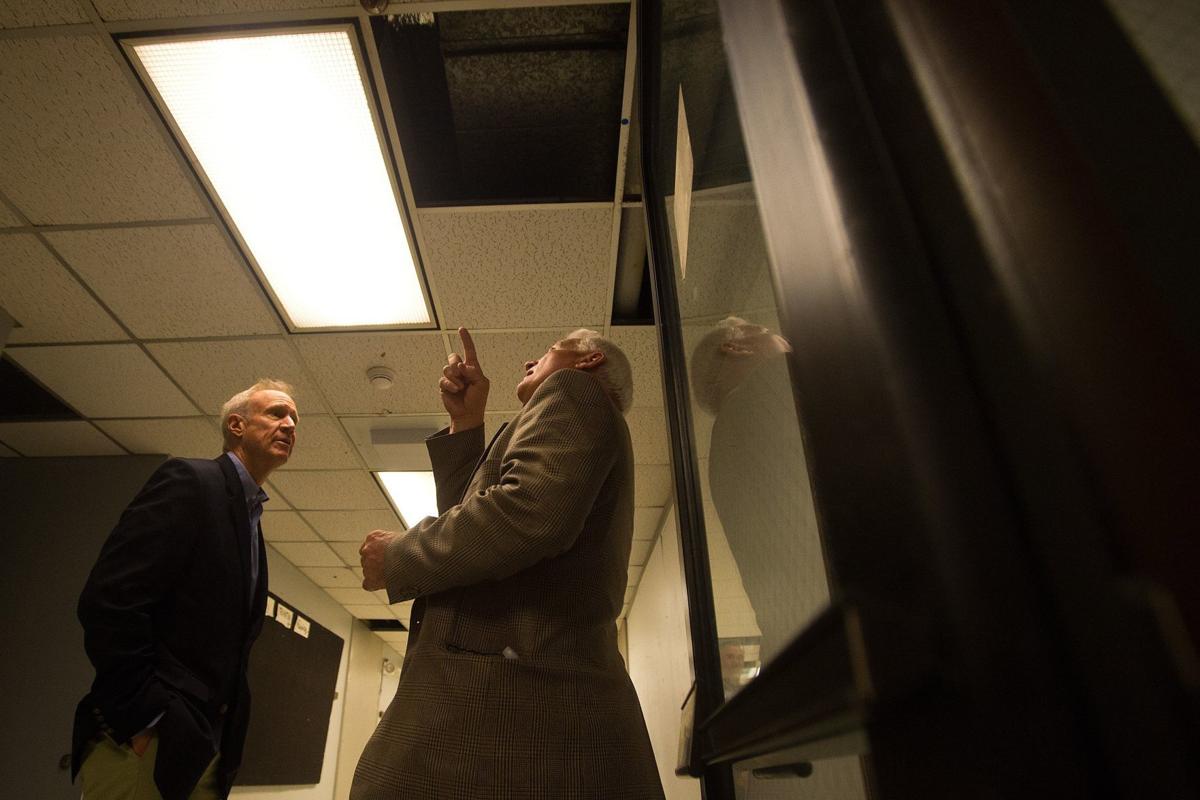 NORMAL — Gov. Bruce Rauner said Thursday it is time to invest more in maintaining and creating "world-class facilities" at the state's universities.
His comments came at Illinois State University, where he met with school President Larry Dietz and other top administrators and toured three buildings scheduled to be torn down or extensively renovated as part of a fine arts complex included in the recently passed state budget.
Speaking to a group of faculty and students in the ISU Center for the Performing Arts, Rauner said, "I want significant new investment" in higher education facilities and "updating our technologies."
"Nothing is more important than education. Our students are our future," he said.
Noting the growth in funding for K-12 education since he became governor, Rauner said: "Now we have to focus on higher education. … We want a new formula, a new way to allocate."
In addition to $61.9 million for ISU's fine arts project, the budget includes money for an innovation network that would be under the umbrella of an institute based at the University of Illinois in Chicago with hubs throughout the state, including at Normal.
"We want more of their faculty and graduates to start businesses in Illinois," said Rauner, citing the need for a "nurturing environment for our faculty and our young people."
Dietz said after the governor's news conference that he has spoken "in very general terms" with U of I President Timothy Killeen about ISU being one of the hubs for entrepreneurs.
You have free articles remaining.
"We're certainly willing to work with them," especially if it would help the Illinois economy, said Dietz.
Rauner drew applause when he mentioned the money for the fine arts complex.
"This is a great first step, but it's just a first step," the governor said.
ISU has been waiting for nearly 10 years.
The project was initially included in a public works program in 2009 — at that point the price tag was $54 million. It calls for tearing down Centennial West and the Center for the Visual Arts and building a new facility adjacent to Centennial East, which would be extensively renovated.
Rauner got a firsthand looks at the problems with the existing facilities during a tour of the buildings.
Chuck Scott, interim associate vice president for facilities management, planning and operations, told the governor, "We have heating and ventilation problems throughout the three buildings."
In addition, the university has been plagued with plumbing-related problems, roof leaks and delamination of ceramic tiles on the outside of one building.
Rauner was shown rooms with ceiling tiles missing because of leaks and rooms where computers and other equipment must be kept covered for protection from potential leaks.
Contact Lenore Sobota at (309) 820-3240. Follow her on Twitter: @Pg_Sobota