CLINTON — State Rep. Bill Mitchell was only half joking when he told a group of seniors at the DeWitt County Friendship Center in Clinton that because there was not enough parking available, he had to park illegally.
On future visits, however, that shouldn't be a problem as Mitchell, R-Forsyth, announced during his visit that the center would receive a $100,000 grant from the state to build a new parking lot.
"This project was started several years ago," Mitchell said. "But sometimes, these projects take a little bit of time."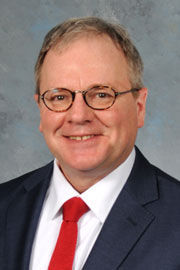 Executive Director Paula Jiles said she has been excited ever since Mitchell gave her the news last week.
"On Wednesday, we have 40 to 70 people here for bingo," she said. "We only have 11 parking spaces. Employees and volunteers have to park on the street. It's just not convenient for anyone."
Several years ago, the agency purchased an empty lot behind the center at 410 E. Main St. in Clinton from the United Methodist Church.
"We bought it for $10 with the only purpose to build a parking lot," Jiles said. "But we haven't been able to do anything with it."
Sissy Leggett, the longtime director of the program who retired in January, was on hand for Mitchell's announcement.
"Bill Mitchell and (state Sen.) Chapin Rose (R-Mahomet) called me about this three years ago and told me they had put in for a grant, and I thought that would be nice," she said. "But later, when they told me the amount they were going to get, I about fell out of my chair."
The funds were approved, but the disbursement was stalled when Bruce Rauner became governor and halted payments amid the state's budget struggles. Mitchell said it was one of his priorities to make sure the funds were back in the budget before his retirement in January.
"We were successful in getting these funds back into this year's budget, and we are thankful," Mitchell said. "This is an example of your tax dollars coming back here to Clinton, rather than to Chicago."
Jiles said she is unsure of when the project, which will add almost 40 parking spots, will be completed.
"That hasn't been decided yet," she said. "We have to wait for the funds to be actually distributed, but it won't take long after that. We have all of the preliminary work completed and we are just waiting on the funds to arrive."